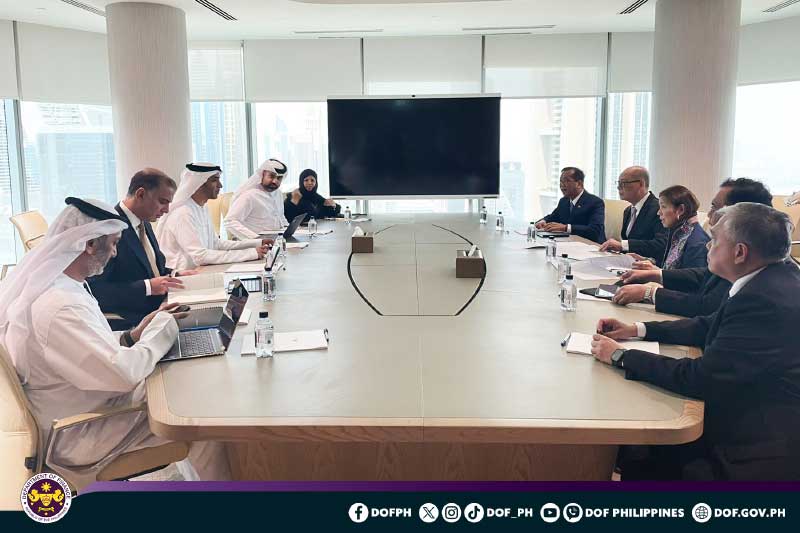 Finance Secretary Benjamin E. Diokno led the economic team in meetings with key United Arab Emirates (UAE) government ministries and Dubai-based funds and investors to explore increased trade and investment cooperation, Islamic banking opportunities, the Republic of the Philippines' (ROP) upcoming Sukuk offering, renewable energy investments, and infrastructure partnerships as part of its two-day Middle East roadshow from September 11-12, 2023.
Joining him were Department of Budget and Management (DBM) Secretary Amenah F. Pangandaman, National Economic and Development Authority (NEDA) Secretary Arsenio M. Balisacan, Bangko Sentral ng Pilipinas (BSP) Deputy Governor Francisco G. Dakila, Jr., National Treasurer Rosalia V. De Leon, and BSP Assistant Governor Arifa A. Ala.
The economic managers kicked off the roadshow with a visit to Nasdaq Dubai on September 11, where Secretary Diokno led the ringing of the bell and met with Nasdaq Dubai CEO Hamed Ahmed Ali.
Nasdaq Dubai is an international financial exchange in the Middle East that offers a unique investor pool and utilizes advanced technology in its operations, setting it apart from other stock exchanges.
Secretary Diokno, Secretary Pangandaman, Secretary Balisacan, Deputy Governor Dakila, and Philippine Ambassador to the UAE Alfonso Ferdinand A. Ver also paid courtesy calls on UAE Minister of State for Foreign Trade His Excellency (HE) Dr. Thani bin Ahmed Al-Zeyoudi and UAE Minister of State of Financial Affairs, Ministry of Finance His Excellency Mohamed Bin Hadi Al Hussaini.
The Philippine delegation reaffirmed the Philippines' intent to commence and expeditiously conclude the negotiations of the Comprehensive Economic Partnership Agreement (CEPA) with the UAE as a means to deepen bilateral trade, investments, and economic cooperation.
The Ministers expressed UAE's openness to forming trade alliances and investments globally despite geopolitical tensions and fragmentation. Among the areas of interest are food security, agriculture, and renewable energy (RE).
Later on, the economic team met with leading global alternative investment management platform, Brevan Howard; specialist emerging markets financial services company, Arqaam Capital; and the Government of Dubai's principal investment arm, Investment Corporation of Dubai (ICD).
The companies expressed interest in the Philippines' renewable energy (RE) projects, port operations, water and wastewater management, waste-to-energy projects, upcoming Sukuk bond issuances, Islamic banking, and the Maharlika Investment Fund.
The economic team also had small group meetings with UAE-based funds to engage in in-depth discussions on the ROP's plans to issue Sukuk bonds — its debut into the Islamic bond market – and other long-term investment opportunities.
They met with representatives from the world's first full service Islamic Bank and one of the largest global Sukuk investors, Dubai Islamic Bank (DIB); the 4th largest Islamic bank globally by assets, Abu Dhabi Islamic Bank (ADIB); global alternative investment management firm, Millennium Capital; one of the largest and longest established asset managers in the Middle East, Emirates NBD Asset Management (ENBD AM); private investment firm, Chimera Investments LLC; the first and leading Islamic bank in the State of Kuwait, Kuwait Finance House (KFH); and one of the Emirate's leading private sector investment houses, Waha Capital.
National Treasurer De Leon said that the issuance of the Sukuk bonds will diversify the Philippines' sources of financing, widen its investor base to reach the untapped Islamic finance market, and boost investments in physical and digital connectivity.
Following a successful USD 3.0 billion multi-tranche ROP offering in January 2023, the proposed Sukuk transaction, to be scheduled sometime in the fourth quarter of 2023, will partially fulfill the ROP's residual external commercial funding requirement for the year.
BSP Assistant Governor Ala in turn shared that the Philippines has the right policy environment for Islamic banking to flourish and attract foreign players.
The Philippines enacted the Islamic banking law in 2019 to boost financial inclusion of all Filipinos, after which it established the Shari'ah Supervisory Board (SSB) to issue Shari'ah opinions on Islamic banking transactions and Shari'ah products, as well as financial institutions and other stakeholders as requested by the BSP.
Non-Muslim Filipinos may also partake in Islamic banking as it expands the scope of financial transactions at their disposal. These developments and a liberalized banking system pave the way for foreign Islamic banks to explore 100 percent ownership and operations in the country.
The funds expressed keen interest in co-investment opportunities in infrastructure and fixed-income instruments, such as Environmental, Social, and Governance (ESG)-linked bonds, through the Maharlika Investment Fund, which will be operational by the end of 2023.
The economic team looks forward to touching base with the funds and their portfolio companies on the sidelines of the upcoming Conference of the Parties to the Convention (COP28) in Dubai this December.