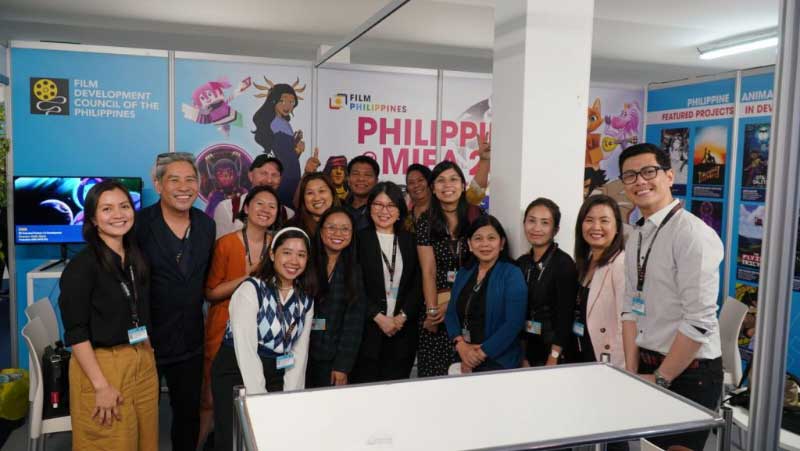 ANNECY, France — Eleven Philippine animation studios generated initial sales of USD29 million (representing actual sales of USD3.3 million and potential/under negotiation of USD25.7 million derived from co-production, partnerships, and funding for their animation projects) at the Annecy International Animation Film Festival and Market held on 11-17 June 2023.
The Philippine delegation was composed of animation services and original content companies Abakada Studios, Animation Vertigo, Kampilan Productions, Leveret Group, Luminaut Pictures, Meowsmouse, Taktyl Studios, TOEI Animation Phils Inc., Toon City (Morph Animation, Inc.), Top Draw Animation, TOP PEG Animation & Creative Studio, as well as partner associations Animation Council of the Philippines, Inc. (ACPI) and Creative Content Creators Association of the Philippines, Inc. (SIKAP).
The Department of Trade and Industry (DTI) thru the Competitiveness and Innovation Group (CIG) and Export Marketing Bureau (EMB)) and the Film Development Council of the Philippines (FDCP), in partnership with the Department of Information and Communications Technology (DICT) and the private sector represented by the Animation Council of the Philippines (ACPI) and Creative Content Creators Association of the Philippines, Inc. (SIKAP), led this year's mission to the annual festival, which gathered 16,000 attendees from all over the world.
Three (3) of the participating studios, Leveret Group, Meowsmouse, and Taktyl Studios LLC, pitched their respective works during the Southeast Asia (SEA) Partners Pitch competition held on 13 and 14 June 2023.
To further promote the creative content of Philippine companies, FDCP also hosted a Philippine Reception and Phili-Pitch at the Philippine Pavilion on 15 June where ten (10) companies pitched their original Filipino works. The winning pitch, Leader Bored by Taktyl Studios LLC, was awarded a travel grant to further support the promotion of their project internationally.
Head of mission and DTI Undersecretary Rafaelita Aldaba boasted of the success of the companies, "the engagements and leads generated by the participating companies in the Annecy Festival only prove further that Philippine original content and talent are world-class and can compete with other countries in the global market."
The mission is among the projects being implemented by the DTI in support of the implementation of the Philippine Creative Industries Development Act, which aims to support institutional strengthening, development, growth of Filipino creatives, and sustainability of the Philippine Creative Industries.