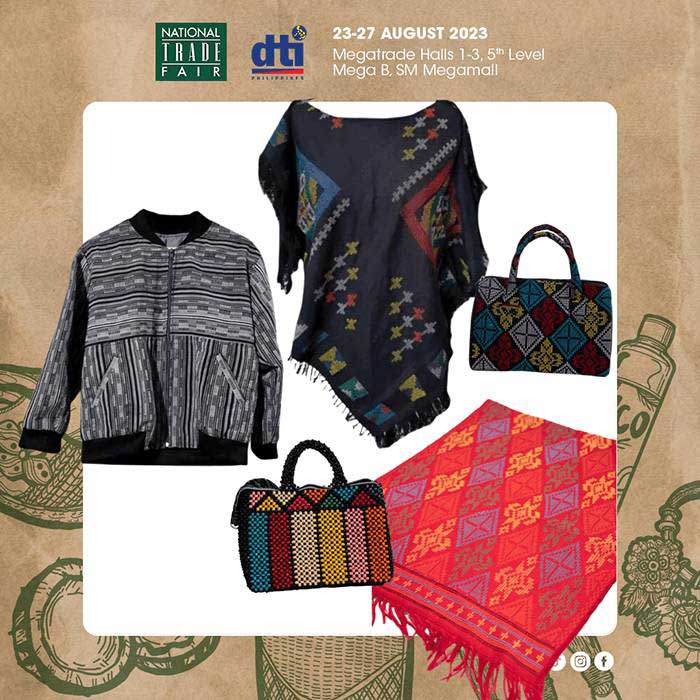 MANDALUYONG CITY — Organized by the Department of Trade and Industry (DTI) – Bureau of Domestic Trade Promotion (BDTP), the 2023 National Trade Fair will have "Go Green! Go Local!' as its theme.
The five-day event, which will feature MSMEs from the country's 16 regions, is happening from August 23 to 27, at the Megatrade Halls of SM Megamall in Mandaluyong City.
One of the highlights of the event will be the Philippine Sustainability Pavilion, showcasing a rich selection of traditional and innovative products made from Philippine bamboo, coconut, native grass, and natural fibers.
The pavilion aims to highlight the Philippines' commitment to environmental stewardship and economic growth through the use of sustainable materials. In harmonizing Philippine raw materials and craftsmanship, the exhibit demonstrates how these materials are transformed into functional and high-quality products.
For instance, bamboo is a fast-growing, renewable resource that is known for its strength and versatility. The pavilion features the innovative application of bamboo in construction and industrial use, furniture and furnishings, textiles, and other consumer items.
Coconut is another rich and sustainable resource, known as the "Tree of Life." It is a versatile crop that can be used to produce a wide variety of products, health and wellness products, medical products, as construction material, natural dye, environmental control, furniture, home decors, fashion accessories, and more consumer products.
The beauty and versatility of tropical fibers and native grass will also be highlighted. Commonly used in traditional handicrafts, they are now used in new and innovative ways, such as eco-friendly clothing, fashion accessories, and home décor.
With over 250 exhibitors, the 2023 National Trade Fair will offer a wide variety of non-food products such as furniture and furnishings, woodcrafts, metalcrafts and leathercrafts, home décor, houseware, apparel made of indigenous textiles, modern and traditional formal wear, fashion accessories and wearables made of eco-friendly materials, gift collections, souvenir items, holiday décor, personal care, and health and wellness products.
In addition to the Philippine Sustainability Pavilion, other special settings will include: (a) Innovative Coconut-based Products Cluster; (b) Other Innovative Products Cluster; (c) the Rural Agro-enterprise Partnership for Inclusive Development and Growth Project (RAPID)  Special Setting; (d) KAPEtirya: Coffee Pavilion; (e) Comprehensive Agrarian Reform Project Beneficiaries Special Cluster; (f) Philippine Green Living and Holiday Décor Pavilion; and (g) #FlexPHridays Photo Corner.
To expand the market reach of participating MSMEs, they will be featured in the Sisidlan: The Official NTF 2023 Digital Product Catalog, which will include the product information and contact details of the exhibitors. Buyers outside Metro Manila can follow live updates of the physical show through online streaming on the BDTP Facebook page.
The 2023 National Trade Fair is organized in collaboration with the DTI Regional and Provincial Offices. To know more about the 2023 National Trade Fair and other programs of the DTI-Bureau of Domestic Trade Promotion, please follow their social media accounts on Facebook (DTI.BDTP), Instagram (dti.bdtp), and Twitter (@DTI_BDTP). You may also email BDTP Director Marievic M. Bonoan at bdtp@dti.gov.ph.