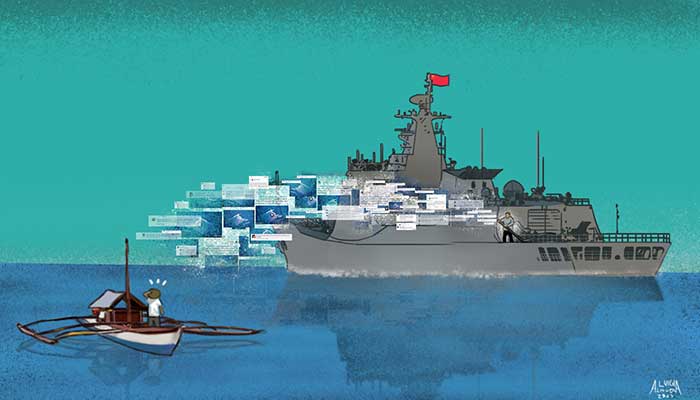 By Camille Elemia
The Philippines is confronting an unexpected adversary in its fight for its claims over parts of the South China Sea: an outspoken band of its own citizens echoing pro-Beijing narratives.
"We've presumed there was a Chinese information operation [in the Philippines]. They operate everywhere in the world. But we started really being alarmed when we saw that there were Filipinos who were parroting the Chinese narrative," Jonathan Malaya, Assistant Director General of the National Security Council (NSC), told the Philippine Center for Investigative Journalism (PCIJ) in an interview.
It was only this year that the NSC publicly recognized the existence of China's "operators" or "proxies" undermining the country's claims in the West Philippine Sea. It echoed concerns raised against Beijing's alleged disinformation campaigns in other parts of the world.
There are no signs that the pro-Beijing narratives are getting traction in the country once colonized by the United States. But they are getting on the nerves of security officials, who fear that the rest of Filipinos, who like to use social media and have shown vulnerability to disinformation, could be swayed by Beijing's narratives if they are not exposed and corrected.
Some government officials have publicly criticized the groups. Others like to complain privately against news organizations giving them space in their broadcasts and publications.
Malaya said the government has largely ignored their posts, but the security threat changed when these groups appeared to be helping Chinese Embassy officials in undermining national interests on Philippine soil.
Some groups have pushed back against the government's allegations, citing freedom of speech.
The government will find it difficult to obtain support for any step that will restrict public opinion on social media. But it's important to correct the lies, retired Supreme Court Senior Associate Justice Antonio Carpio told PCIJ.
"They (Filipinos who echo pro-Beijing narratives) are definitely a small group. Small but vocal….. They might sway some people so it's our duty to continually object and present the real facts and present the law, because we don't want our people to be misled," said Carpio, who has become among the country's most dedicated advocates of the country's claims in the West Philippine Sea, touring provinces to give educational briefings.
Water-cannon attack
Philippine Coast Guard spokesperson, Jay Tarriela, blew his top against unnamed Facebook pages that appeared to defend China back in August, when the Philippines protested the dangerous maneuvers by the Chinese Coast Guard (CCG) against a resupply mission of the Philippines to the Second Thomas (Ayungin) Shoal.
He called them "traitors" and "unpatriotic."
"If you are a Filipino, whether in government or private sector, regardless of your politics, defending and making excuses for China's aggressive behavior should deem you unpatriotic, and a traitor to the Philippines and to our people," Tarriela said in a post on X (formerly Twitter).
A CCG vessel fired water cannons on wooden-hulled boats commissioned by the Philippine Navy, blocking the resupply mission to BRP Sierra Madre, a grounded Navy ship where a handful of sailors are stationed to protect the country's claims over the area.
The attack could have sunk the boats if it wasn't for the captain's skills in evading China's maneuvers, according to the crew.
The Chinese aggression drew international uproar. China's foreign affairs ministry, however, claimed that "the maneuvers were professional, restrained, and beyond reproach."
Days after the water cannon attack, local Facebook pages posted a drone video showing the CCG vessel keeping a good distance from one of the Philippine boats when it fired the water cannon, hitting only the waters between them.
The Facebook page of Integrated Development Studies Institute (IDSI), a think tank headed by Filipino tycoon George Siy, was among those that pushed the Beijing narrative. IDSI scoffed at the "Western media's" portrayal of the incident. "Mind conditioning or future false flag to bring US war to Asia after Ukraine," the IDSI post added.

And the source of IDSI's drone video appeared to be CCG's own video, which was posted on Chinese social media platform Weibo a day earlier.
Malaya confirmed to PCIJ that IDSI's Facebook page was one of those that have caught the government's attention.
NSC would have continued to ignore the posts, he said, but the threat assessment changed when personalities behind the group would later invite Chinese Embassy officials to a press conference that sought to undermine the Philippine claims.
The same press conference prompted President Ferdinand Marcos Jr. to issue the government's response to Beijing's misinformation.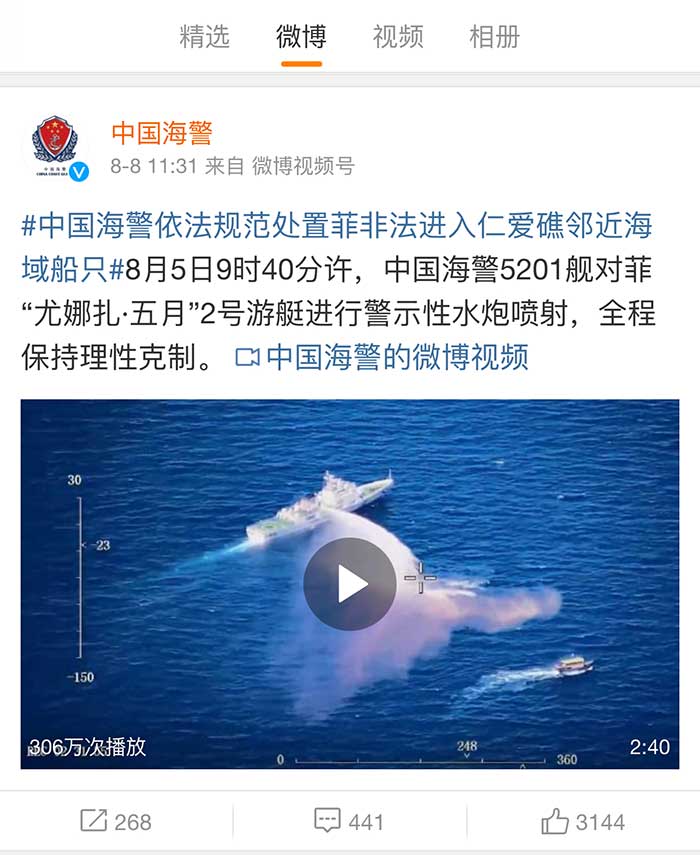 IDSI denied the government's allegations. It said it was not pro-China but "pro-Philippines and pro-peace."
IDSI's research coordinator, Austin Ong, told PCIJ the group has "participated in activities that have been critical of China." PCIJ asked him about these activities, but he has yet to respond as of this posting.
Pre-emptive action vs 'influence operations'
Philippine officials' public criticisms of China signal the country's departure from former President Rodrigo Duterte's friendly tack vis-a-vis the regional superpower. Malaya said the year-old Marcos administration has placed the 2016 arbitration ruling that voided China's claim to almost the entire South China Sea at the heart of its foreign policy.
It will be hard for Beijing to win the sympathies of Filipinos, who have consistently indicated distrust in China in poll surveys over the years. In contrast, the United States enjoyed high trust ratings even during Duterte's presidency.
The IDSI post itself didn't elicit a lot of engagement. As of this writing, the video was viewed 731 times and was shared by only eight accounts.
But Beijing's narratives find their way in national conversations. In a press conference, the crew of the Philippine Navy boats was asked to comment on claims they weren't actually hurt during the water cannon attack.
Lt. Ramsey Gutierrez, who was aboard one of the boats, appeared to be surprised by the question. "Natamaan talaga kami sir (We were really hit, Sir)," he told the press conference. He narrated how the food supplies they were carrying were drenched.
Days later, Herman Tiu Laurel, president of the Asian Century Philippines Strategic Studies Institute (ACPSSI), defended China's use of water cannon on television, calling it "benign."
"That was just a spray," Laurel said in an interview with TV channel One News, insisting that China was only exercising its "sovereignty over the area."
"The use of water is non-lethal," he added, echoing China's claims that it still allowed the other resupply boat to reach the shoal for "humanitarian" reasons.
Malaya said ACPSSI was another group they were monitoring for spreading pro-Beijing propaganda.
"These organizations have long been sort of mouthpieces of the Chinese narrative. However, hindi na namin sineseryoso dati precisely because we have freedom of expression in the Philippines," Malaya said.
'I don't mind being linked with China'
IDSI and ACPSSI have previously amplified China's narratives about Philippine politics, independent media, Russian invasion of Ukraine, and the West.
In 2021, as the world pressed China to cooperate in investigations into the origins of the coronavirus pandemic, ACPSSI and IDSI initiated online petitions urging the World Health Organization to instead investigate a military base in the United States, Fort Detrick in Maryland, as the origin of the virus. Covid-19 first broke out in China's Wuhan province.
The narrative that the Covid-19 virus was made and leaked from the US military installation was widely circulated by Russian and Chinese officials and state media even as the theory had been debunked by research groups.. China's Ministry of Foreign Affairs cited ACPSS's Laurel in one of its public statements.
Security officials also recalled a press conference in October 2022, when ACPSSI gathered with other Filipinos at the Kamuning Bakery Cafe in Quezon City for an online forum on the 20th National Congress of the Communist Party of China. These Filipinos  lauded China's "political stability, "economic growth" and adherence to  the rule of law and President Xi Jinping's "clarity of vision, mission and policy directions."
"I don't mind being linked with China because many in the world want to be linked with China," Laurel told PCIJ in an interview.
"China picks up information and content from us. We also pick it up from them," he said, adding that he also uses Russia and Iran state media as sources.
Laurel said he and his group are friends with the Chinese Embassy but they do not receive funds from Beijing. He welcomed being associated with Beijing because he "supports everything about China's global vision," he said.
Laurel also stood by his claim on Fort Detrick.
They intend to register their organizations with the Securities and Exchange Commission, he said.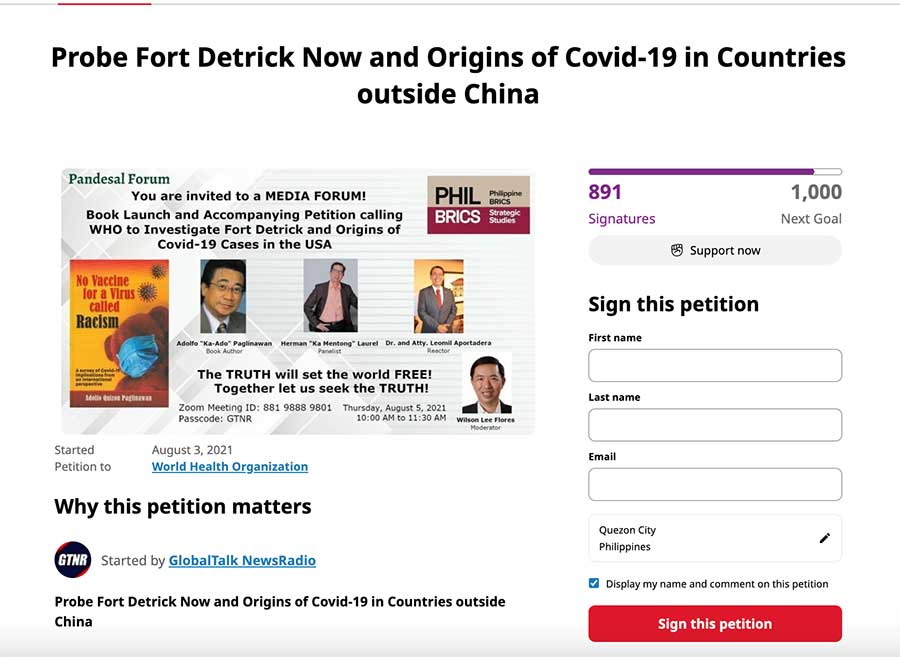 "As a democracy, we are used to dissent," said Malaya. "Even during the time of President Duterte. It was free for all. People can say whatever they want…. But we started really being alarmed when we saw that there were Filipinos who were parroting the Chinese narrative."
"And then there were press conferences being called na for purposes of undermining the Philippine position and then the script is obviously coming from Beijing. Doon kami na alarm (That is when we became alarmed)," he said.
Freedom of speech
Following Tarriela's outburst against "traitors'' in August, Anna Malindog-Uy, vice president of ACPSSI, said people in government "should be open-minded to dialogue and debate to promote understanding and find common ground among differing viewpoints and perspectives."
"It not only oversimplifies a complex, complicated and critical regional issue but also undermines the very democratic values that our societies hold dear, like the freedom of speech," she added in a Facebook post.
Laurel also weighed in on the matter, saying NSC's response showed the weakness of its narrative against China.
"That the national security establishment is reacting in this fascistic manner to mere dissemination of information contrary to their official pro-tensions, pro-war narrative backed by the U.S. and the few vassal allies shows that their narrative is weak, fragile and flimsy, easily cracking under the slightest test of truth and validity," Laurel said in a commentary published on the ACPSSI website on Aug. 24.
China's influence operations can be insidious, according to Rommel Jude Ong, a retired rear vice admiral of the Philippine Navy.
"It's a subversion of democracy," he said, without naming the organizations he has been monitoring. "They are using the freedoms every citizen is entitled to in the country, and use these freedoms to project the interest of another country, to the detriment of our own."
China's operations are designed to "convince national and local political elites to adhere" to the ruling Chinese Communist Party's views and policies. The objective  was to "divide" and influence Filipinos, he said.
Malaya said a few of Beijing's "templated" narratives stand out.
"There are tell-tale signs. 'This is a global power competition between two big nations. The Philippines should not be in the middle.' They call us warmongers…. It's obvious that these are part of Chinese propaganda. And it's just unfortunate that there are Filipinos parroting these lines," he said.
Former Philippine military chief Emmanuel Bautista advocated for a "whole of society approach" because "the arena of competition is not just in maritime zones."
"All the sectors of society has a role to perform," he said. In the "cognitive domain," he said the media can inform the people about issues in the West Philippine Sea and the citizens can "simply express their views" in support of the Philippine claims.
"What is important is we have a shared concept of security. What we do or what we fail to do impacts on our collective security and on the security of our maritime zones," Bautista said.
Marcos rejects Beijing's claim
The furor within the security establishment escalated when IDSI and ACPSSI personalities called a press briefing in Manila to discuss Ayungin Shoal.
With China's Deputy Chief of Mission Zhou Zhiyong in attendance, they echoed the Chinese foreign ministry's claim that the Philippines had promised to remove the BRP Sierra Madre from the shoal.
The conference came after Malacañang released a video of Marcos denying any such plan or intent.
"I'm not aware of any such arrangement or agreement…. And let me go further, if there does exist such an agreement, I rescind that agreement as of now," Marcos tersely said on Aug. 9.
The Philippine Navy deliberately ran the ship aground on Ayungin Shoal in 1999, which lies in the contested Spratly Islands, in response to China's occupation of nearby Mischief Reef.
Malaya said it was important for the public to know about these "influence operations," warning that these were all part of Beijing's "creeping invasion."
"Once you're aware, you can make better or informed decisions, because important 'yung socio-cultural cohesiveness ng Pilipinas e," he said.
"We need public support to push back against a growing superpower. If we don't have public support, we will not be able to strongly advocate for our case," he added.
Carpio, for his part, urged Congress to also pass a law that will require individuals lobbying for a foreign state to register with the government.
"So that we will know if you are receiving money to lobby for a foreign state. We will not stop them from expressing their views because it involves freedom of expression. But the moment they register, then we know where they are coming from," the former SC senior associate justice told PCIJ.
Meanwhile, he said the Philippines should keep exposing and correcting the lies. "We just explain to the people the facts and the people will believe us. They will not believe them because obviously they're peddling a lie from a foreign power that wants to seize our territory and maritime zones."
Carpio said the biggest disinformation that China and its supporters have peddled is that it owns almost the entire South China Sea.
"That has been totally debunked in the arbitral proceedings. The tribunal said there is no historical basis for that," he said. "We just have to present the facts like what we're doing now." End