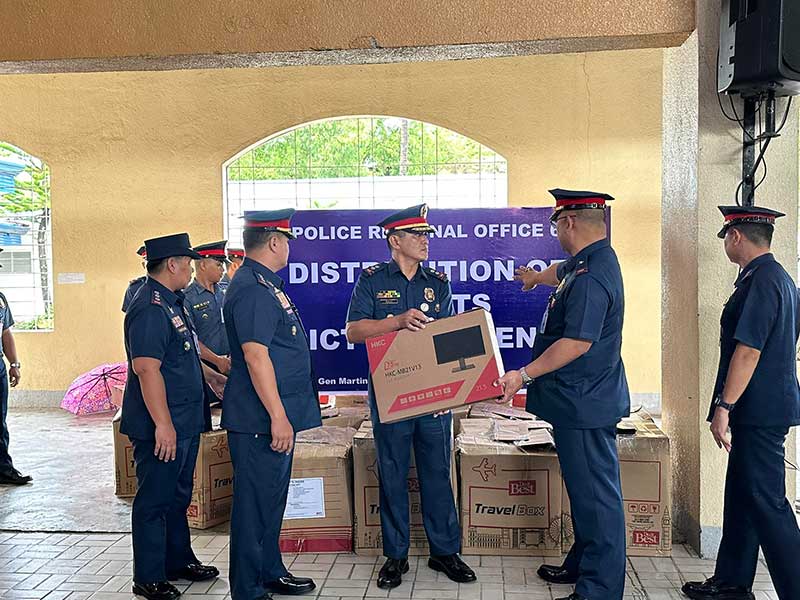 By Jennifer P. Rendon
From January to August this year, the Philippine National Police (PNP) Anti-Cybercrime Group (ACG) has so far recorded more than 16,000 cybercrime cases nationwide.
If it's any indication, it appears that a good number of crimes are now happening in cyberspaces.
And it's something that Brigadier General Sidney Villaflor, Western Visayas police chief, wanted to address squarely.
As a jumpstart, Villaflor said he wanted to strengthen the information and communication technology (ICT) capabilities of every police station and unit.
ICT development is part of PNP chief General Benjamin Acorda, Jr.'s 5-focused agenda.
On Oct. 2, PRO-6 issued to its sub-units 19 computer units with operating systems and an original anti-virus set with printers.
The procurement was made possible through the PRO-6's Maintenance and Other Operating Expenses (MOOE).
Police stations and units that needed upgrading in their ICT system were prioritized.
These include:
* the offices of the Regional Logistics and Research and Development Division (RLRDD) and Regional Plans and Strategy Management Division (RPSMD) from the Regional Headquarters;
* Banga Municipal Police Station;
* Malinao MPS;
* New Washington MPS;
* Tangalan MPS;
* 1st Antique Provincial Mobile Force Company;
* Belison MPS;
* Sebaste MPS;
* Sta. Barbara MPS;
*  Mina MPS;
* Pilar MPS;
* Candoni MPS
* San Enrique MPS (Negros Occidental);
* San Lorenzo MPS;
* and 604th Maneuver Company; and
* 606th Maneuver Company.
Villaflor also announced that they have designated two police officers in every station to cater to cybercrime complaints.
The PNP Directorate for Investigation and Detective Management (DIDM) will conduct training for policemen on cybercrime matters.
"If we have that in place, there is no need for our clients to go to the regional office if they have queries or complaints," Villaflor said.
The Regional Anti-Cybercrime Unit (RACU) 6, the PNP's main unit tasked to do after cybercrime incidents in Western Visayas, is located at the PRO-6 headquarters at Camp Martin Delgado in Iloilo City.
"There's a need to decentralize. If we have capable policemen and equipment at the station level, it will trim down the efforts, expenses, and time spent by the public," Villaflor said.
The region's top cop said there's also convergence and tie-ups with IT providers.
"We will also collaborate with other agencies like the Armed Forces, the National Bureau of Investigation, and other law enforcement agencies on this matter," he said.
Recently, Villaflor said there have been complaints relative to phishing.
It occurs when a malicious actor sends an email that may seem to come from a legitimate source to steal sensitive information.
But in 2020, RACU-6 noted that the most prevalent cybercrime report in Western Visayas is "cyber libel," which is the defamation aired in a virtual community.
Cyber libel is punishable under Republic Act 10175 or the Cybercrime Prevention Act of 2012.
There are also cases of fraud, identity theft, love scams, and cyberbullying.