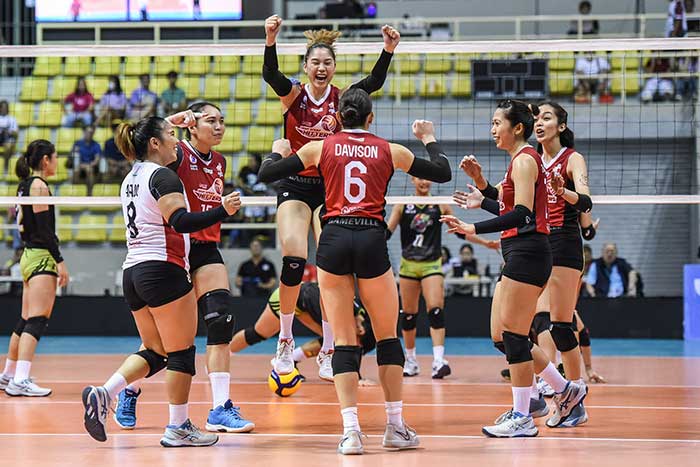 By Leobert Julian A. de la Peña
The PLDT High-Speed Hitters escaped an early avalanche from the NXLED Chameleons and turned it up in the last three frames to stun them in four sets, 22-25, 25-17, 25-11, 25-20, in the ongoing Premier Volleyball League (PVL) All-Filipino Conference last November 2, 2023.
After trailing 0-1 early in the match, the High-Speed Hitters banked on their veteran mastery to pull off the morale-boosting reverse sweep.
It started with their signature middle blocking prowess as the duo of Mika Reyes and Dell Palomata wreaked havoc on the Chameleons when the second set began.
The two former members of the PHL national team boasted their defense that helped the High-Speed Hitters mount a run midway through the frame.
As soon as their defense settled, their fluid offense then came into the picture orchestrated by star setter Rhea Dimaculangan.
Dimaculangan finished the game with 20 excellent sets and ran their offense to perfection during the last three periods.
It was then all PLDT in the last set as their quick 1-2 set plays rained down on NXLED while also capitalizing on the young squad's unforced errors.
NXLED attempted to get close with a mini-run in the last eight possessions but PLDT's solid defense became the cherry on top on their way to an improved 3-1 win-loss record.
On the other hand, the Chameleons now lost their third consecutive match and are yet to re-enter the winning column if they want to make a push for the playoffs.