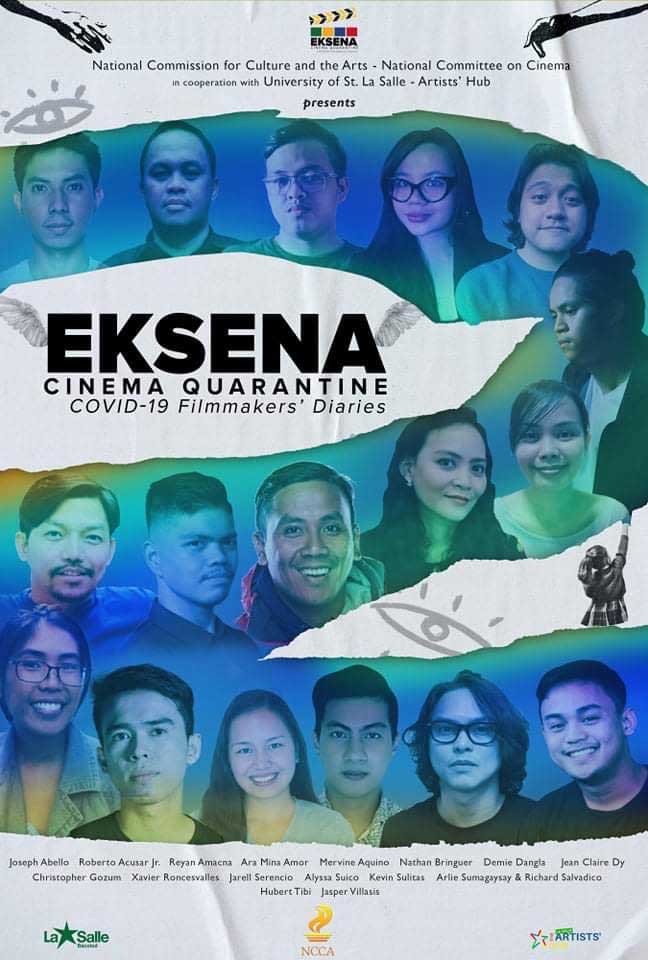 By Joseph B.A. Marzan
The creative genius of filmmakers throughout the country will keep shining as Eksena Cinema Quarantine (ECQ): COVID-19 Filmmakers' Diaries 2 returns for a second round starting Feb 19, 2022.
The virtual film festival, which will be hosted on a video-sharing platform, will feature 16 films by directors from various parts of the country chronicling their stories amid varying restrictions and alert levels during the pandemic.
The featured filmmakers include Joseph Andrew Abello, Roberto Acusar Jr., Reyan Christian Amacna, Ara Mina Amor, Mervine Anjelo Aquino, Brian Jonathan Bringuer, Demie Dangla, Jean Claire Dy, Christopher Gozum, Xavier Axl Roncesvalles, Jarell Serencio, Alyssa Mariel Suico, Kevin Van Sulitas, Arlie Sweet Sumagaysay & Richard Jeroui, Hubert Tibi, and Jasper Villasis.
The name of the festival was inspired by ECQ, or the Enhanced Community Quarantine, which was implemented by the national government in response to rising coronavirus disease 2019 (COVID-19).
In a virtual press conference on Friday, Feb 11, Sub Committee on the Arts (SCA) and National Committee on Cinema (NCC) chairperson Rolando Tolentino said the festival was created to encourage filmmakers to continue their craft amid the pandemic.
"We called this ECQ because when we did this last year, it was during the ECQ level that the 16 filmmakers representing Luzon, Visayas, and Mindanao made films. It is NCC's contribution to [the] continuation or sustainability of the filmmaking practice among regional filmmakers in our country," said Tolentino.
"We chose 16 filmmakers who have established themselves via full-length films and short films, a combination of these, and this year, we continued the same effort. But this time, we have a lot of first-time filmmakers," he added.
THE 16 FEATURED FILMS
All films under the ECQ: COVID-19 Filmmakers' Diaries 2 are related to the issues abound amid community quarantine regimes in various parts of the country.
"Not A Short Film" by Abello talks about an athlete and his best friend who traveled to Zambales out of boredom from his routine, meeting a mysterious girl in the town of Liwa-Liwa who sends them mixed signals.
Abello described the film as his "commentary on Philippine cinema, on how Filipinos treat Filipino films".
Acusar's film "Pangamut Gayd" is the story of a teacher who is assigned to help learners in a far-flung and conflict-affected area.
The romantic film "Pinitik" by Amacna is about a blind guy in his early 40s from Ozamis City who falls deeply in love with a woman in her early 20s who stays beside his isolation room in a quarantine facility.
"Pisti Pandemic" by Amor is about a young adult named Dong who dives into a minimart to buy food and other needs in panic due to the initial lockdown amid the pandemic.
"Palengke Day" by Aquino recalls the experiences of the Baguio Public Market during the early days of the pandemic and the community quarantine, while also looking into the noise surrounding the possible redevelopment of the market by the city government in partnership with a major shopping mall company.
Bringuer's "Mel" is about a mother, the titular character Mel, who gets fired because of the pandemic, and her son who daydreams about a past memory of his father playing the saxophone.
The narrative film "Things I'll Tell You" directed by Dangla, tells the story of multiple people from one person's perspective – one about wanting to escape from the pandemic in Manila, another about testing positive for COVID, and another about a fear of getting pregnant amid the pandemic.
"Ritual of Affliction" by Mindanao-based documentarist Dy is an experimental essay film that "explores the notion of liminality as a phase artists go through and are always caught in the in-between and betwixt during the pandemic."
The short documentary film "Agno: Memories of a Forgotten River" is about the memories of the people from filmmaker Gozum's hometown of Bayambang, Pangasinan when the Agno River's waters were not yet impounded with the completion of the San Roque Megadam in 2003.
"While the pandemic is happening, the river flows in the hearts of the town. It's about the memories of the people from my hometown of Bayambang living near one of the largest and most important river systems in Luzon, the Agno River," Gozum said.
Another narrative film, "Anima Sola" by Roncesvalles, is about transwoman seamstress Nora from Tabaco City, Albay, who found herself alone with her sewing machine amid the lockdowns, dealing with how culture and religion have been interrupted.
Serencio's "Paris sa Akong Kasingkasing" is an experimental surreal drama inspired by stories of Filipinos living in Paris.
"It's basically a story of a woman who is searching for her husband in Paris, but it is an experimental surreal drama which is inspired from the stories that I learned from the Filipino community here in Paris, infusing also my experiences being stranded in this foreign country," said Serencio, who is still currently in Paris.
Suico's "See Us Come Together" is a short documentary that follows an ophthalmic lens workers union that moved to ensure that there were mechanisms to protect workers amid the pandemic, changing the culture of labor in their factory.
The short drama film "My Day" by Sulitas centers on a student in a remote area studying under remote learning, pushing amid struggles to learn with only one phone shared among their siblings, and other concerns in their home.
"Mga Handum nga Nasulat sa Baras", a comedy-drama film by Sumagaysay and Salvadico, narrates the journey of young boys Makoy, Kaloy, and Buknoy, who live on an island where almost all people only graduated elementary and then start to work, and whose lives changed with the news about the pandemic.
Tibi's "Ilog Bikol" talks about an innocent young girl's penchant for newfound things which bring her immense happiness, being unaware of lurking unexpected circumstances.
The animated dance documentary "Sampung Minuto" by Villasis looks into a queer person traversing memories and events in their life, 10 minutes before receiving a dreaded test result.
These 16 films can be accessed through Vimeo starting Feb 19, after the launching program which will be live-streamed on the Facebook pages of the National Commission on Culture and the Arts and ECQ: Covid19 Filmmakers Diaries.
The virtual film festival is in partnership with the University of St. La Salle in Bacolod City.