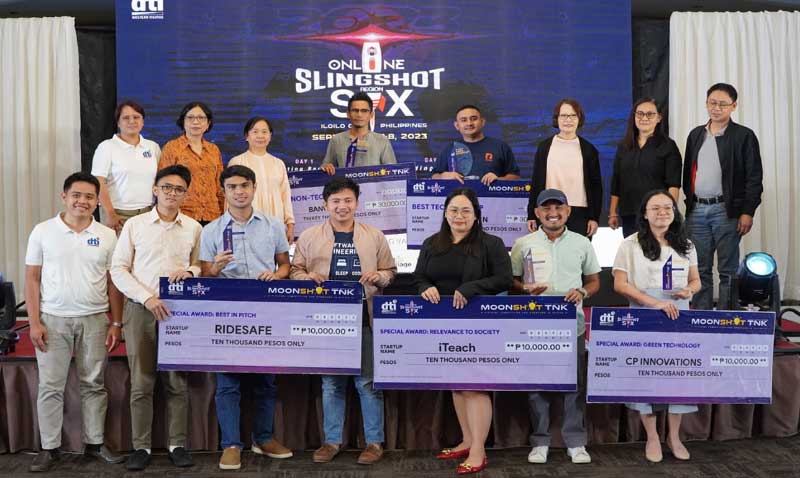 Two startups from Region 6 emerged victorious in the Department of Trade and Industry Region VI's Moonshot TNK Pitching Competition, and three additional startups received special awards on 09 September 2023 at the District21 Hotel, Iloilo City as one of the highlights of the Online Slingshot for Region 6 (OSR6) 2023.
The Department of Trade and Industry (DTI) Region VI proudly marks its third year of dedicated support to startups, with a total of 29 assisted startups under its belt.
These startups have been nurtured over the years, with 10 receiving assistance in 2021, 9 in 2022, and an additional 10 this 2023.
The startups hail from various provinces across the region, including Aklan, Iloilo, Negros Occidental, Antique, and Guimaras.
This year's startup landscape saw an impressive turnout, as 34 tech and non-tech startups participated in the pitching competition.
Among these, 10 finalists emerged, with an overwhelming representation from the province of Iloilo with 8 finalists and one each from the provinces of Negros Occidental and Guimaras. Iloilo's dominance was highlighted as all  winners hailed from the province.
The Moonshot TNK pitching competition for startups has been a significant technology and innovation program of DTI Region 6. This initiative was organized in collaboration with Mr. Jonathan D. De Luzuriaga, CEO of Spring Valley Tech Corp. and President of the Philippine Software Industry Association, and after, collaboration with the Philippine Trade and Investment Center-Silicon Valley and the Philippine Consulate General in San Francisco, aiming to foster mentorships, networking, and B2B matching opportunities for startups from Region 6.
The competition's primary goal is to bolster local startups and enable them to advance their technological and creative solutions to address critical challenges in Western Visayas, particularly in the fields of health, poverty, education, and the environment.
Qualified participants in the competition must be startups in the minimum viable product or prototyping/pilot stage. The competition is open to both individuals and groups with two to four members, all of whom must be 18 years old or above and Filipino citizens.
The winners of the Moonshot TNK Pitching Competition in various categories include:
Best Non-Tech Startup: Banwa Pens – Handcrafts pens out of local woods
Best Tech Startup: Rezbin – Developing technology and infrastructure to make waste disposal easier and more appealing.
Special Awards:
Best Pitch: Ridesafe – A comprehensive safety system for motorcycle riders, including a smart helmet companion and real-time data monitoring.
Best Green Technology: CP Innovations – Extracting liquid pectin from calamansi waste peels for various applications, including thickening, texturizing, and cosmetics.
Best Impact: iTeach – Providing innovative educational opportunities to communities through portable and solar-powered educational toolkits.
All ten 2023 startup entries were assessed by the DTI Region 6 management and passed two layers of screenings by the TNK screening committee composed of industry leaders, private sector representatives, Technology Business Incubator (TBI) Heads, national government agencies (DOST, DICT, and NEDA), and DTI officials.
The program offers substantial support to winners and finalists, including cash prizes, non-cash incentives like co-working spaces, mentorships, training, market and investor connections, export assistance, investment promotion, and B2B matching opportunities.
Ermelinda Pollentes, OIC-RD of DTI Region VI, expressed her gratitude to DTI's government partners, the academic community, and private sector consultants for preparing entrepreneurs for success in today's ecosystem, where science, technology, and innovation reign supreme. She affirmed DTI's commitment to continue supporting startups and nurturing an environment where innovation thrives aligning with DTI Region VI's aim to transform Western Visayas to be recognized as a seedbed of startups.