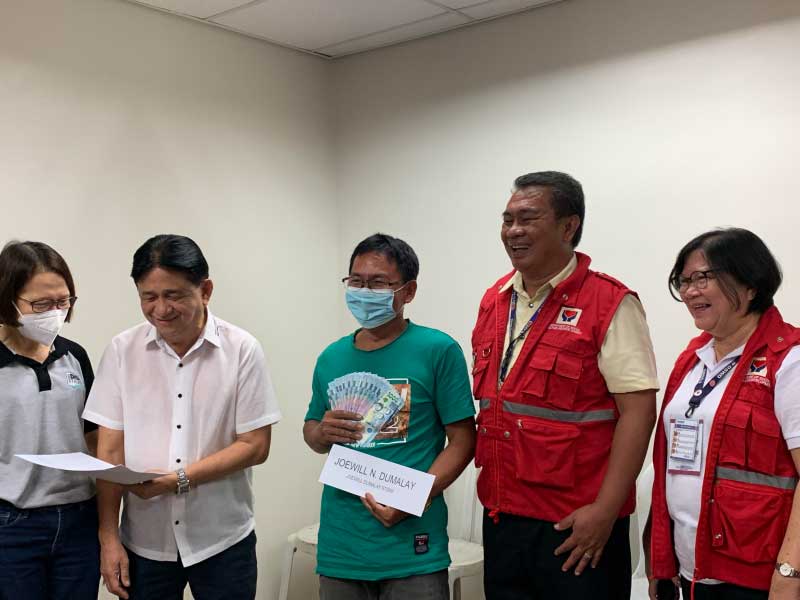 By Rjay Zuriaga Castor and Jennifer P. Rendon
Even though they are thankful for the ₱15,000 one-time cash assistance from the government, small rice retailers in Iloilo said it will not be enough to cover their losses due to the mandated price ceiling.
The Department of Social Welfare and Development Field Office VI (DSWD-6) on Wednesday morning started the distribution of the subsidy to an initial 14 rice retailers in Iloilo City affected by the recent price ceilings on regular and well-milled rice.
"Happy man pero indi gid gawa kabawi. Tama tama lang. Okay lang gid nga may ginhatag nga financial assistance […] Okay na lang na ah kaysa sa waay," said Marvie Lapastora, a rice retailer from Jaro Small Market.
Lapastora said she will use the money to purchase regular and well-milled rice to make it accessible to those who cannot afford special or premium types of rice.
Joewill Dumalay also expressed his gratitude for the assistance since he lost 5 pesos per kilo when the price cap took effect.
"Gadamo ang baklanay sa amo na nga presyo eh ang 41 to 45 nga bugas. Mga 5 pesos per kilo ang perdi pero ti sige lang ah. Indi man magdugay gid guro," he said.
President Ferdinand Marcos Jr. previously said that the price ceiling is a "temporary measure" and that more rice supply will be coming in the second week of September.
Dumalay also emphasized that "Sa bugas ndi ni kaigo yah. Gamay gamay ni ang 15 pero makabulig bulig man sa perdi namun."
Nathaniel Falsis also lost 5 pesos per kilo in his local rice, but there is nothing that he can do but comply with the mandate.
"Willing gid [magcomply] kay may mga penalty nga daad. Basi ma preso kami bala haw," he said.
Just like other retailers, Rosario Bañes said the assistance is a bit modest, but with the small amount, they can recover their losses and continue with their business.
"Gamay kaayo eh galing kay pasalamatan na lang natun kung ano ang mabulig sang aton panguluhan […] bisan sa dyutay nga 15,000 makabulig sa amon nga mga gagmay nga mga negosyante," she said.
Bañes said she is hoping that there will be a second payout of cash assistance.
DSWD-Field Office VI released a total of P720,000 cash subsidy to small rice retailers in Iloilo City and Negros Occidental on Wednesday.
The 48 qualified beneficiaries each received P15,000, which is a one-time assistance given to rice retailers affected by the rice price ceiling.
"This is only the first batch of releasing. The DSWD and the Department of Trade and Industry are working together to ensure that micro retailers are provided the aid that they need," Atty. Carmelo Nochete, DSWD-6 regional director, said.
Nochete assured that the two agencies are doing everything to help the affected rice retailers as fast as they could.
Wednesday's subsidy release signaled the jumpstart of the payout under the Sustainable Livelihood Program-Economic Relief Subsidy (SLP-ERS) to help micro rice retailers cope with losses due to the imposition of the price ceiling of rice under Executive Order 39, series of 2023.
DSWD-6 has allocated P3.75 million in assistance to rice retailers and is intended to cover the losses of over 250 small rice retailers in the region.
The DSWD-6 said distribution of the aid in other provinces will continue this week.
Aside from the registered rice retailers, unregistered rice retailers will also receive P15,000 while sari-sari store owners will get P5,000.
DSWD data indicated that 14 rice retailers from Iloilo City received the aid and another 34 in Negros Occidental.
The DSWD-6 said the DTI was tasked with the identification of participants or beneficiaries.
In Iloilo City, the distribution was attended by Atty. Carmelo Nochete, DTI OIC regional director Ermelinda Pollentes, Iloilo City Vice Mayor Jeffrey Ganzon, and DSWD SLP-ERS Focal Person Mary Ann Masculino.
Meanwhile, the payout in Negros Occidental was supervised by DSWD-6 assistant regional director for operations Arwin Razo along with DTI Assistant Regional Director Rachel Nufable, Department of Agriculture Assistant Regional Director Engr. Jose Albert Barrogo and Bacolod City Administrator Atty. Pacifico Maghari III.