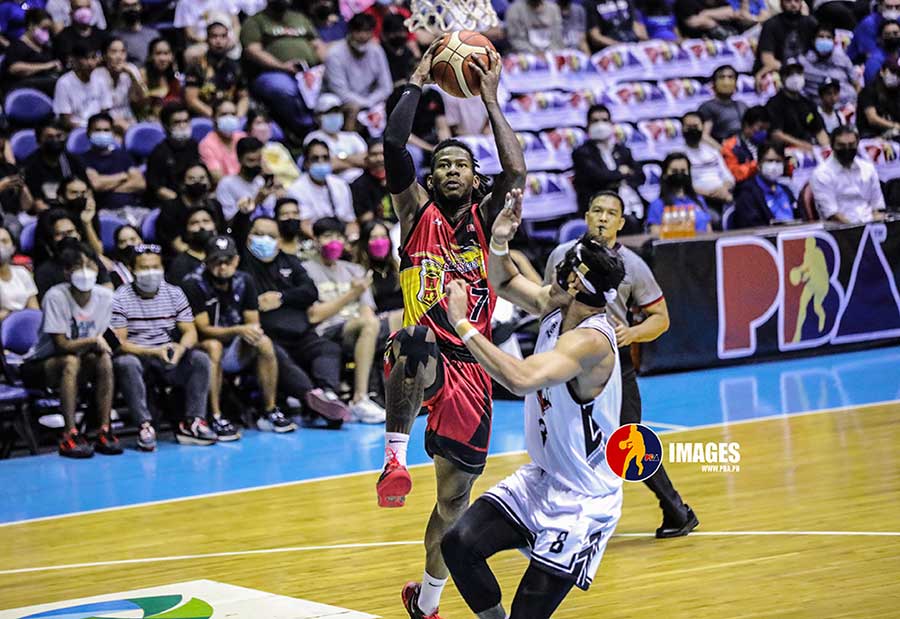 By Leobert Julian A. de la Peña
The star-studded San Miguel Beermen were put into a tough test against the surging Blackwater Bossing squad and needed an overtime period to pull off the hard-earned win, 110-107, in the ongoing PBA Philippine Cup.
San Miguel survived a disappointing fourth-quarter meltdown after leading by as much as 21 points when Paul Zamar was fouled after hitting a three-pointer during the 11:30 mark of the final canto.
The Beermen were enjoying a comfortable lead and was set to cruise to an easy win but the Blackwater squad had other plans and pulled off a courageous momentum-clinching fightback.
From 21-down, Blackwater suddenly caught fire and at the same time contained the waxing-hot San Miguel offense to deadlock the ball game at 92-all courtesy of a Rashawn McCarthy step-back trey with under three minutes remaining in the game.
The revitalized Bossing squad then got the lead back from the first half, 95-92, after a hand-off play from Jvee Casio was executed to perfection which resulted to a three-pointer from the left elbow.
With the game tied at 95-all, Baser Amer looked to lull the Beermen to sleep after burying the clutch floater that gave Blackwater a 97-95 lead with 44 seconds left in the game.
However, Jericho Cruz was quick to retaliate after sinking a leaning one-handed hook shot in the free-throw area that tied things again at 97.
PBA's six-time Most Valuable Player (MVP) June Mar Fajardo had the chance to win the game for the Beermen but missed both of his shots from the charity stripe after baiting Brandon-Ganuelas Rosser with his jump shot jab-step.
It was San Miguel that struck first after a quick 5-0 run in the extension period. The Beermen switched their offensive focal point to Moala Tautuaa which paid dividends and bullied his way against the Blackwater interior defense.
Trailing by five points with 41 seconds left, Amer sank a three-pointer from the top of the key to pull them within two points but wasn't enough to complete the upset win against the mighty San Miguel team.
Fajardo led the Beermen with a monster double-double performance of 25 points and 18 rebounds backstopped by Cruz with 25 points and CJ Perez with 23 points.