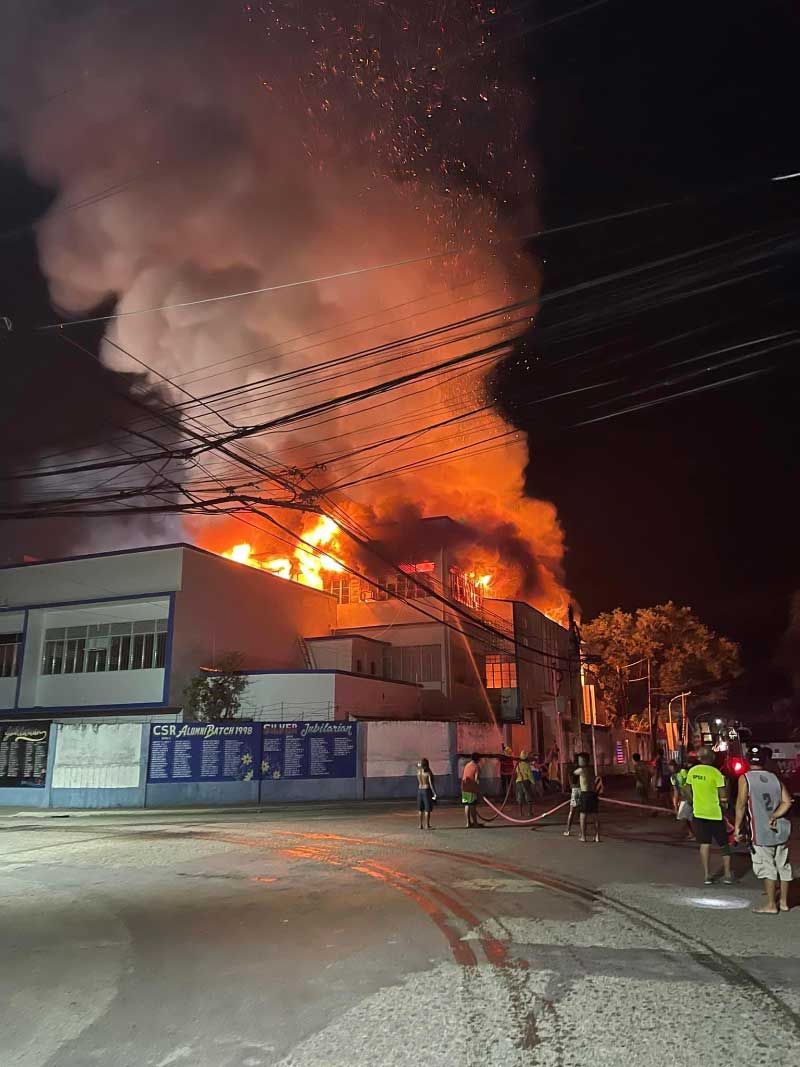 By Glazyl Y. Masculino
BACOLOD City – Classes were disrupted Monday night when a fire broke out in a three-storey building of Colegio de Sta. Rita in Barangay V, San Carlos City, Negros Occidental.
Fire Officer 3 Joseph Earl Solivio, chief investigator of San Carlos City Fire Station, said the blaze reportedly started from the Treasurer's Office located at the ground floor of the old building around 7:14 p.m.
Solivio said the fire immediately spread to the new three-storey building adjacent to the old structure, which is made of mixed concrete and light materials.
The old building, as well as the second and third floors of the new building were destroyed.
Some working students, who are staying in the school, assisted the nuns in escaping from the old building, while students from the other building were instructed to leave their classrooms.
Solivio said they had difficulty at first to penetrate the area because of some cars parked at the roadside that obstructed the way into the school.
He also said that they had difficulty identifying the areas that can be accessed for the firefighting operation.
Fire out was declared past 12 midnight, with no injuries reported, according to Solivio.
He said the fire left an estimated P18 million in damage to properties.
The cause of fire is under investigation. But, Solivio said they are initially looking into electrical as possible cause of the blaze.
The school just started holding classes last Monday, when the incident happened.
Meanwhile, Mayor Rene Gustilo, who also responded to the school, was saddened about the incident.
"Seeing this iconic building ablaze saddens me so much, just like all of us. It has long been the city's mighty edifice for decades, that resembled as a great institution of quality Christian Education that shaped thousands of lives," the mayor said.
The building may have fallen, but the values and teachings remain, as its true foundation are those who passionately impart their knowledge to every students who seek to learn, and want to build a better future, he added.
Let us have faith and hope for Colegio De Sta. Rita to continue to bring better education for all. CSR will rise again, Gustilo said.