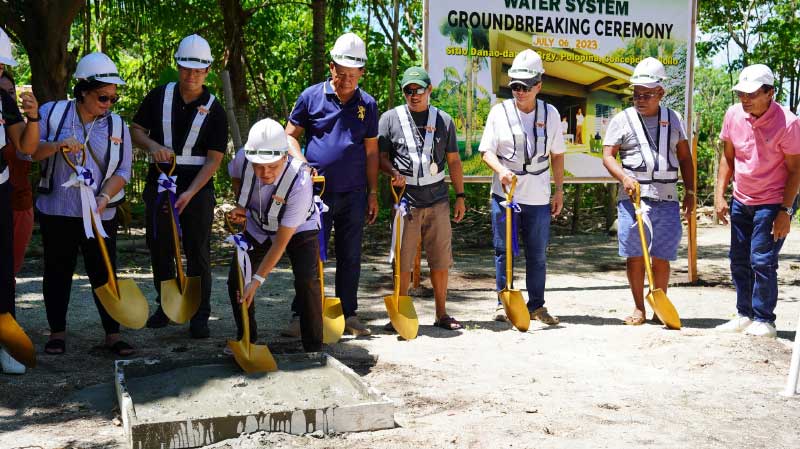 By Rjay Zuriaga Castor
A P12.845 million solar-powered desalination water system will be constructed in an island village in northern Iloilo to solve the residents' long-standing struggle in accessing safe water supply.
Iloilo Governor Arthur Defensor Jr. led the ceremonial groundbreaking of the province's first solar-powered desalination water system project at Sitio Danao-Danao of the island barangay of Polopiña, Concepcion on Tuesday, July 6.
The project, which will be funded under the Philippine Rural Development Project with a counterpart fund from the Department of Agriculture (DA) and the provincial government, will include a 40.32 square-meter water treatment building that houses a 16 cubic-meter tank and a potable water refilling station, operated by a solar-powered package consisting of 36 panels.
The project contract also includes a diesel-activated generator set as a backup power source to ensure the uninterrupted operation of the facility in cases of prolonged inclement weather.
Chief Engr. Romeo Andig from the Provincial Engineer's Office said the project can generate 11,000 liters of water daily, catering to the needs of 213 families in the village and allowing a 50 percent reduction in their water expenses.
Residents were previously reported to spend P70 per day on purchasing drinking water from the mainland.
The water system is expected to be completed by mid-December 2023.
In a media conference on Friday, Defensor said the provincial government is leaning towards the utilization of solar power as the energy source and transitioning to renewable energy.
"That is a big step even though it's only one. Though it is just in one village yet, that reflects the direction of the province towards renewable energy and technology of desalination," he said.
"We will move towards that direction of renewable energy and desalination," he added.