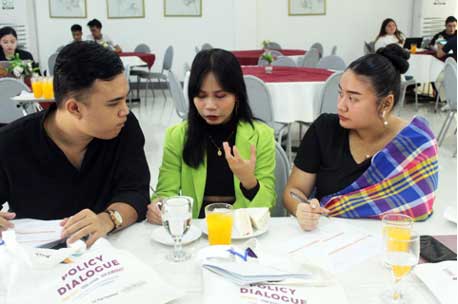 In pursuit of mental health awareness and well-being, two UP Visayas students clinched a Php100,000 grant for their policy initiative, Project Huna-Una, jointly awarded by YouthLed PH, The Asia Foundation, USAID, and the Gerry Roxas Foundation.
Representing Atipán-PH, UP Visayas students Jenelyn Kate Tabugoc (BS in Management) and Glenn Ivan Macitas (BS in Statistics), together with their team member Janna Grace Yson (West Visayas State University), proposed Project Huna-Una.
The project aims to support the mental health and well-being of children living in Barangay San Juan, Molo, Iloilo City, who were deeply affected by the fire incident last January 28, 2023.
The lead proponents were determined to address and provide the necessary support to the barangay by offering mental health and psychosocial support training to community members.
After successfully winning the grant, the lead proponents underwent a Policy Dialogue Sprint conducted last July 29 to 31 at the Gerry Roxas Foundation Training and Convention Center in Roxas City, Capiz.
As of this writing, they are now in the early stages of their policy implementation that commenced with the lead proponents engaging in Deliberative Democracy by fostering a collaborative relationship with the community members of Barangay San Juan. This initiative ensures inclusivity and fairness in the implementation of the policy.
The accomplished Deliberative Democracy session paved the way for the upcoming stages of the project – including the launch of the Mental Health Mobile Awareness Campaigns and the Mental Health and Psychosocial Support Training.
The team also intends to establish a Mental Health Corner in an accessible public area in the barangay that will cater to the mental health needs of the children. With the project's sustainability in mind, the team is poised to lobby for a barangay ordinance to ensure the program's continuity even beyond the grant period. (Ms. Nicole Anne Bautista with contribution from Atipán – PH)