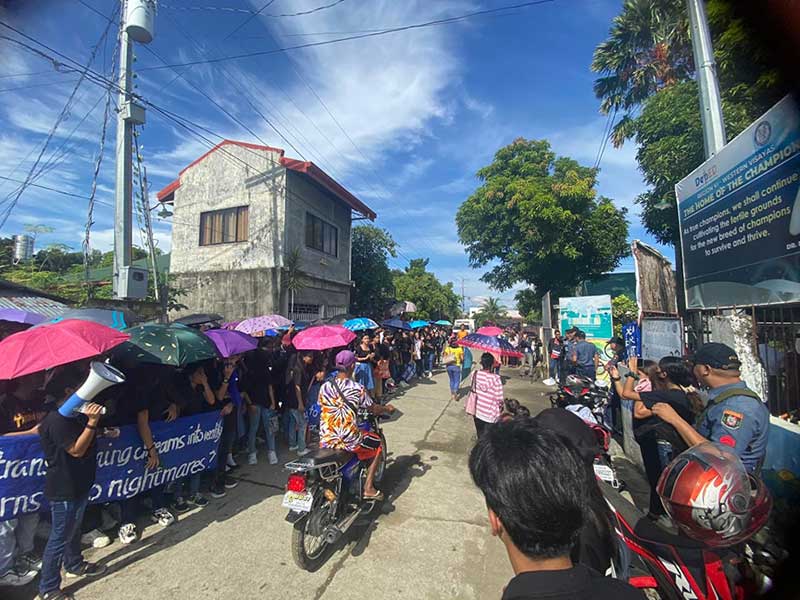 By Rjay Zuriaga Castor
The principal of Laua-an National High School (LNHS) in Laua-an, Antique was asked to step down for alleged abuse of power and mismanagement of the school.
Nearly 500 students, teaching personnel, and Parent-Teacher Association (PTA) members marched to the school on September 19, calling for the ouster of its school principal Venus Divinia Nietes.
Students chanted the phrase "Divinia, Ibagsak! Divinia, Ibagsak!" They also held up placards that read, "Our aspirations deserve better than this environment," "Freedom for LNHS," "Say no to manipulator," and "Unite for a dream-friendly school," among others.
In an interview with a local radio station, one student expressed her dissatisfaction with Nietes' leadership, saying, "Indi ko gusto ang sitwasyon nga ginatugro niya kanamon. Indi kami mag amo sini kung indi bukot amo na ang iya naubra. Sa tuod lang makita namun ang amon mga maestra nga gahinibi."
She added that Nietes turned a blind eye to the concerns and appeals they are raising.
"Sayud na gid tana ang paga ano mo ka namun nga mga etsudyate kag mga maestra namun," she stressed.
Another student said they staged the protest to express themselves and expose the maltreatment of the school principal to both the students and teachers.
"Gusto lang namun ma express ang amon hibubun-ot sa iya. Yawan na tamun sa iya… Tani hatagan kami chance nga para maghambal kay tama ka sakit nga taguon nga taguon lang namun… Tama na gid ang iya nga ugali. Indi na tamun," he explained.
Laua-an Mayor Aser Baladjay declared his full support for the cause of students and teachers who staged a strike at LNHS.
"Gakampi takon sa mga estudyante kag teachers," he said in an interview with Radyo Bandera Sweet FM Antique.
Baladjay assured that he has been gathering complaints from concerned parents, which have been filed with his office, but he emphasized that he expects the DepEd to take prompt action.
"Pahalina niyo ron ra si Ma'am Divina nga ra para matawhay ron ang eskwelahan," he added.
Baladjay claimed that since Nietes became the school principal, nearly 500 students from LNHS had transferred to other schools.
But Evelyn C. Remo, chief of the Department of Education (DepEd) Antique Schools Governance and Operations Division, refuted Baladjay's claims.
Remo noted that LNHS had a total enrollment of 994 last year and 1,148  for the school year 2022-2023.
DepED's actions
The Schools Division Office-Antique (SDO) said the matter has been raised through the Grievance Machinery Procedure of the Department of Education, but no progress was made.
This led to some teachers formally filing an administrative complaint against Nietes. The complaint is now waiting for a decision from the Regional Director's Office.
As for the request for the principal's transfer, the SDO-Antique emphasized that there should be a careful examination since such a move can significantly impact the entire Schools Division Office.
"There is a need to meticulously evaluate the matter taking into consideration all existing rules and issuances on personnel actions given that other school heads will likewise be affected," it stressed.
It also mentioned that their decision-making process is also influenced by the prohibitive rules of the Commission on Elections in light of the upcoming Barangay and Sangguniang Kabataan elections,
SDO-Antique also announced that a special committee was created to take charge of all concerns in LNHS and for the immediate resumption of classes for teachers and learners.
"The Department of Education-Schools Division of Antique is working towards the immediate resolution of this matter within the bounds set forth by law," it added.
According to the SDO-Antique, Nietes was temporarily reassigned to the SDO to ease tensions among school personnel. However, she appealed this decision to the Civil Service Commission Regional Office VI (CSC-6), which ruled in her favor and ordered her immediate return to LNHS.
The CSC-6, in accordance with the Omnibus Rules on Appointments and Other Human Resource Actions, also gave a directive that DepED is prohibited from transferring Nietes for a year after her reinstatement, which ended on August 26, 2023.
Meanwhile, DepEd-6 said that they are aware of the incident and that they already sent out immediate technical and legal assistance to the SDO-Antique.
"In matters that relate to the pending administrative complaints, the Regional Office is still waiting for the additional documents that the Schools Division of Antique ought to provide," DepEd-6 said in a statement on Saturday.
The agency said that these documents are necessary to obtain a clear picture of all circumstances that resulted in a strike of students outside the school.