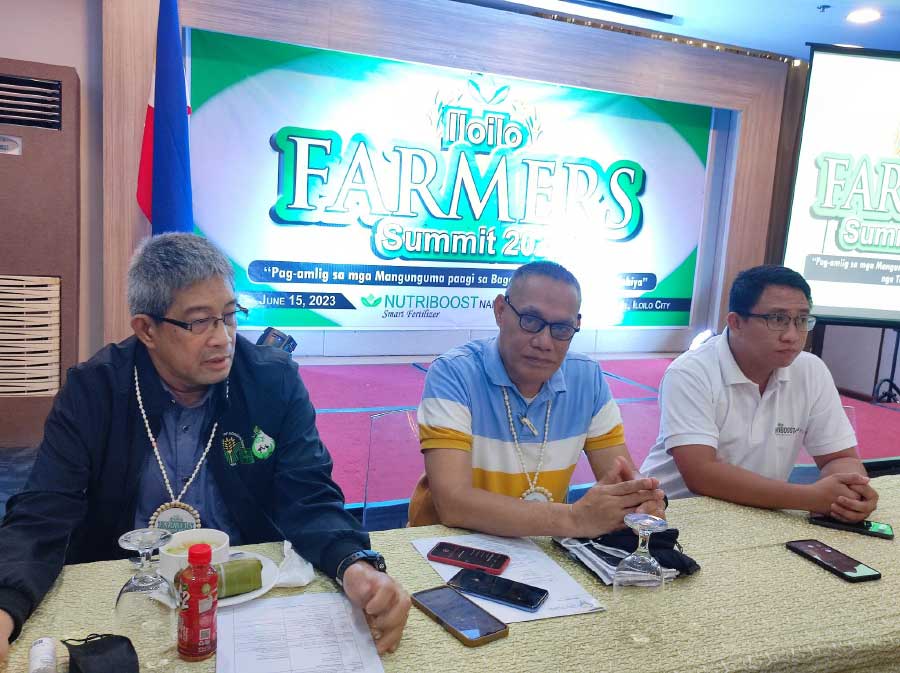 By John Noel E. Herrera
Around 100 agriculture folks in Iloilo participated in this year's Farmers Summit where they convened together with the Department of Agriculture (DA)-6, the city and provincial government of Iloilo and other stakeholders to discuss the problems they face in farming.
Atty. Bryan Cerebo, lead convenor of the event, on Thursday, June 15, 2023, said that the forum gave way for the farmers to voice their concerns and learn new ideas, particularly on the use of bio-fertilizers as the prices of farm inputs continue to increase, which affected their production cost.
He added that the event will give local farmers other concepts on how to confront the problem of higher farm input, noting that the DA central office recently released Memorandum Order (MO) No. 32, encouraging farmers to use bio-fertilizers as a cheaper alternative to increase or sustain crop productivity, and reduce the use of inorganic nitrogen-fertilizers.
"Ang DA nagpaagwa man sang memo number 32 nga nagahatag sang window of opportunity nga mag shift kita sa bio-fertilizer man bilang sabat sa El Niño and other situations nga gina-confront sang farmers, such as high farm input sa fertilizers," Cerebo said.
DA MO No. 32 aims to improve the productivity of farmers in production "in spite of the high prices of fertilizers by distributing biofertilizers which will compliment the use of inorganic fertilizers and support the balance fertilization program."
Provincial Agriculture Office (PAO) chief Dr. Ildefonso Toledo also said that it is "high time" for farmers to try bio-fertilizer as spike in prices of inputs, especially fertilizers, pose a threat to farmers' production.
"This is high time nga ang aton farmers and perhaps advocate sa good agricultural practices, especially sa pananom sang humay, matagaan sang insight kag ideas nga this is the time mag-switch kita sa bio-fertilizer," Toledo said.
"This is timely kay ang aton urea (fertilizer), nagtama man kataas ang iya bili. Wala kita sang other options, but perhaps best option now nga we are confronted with high prices sang aton mga panguma," he added.
The PAO chief stressed that aside from the increase in prices, the use of chemical fertilizers leads to the release of nitrous oxide, which is one of the contributing factors to global warming.
"Ang chemical fertilizer naging epekto man ni siya kung ngaa nabatyagan na naton subong ang climate change kay ining chemical fertilizers nagakadto man sa kahawaan kag mangin nitrous oxide, isa ka greenhouse gas nga patugang sang greenhouse gas effects nga nagapadugang init sang kalibutan nga ginatawag global warming," he explained.
Meanwhile, Cerebo, pointed out that aside from tackling the problems of farmers and giving them ideas on how to confront it, the forum served as a venue for possible public-private partnership, wherein private sectors could fill in the gaps to support the direction of the government for the agriculture industry.
"We understand that (DA) Memo No. 32 nga naga-encourage for the shift sa nanofertilizer in the middle of the year lang siya nag-agwa (May 2023), so ang mga budget allocation (of LGUs) napangplastar na since last year. So, with public-private approach, hopefully we can able to download and inspire farmers nga maggamit sang bio-fertilizers," he explained.