By Karen Joyce Pumaren
Along with the surging water, indigenous stories of the Tumandok people of Calinog cascade over Jalaur River. Rippling therein are hundreds of years old ancestral memories and noteworthy monuments of Tumandok culture, heritage, and identity.
From Mount Baloy in the Central Panay Mountain Range, Jalaur River, the second longest river on the island of Panay, journeys from east to southeast before it withdraws into the strait of Guimaras.
It drains to the eastern portion of Panay after coursing through Passi City and the towns of Leganes, Zarraga, Dumangas, Barotac Nuevo, Pototan, Dingle, San Enrique, Duenas, and Calinog.
As one of the three major river basins in the province of Iloilo, Ilonggos value the river predominantly because of its role in irrigation and provision of potable water. But to the Tumandok people of Calinog, the river is more than practical and even cultural.
Lodged in the corners and sections of the water place are sacred sites carrying long-lived tales that depict the traditional way of life of the ancient Tumandok people of Calinog.
Tumandok couple, Romeo Castor, 64, and Berna Castor, 60, who were born and raised in the floodplain of Jalaur River, narrated these stories weaved by the precious river of Jalaur.
Tumandok Chronicles along Jalaur River of Calinog
"Hulaton ta ikaw sa Bukay Isda, masami nga harambalon sang amon mga apoy kag uwaw sang bata pa kami bilang palatandaan kung sa di-in kami dapat maagi," Romeo Castor recounted.
(I will wait for you at Bukay Isda, this is the usual line uttered by our ancestors when we're still young referring to the community known figure which serves as signifier of our location.)
Castor cites the area not to communicate a location but to begin the narration of the deep-seated Tumandok chronicles along the Jalaur River of Calinog.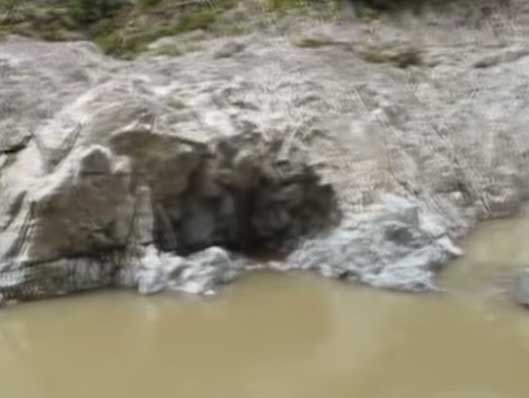 During the great flood, which the Tumandoks referred to as Anaw, masses of fishes flocked to Jalaur River. But when the water subsided, a rock so big and so white with features like that of a fish mysteriously appeared in the center of the river. They called it Bukay Isda.
"Ang Bukay Isda, ara sa tunga sang suba sa Agcalaga, isa ka bato ini nga ang porma daw isda. May ara siya baba, hasang, ikog, kag talinga ugaling daw helicopter ini siya ka hanggod. Kag ang iya nga kolor daw karton nga maputi pero daw mahigko tulukon, kung lantawon mo sa marayo daw bukay. Amo daya gintawag nga Bukay Isda," the Castors detailed.
(Bukay Isda, at the center of the river in Brgy. Agcalaga, is a rock formation that resembles a fish. It has a mouth, gills, tails, and fish ears. However, unlike the common sized fish, the stone is as big as a helicopter.  Its color is like a pasteboard, dirty white, but afar it appears purely whitish, that's why it's called Bukay Isda – white fish in English.)
The mystic existence of Bukay Isda was revered by the Tumandoks and it later became a sacred site where they perform their rites and rituals.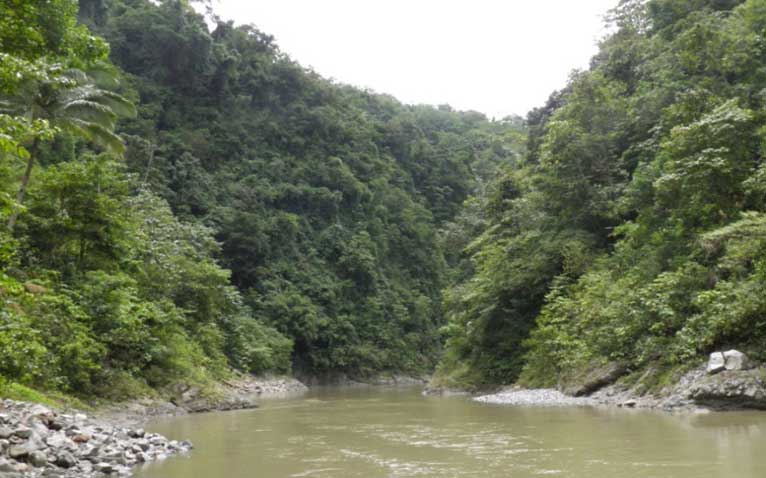 "Kung ara ikaw sa suba o malapit sa Bukay Isda, sa wala kag tuo imo makita ang duha ka pinasahi nga mga bukid, ang Dila-dila kag Patawan" Castor said.
(If you are at the river or near Bukay Isda, to your left and right you will see two uniquely formed mountains, Mount Dila-dila and Mount Patawan.)
Like Bukay Isda, these two mountains were strangely shaped by the ancient massive flooding.
"Suno sa amon mga apoy kang sanda buhi pa, sang panahon sang anaw nalab-ut gid ang mga dalagko nga bukid. Sang naghubas ang tubig ang mga bukid nga ini nagbag-o ang porma ang isa daw dila amo ran tinawag nga Dila-dila ang isa daw pataw sang manok amo ra ginhingalanan Patawan," Castor described.
(According to our late elders, during the great flood, nearby huge mountains were submerged. When the water receded, peculiarly, the shape of the mountains changed. The other resembles a tongue, hence Mount Dila-dila and the other looks like the meat of a chicken hence Mount Patawan.)
"Kadtu kita sa iraya, sa babaw sang Bukay Isda atun duman makita ang isa naman ka malapad nga bato nga kon tawagon sang mga kamalaman, Boracay Sintes," Castor added.
(Let's move forward, right above Bukay Isda another huge stone can be found, our ancestors call it Boracay Sintes.)
Boracay Sintes was named after the man they call Sintes who constantly dropped by the river and set himself on the huge stone to wash his clothes. People often see him on the place that they decided to name the stone Boracay Sintes.
"Si Sintes pirme gapamunak ukon gapanglaba sa suba, sa isa ka malapad nga bato siya nagapwesto, amo na subong natawag na Boracay Sintes. Kay wala pa habon sang una ang pipi sang kahoy kag bunsilak amo ang ginagamit nga habon sa mga bayo," Castor gaily narrated.
(Sintes often washed his clothes at the river, he always positioned himself on a big rock which is presently named after him, Boracay Sintes. Laundry soaps were not available during those times so people like Sintes used "pipi sang kahoy" and bunsilak as alternatives.)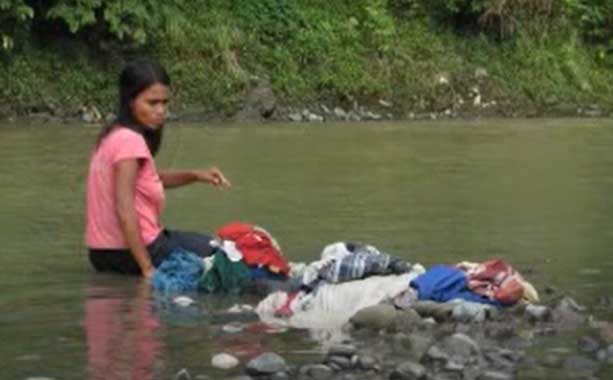 Boracay Sintes for the Tumandoks is a reminder of how their ancestors lived on the environment like plants and animals.
"Tabok kita sa daw gay-ub nga daw balay nga kweba," Castor said, transitioning to the tale of a cave, which, like Boracay Sintes, highlights the Tumandoks' relationship with nature.
(Let's move to a nearby cave structured like a house.)
Bordering the mountain and the river, is a cave unexplainably structured like a house after a sudden rupture in the mountain. Tumandoks think of it as nature's endowment that saves them from unforeseen natural phenomena.
"Ang nahubag sa bukid nagtumbok sa kilid suba, nagporma ka kweba nga biskan sobra bente kamo da manirong indi gid kamo mabasa. Tama ini kalapad daw balay nga nagaprotekta," Castor explained.
(The rocks and soils that plunged from the mountain formed a cave where more than 20 people could fit in and took shelter when an unexpected rain came up. It was so wide that it felt like a house meant to protect.)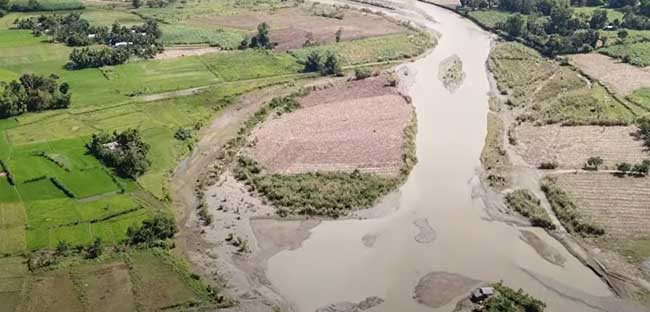 "Dason kaday-a ang Tabonan, ang lugar gid sang akon lolo kag mga uwaw. Patag daya nga malapit sa suba kung diin kami nagapanguma sang una," Castor continued.
(The next site is the Tabonan, this is where my forefathers lived. It is a plain near the river where we farm.)
In the floodplain near the river, birds as big as chicken, which is known to many as Tabon, assembled in large numbers. They took advantage of the prosperous crop production in the area for their reproduction. Ancient Tumandoks began to notice their growing number, hence, named the plain as Tabonan.
"Ang Tabonan, malapad ina nga patag. May mga patubas nga abaka, niyog, mais, kag paray. Gintawag nga Tabonan kay duro pispis nga Tabon kung mangitlog gani nagakutkot sa baras dason tabunan liwan, amo na gintawag Tabonan" Castor said.
(Tabonan is a vast land where Tumandoks grow abaka, coconut, corn, and rice. It was called Tabonan because there are a lot of birds called Tabon that are present in the area. These birds have an unusual way of reproducing, they dig the ground to lay their eggs and cover it back again.)
Castor ended his narration with the story of a place where his ancestors met their end.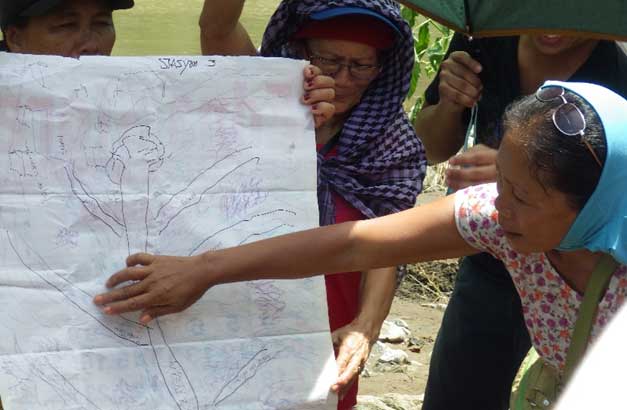 Not so far away from the river is the sacred Alabihud Burial Ground where hundreds of Tumandoks are buried.
"Sa Alabihud ara dira ang amon mga kamal-aman na lubong. Bilang pagrespeto sa ila tradisyon namon ang pagtanom didto sang kawayan kag gumamela," Castor said.
(Our ancestors are buried in Alabihud. We pay respect and reverence to them by performing our traditional planting of bamboo and gumamela in the area.)
Bukay Isda, Mount Dila-dila, Mount Patawan, Boracay Sintes, Tabonan, Alabihud, and the Jalaur River that binds them are tangible reminders of the complex culture of the Tumandok people of Calinog that encompasses language, systems of classification, resource used practices, social interactions, ritual and spirituality.
"Importante sa amon nga mga Tumandok ang mga lugar nga ini kay ang amon tradisyon kag kultura nagapanalaytay sa kada isa nga mga isturya," Berna Castor expressed.
(These sacred places are very important to us the Tumandoks because each of the stories of these sites carry our tradition and culture.)
John Ian S. Alenciaga, coordinator of Jalaur River for the Peoples Movement who works closed with Tumandoks, pointed out the importance of the ancestral lands and the Jalaur River to the Tumandok people.
"Land is Life. This is the heart of the struggle of the Tumandok people. Land defines their culture and identity. This is the source of their livelihood, a place for their abode. The land is their only inheritance to the future generations. Protecting their land means ensuring that their children and grandchildren will not worry about their future and place to live in. Without their lands, the Tumandok identity will never be known. Safeguarding IP culture and lands means ensuring that the rights of IPs are being respected and uphold," Alecianga expressed.
When these places vanish and these stories are forgotten, then, gradually the Tumandoks, our natives, will be no one. Hence, the surging water of Jalaur River must be kept flowing because embedded therein are Tumandoks' culture, heritage, and identity.
Karen Joyce Pumaren is a third year Communication and Media Studies (Journalism Cluster) student of the University of the Philippines Visayas.  Her story is a CMS 136 (Specialized Reporting) class output under Dr. Zoilo S. Andrada Jr.