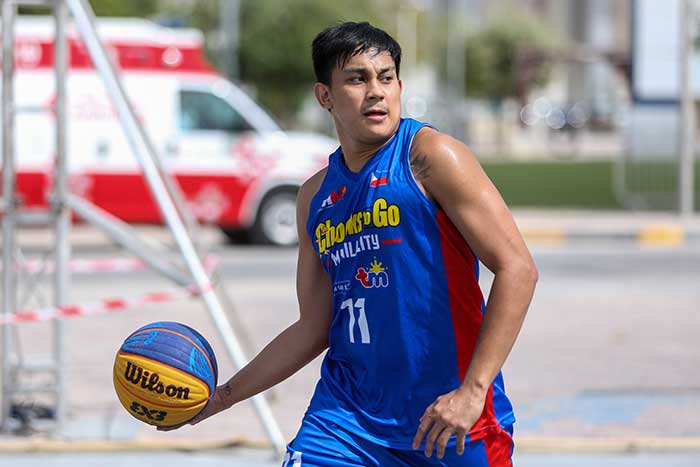 By Leobert Julian A. de la Peña
The country's No.1 3×3 player will no longer see action in the upcoming international tournaments after Chooks-to-Go Pilipinas made an official announcement last October 20, 2023.
Mac Tallo, the Cebuano native who led Chooks to several ranking-boosting wins and is the current top player of the PHL in the 3×3 field, was granted a release after three years of playing for the organization.
It was Vice President Mel Macasaquit who formalized Tallo's departure from the 3×3 basketball program in a lengthy message.
"Chooks Pilipinas is grateful for the service Tallo has done for the country, including being the country's number one-ranked 3×3 player. Tallo has exemplified the spirit of dedication, hard work, and passion that defines Chooks-to-Go Pilipinas," said Macasaquit.
Tallo spearheaded the PHL's rise to the rankings and helped Chooks secure the world no. 19 spot just this year after tallying consecutive wins.
Before leaving the program, Tallo cemented his name as one of the best to suit up for the PHL after leading Chooks to a victory over world no. 12 Futian.
The victory happened during the 2023 FIBA 3×3 World Tour Cebu Masters where the scoring machine had his last dance in front of his home crowd.
"Tallo's transition to 3×3 basketball showcased his adaptability and resilience. His performances on the court have brought pride and inspiration to fans across the nation," added Macasaquit.
As of now, Tallo and his camp are yet to confirm whether he will be returning to the PBA and continue his 5×5 dream.
Tallo was a first-round pick during the 2017 PBA Rookie Draft and was selected by the TNT Tropang Giga.
However, his career flourished when he was traded to the NLEX Road Warriors and began showcasing his deep offensive bag under the tutelage of head coach Yeng Guiao.