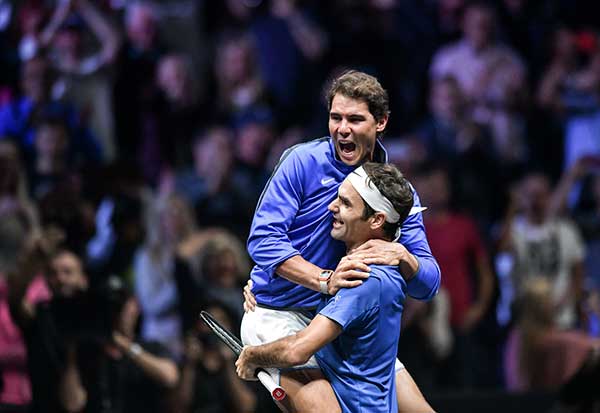 By Leobert Julian A. de la Peña
This might be the last time lawn tennis fans will see Roger Federer and Rafael Nadal team up in a doubles match.
With no final word whether the two great legends of the sport will be retiring at the end of their 2022 professional tennis campaigns, the duo revealed their plans of representing Team Europe in the doubles category of the upcoming 2022 Laver Cup.
"I suggested to Roger we should play doubles together in London and he seems keen, so now we just need to persuade our captain Bjorn Borg," Nadal shared.
Federer and Nadal are both members of team Europe in the prestigious Laver Cup and will also be looking to defend their title against Team World this year.
The two prominent figures in the sport once shared the court as teammates with team Europe last 2017 in the event at Prague and has drawn more tennis fans from all around the world.
With the Laver Cup fast approaching, tennis enthusiasts have been asking for another "FeDal" reunion and it seemed like both Federer and Nadal will be granting the request of their fans.
"Roger has been a huge part of my career, a big rival and also a true friend. To be part of Team Europe together is great and if we're able to possibly share the court one more time as a doubles pairing then this would be a truly special experience for us both at this stage in our careers," added Nadal.
Federer also confirmed that Nadal messaged him soon as the Laver Cup tournament officials laid out their plans for the rest of 2022.
"He messaged me on social media after the Laver Cup in Boston last year suggesting we play doubles in London and I am definitely up for a Laver Cup 'Fedal' comeback!" shared Federer.