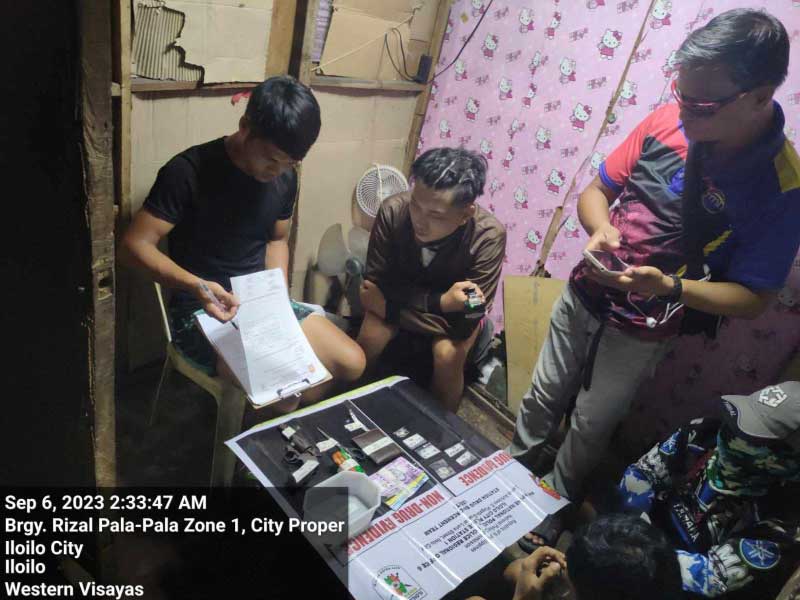 By Jennifer P. Rendon
Three persons were arrested in a police anti-narcotics operation at a hotel in City Proper district, Iloilo City on September 8.
Arrested were Joshua Singson, 26, of Barangay Tanza Bonifacio, City Proper; John Ray Lozada, 25, of Barangay Rizal Estanzuela, City Proper; and Noel Drilon, 33, of Barangay Rizal Pala Pala, City Proper.
Members of the Iloilo City Police Office-City Drug Enforcement Unit (ICPO-CDEU), together with the Iloilo City Police Station 1, collared the trio after they allegedly connived in selling two sachets of suspected shabu for P10,000 while billeted at a hotel in Barangay Hipodromo, City Proper district.
When police scoured their hotel, 49 more sachets of suspected shabu and several non-drug items were recovered.
Lieutenant Colonel Antonio Benitez Jr., CDEU chief, said the seized drugs weighed around 80 grams with a standard drug price of P544,000.
Singson, the target of the drug operation, is listed as a high value individual (HVI) while Lozada and Drilon, his alleged runners, are street level individuals (SLIs).
Benitez said that Singson has been on their target priority list for quite a while.
"But he's doing an on-and-off operation that's why it took a while before he was arrested," he said.
All three suspects have no previous drug-related arrests.
But Benitez said they're checking on reports that Drilon had a record for a different crime.
The three suspects are now detained and will be charged with violation of Republic Act 9165 (Comprehensive Dangerous Drugs Act of 2002).