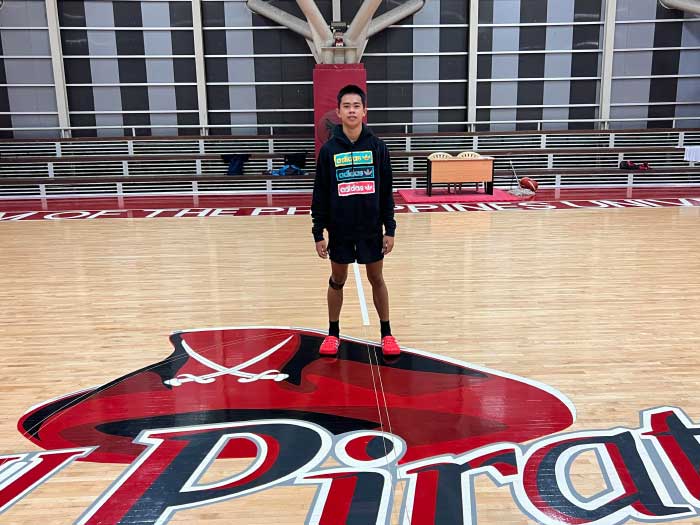 By Leobert Julian A. de la Peña
Another Tigbauanon is ready to flaunt his skills at the national level.
After the success of Ana Mae Tacatac, another Tigbauanon who became an integral piece to the University of Santo Tomas' women's basketball program currently competing in the UAAP, Noe Lingoeste, a youngster from Barroc, Tigbauan, will seek to follow in her footsteps.
From a kid used to showing off in the barangay level of his hometown, Lingoeste just received an opportunity of a lifetime after the Lyceum of the Philippines University (LPU) extended their desire to tap the lanky and athletic young point guard.
Finally, Lingoeste's dreams of playing in the NCAA will now be materialized when he was noticed by scouts during a tryout spearheaded by the University of the East here in Iloilo and Bacolod from July 7-8, 2023.
Lingoeste's quick improvement became noticeable to Tigbauan Ninjas' founder and team manager Mary Ann Portia Bernil, one of the top basketball programs not only in the first district but also in Western Visayas.
According to Bernil, she took the courage to absorb Lingoeste from scratch and became patient with her approach in helping him develop into the player that he is now.
From a limited range of basketball basics and drills, Bernil took the time to turn her focus to Lingoeste as she suddenly saw a unique potential in the kid.
The first major local basketball tournament that Lingoeste joined was the last Chairman's Cup in Iloilo City.
Bernil lent Lingoeste to team Oton's 17-under team and to her surprise, his skill level and confidence suddenly skyrocketed despite limited number of training months.
From there, Lingoeste improved day after day and was also noticed by some veteran players when he joined the Ninjas in an exhibition game against the Hua Siong Red Phoenix and the Iloilo Doctor's College varsity team.
In both games, Lingoeste balled out and was one of the reasons why team Tigbauan was able to sweep their tune-up games against IDC and Hua Siong.
Lingoeste will now be playing under the helm of LPU's head coach JC Docto and is already in Manila practicing with the team.