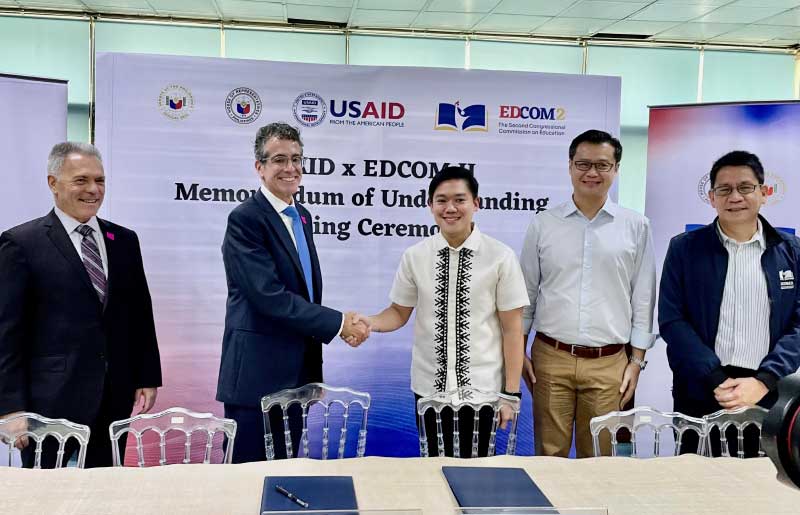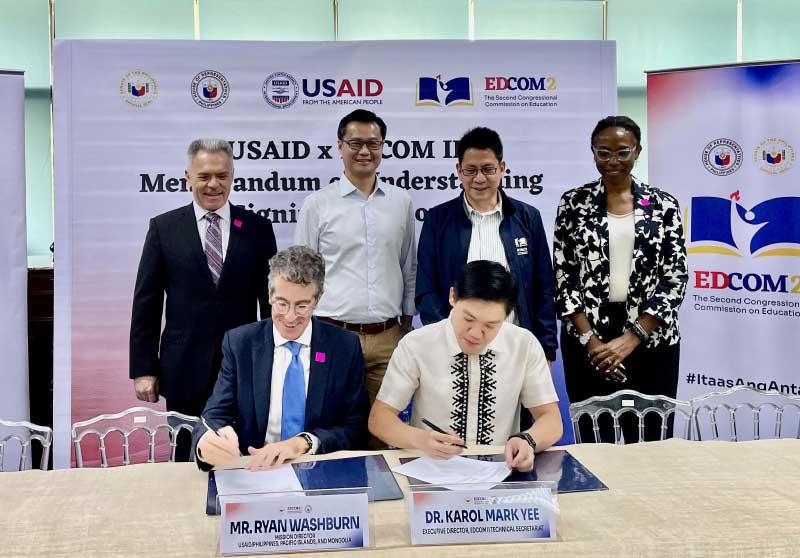 On September 7, the United States government, through the U.S. Agency for International Development (USAID), signed a Memorandum of Understanding (MOU) with the Second Congressional Commission on Education (EDCOM II) at the Senate of the Philippines to enhance the Philippine government's capacity to deliver quality education and improve learning outcomes.
The agreement solidifies U.S.-Philippines collaboration on policy research, capacity building, and technical assistance in support of EDCOM II's objective of assessing, evaluating, and recommending reforms to improve the Philippine education sector.
USAID Mission Director Washburn signed the MOU with EDCOM II Co-Chairpersons Senator Sherwin Gatchalian and Pasig City Representative Roman Romulo.  Senator Gatchalian serves as Chairman of the Senate Committee on Basic Education and Vice Chairman of the Senate Committee on Higher, Technical and Vocational Education, while Rep. Romulo is the Chairperson of the House Committee on Basic Education.
"The Memorandum of Understanding underscores the mutual commitment of our two countries to work together to shape the future of Philippine education in order to make it a key driver of prosperity for all Filipinos," said USAID Philippines Mission Director Ryan Washburn.
Composed of 10 commissioners from the Senate and the House of Representatives, EDCOM II is a national commission that looks at priority areas such as early childhood care and development, basic education, higher education, technical-vocational education and training, and lifelong learning, as well as cross-cutting issues in governance and finance.
"Reforming the Philippine education sector is no easy task that requires the inputs and expertise of advocates and partners.  We are grateful to the USAID for steadfastly supporting education programs in the country, and we look forward to their contributions in reviewing and reforming the state of education in the country," said EDCOM II Co-Chairperson Sen. Sherwin Gatchalian.
"This MOU demonstrates the depth of our countries' friendship with one another.  Access to quality education will unleash the full potential of Filipinos.  Thank you to the USAID for its support to enhancing our Philippine education system," Rep. Romulo said.
USAID shares the Philippines' goal of making the country competitive in global education and labor markets.  Over the past decade, the U.S. government, through USAID, has invested nearly $200 million to strengthen the capacity of Philippine education partners to drive inclusive and sustainable growth.