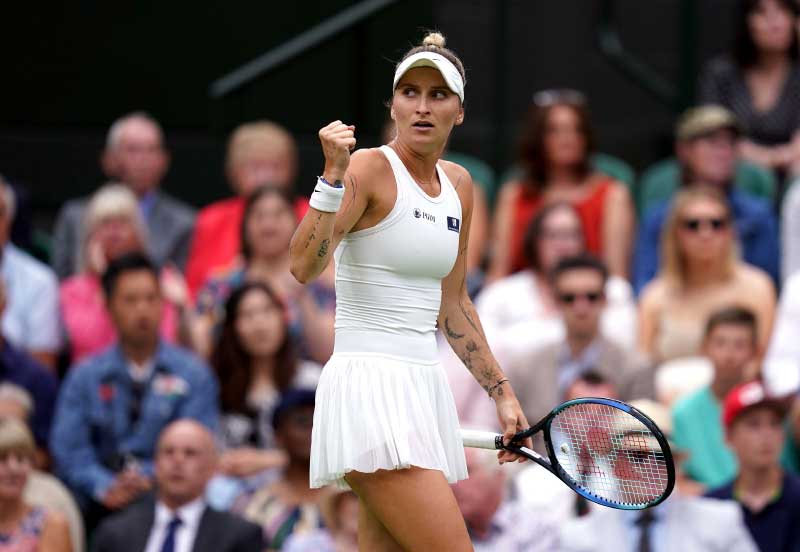 By Leobert Julian A. de la Peña
Marketa Vondrousova proved to be Elina Svitolina's kryptonite after ending her magical run in the ongoing Wimbledon – 6.3, 6.3- last July 13, 2023, to advance to the grand finals stage of the Grand Slam tennis tournament.
After booting out female world no. 1 Iga Swiatek during the quarterfinals, Svitolina ran out of gas against the Czech superstar and failed to win a single set in an expected nip-and-tuck affair.
Vondrousova's well-placed spin balls posed tons of problems to Svitolina's groundstroke game and kept her out of her usual baseline rhythm in the entire two-set semifinal duel.
Despite getting pinned in several exchanges after Svitolina fired a couple of flat power forehands, Vondrousova was always in the right place and fired back with a series of momentum-clinching return aces that put the crowd on their feet.
Vondrousova also had a great serving game against the Ukrainian superstar and recorded a total of four aces built from a 63% -win rate on her first service attempts.
As the match progressed in the first set, Vondrousova was able to capitalize on Svitolina's unforced errors and finally scored the first break-point of the match to grab a commanding 5-3 lead.
Svitolina had the chance to inch close and erase Vondrousova's match-point advantage but her right-court placement forehand went outside the line, giving the Czech the 1-0 lead.
It was total domination at the start of the second set as Vondrousova raced to a comfortable 4-0 lead. Svitolina showed signs of life after scoring a breakpoint to rack up two-straight game sets but the Czech held her service to build a 5-3 edge.
Vondrousova then iced the semifinal match after a huge spin service, causing Svitolina's forehand off-the-bounce pick-up to fly to the outside mark of the center line.
With the win, Vondrousova will be setting up a highly-anticipated championship matchup against Ons Jabeur of Tunisia.
Jabeur is also coming off a confidence-boosting semifinal victory over world no. 2 Aryna Sabalenka in three grueling sets- 6.7, 6.4, 6.3-.