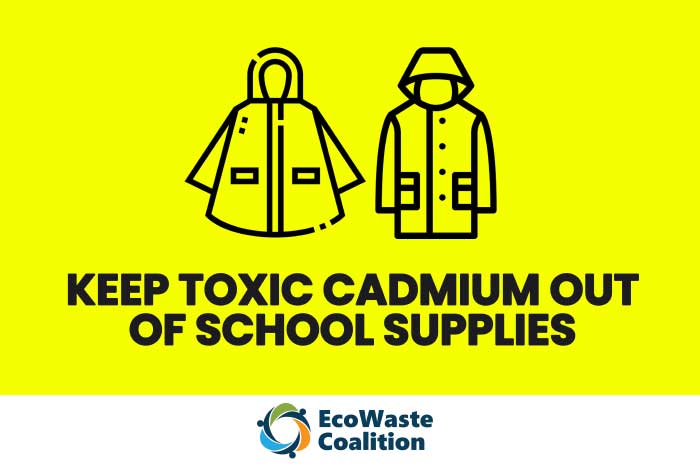 EcoWaste Coalition has detected a known carcinogen and renal toxin in plastic rain gears being sold in the market for use by young children.
The toxics watchdog group revealed that rain gears made of polyvinyl chloride (PVC) plastic may contain cadmium at levels exceeding the European Union's limit of not greater than 100 parts per million (ppm) as specified under the Restriction of Hazardous Substances (RoHS) Directive.
Based on the chemical screening conducted by the group using a Olympus M Vanta Series X-Ray Fluorescence (XRF) analyzer, four PVC plastic rain gears had cadmium ranging from 208 to 477 ppm.  Last year, plastic raingears analyzed by the group contained 481 to 744 ppm of cadmium.
Children are a marketing target for these PVC-based raingears as they often feature popular cartoon characters such as Batman, Cars, Mickey Mouse, Pokemon, and Winnie the Pooh.
To protect children from a potential source of cadmium exposure, the EcoWaste Coalition advised consumers to refrain from purchasing plastic rain gears with strong chemical smell or those marked "PVC" or "vinyl."
The group also advised consumers to make it a habit to check on the physical condition of rain gears and other PVC-based products used by their kids such as backpacks and lunch bags, noting that cadmium dust can be released when product deteriorates and gets inhaled or ingested by their children.
Children are most easily exposed to cadmium and other harmful chemicals because they tend to breathe more air, drink more water and eat more food per kilogram of body weight; they tend to put their fingers or objects to their mouths and thus increase the potential to ingest toxicants in dust or soil; and because their brains, bodies and immune systems are still developing, the group explained.
Cadmium, which is among the "10 chemicals of major public concern" as identified by the World Health Organization (WHO), "exerts toxic effects on the kidney, the skeletal system and the respiratory system and is classified as a human carcinogen."
To reduce the risk of exposure to human health and the environment from cadmium used in industrial processes, the Department of Environment and Natural Resources (DENR) issued Administrative Order 2021-08, or the Chemical Control Order (CCO) for cadmium and its compounds.
The CCO, however, does not cover "any cadmium in products and materials not considered as chemical substance or mixture."  The CCO, nevertheless, encourages "the use of products not containing cadmium to prevent and minimize release of cadmium to the environment."
Considering the limitation of the CCO, the EcoWaste Coalition is urging concerned agencies to promulgate supplementary regulations to control, if not eliminate, the use of cadmium, particularly in school supplies and all other children's products.
"We need to protect our children from this cancer-causing and kidney-damaging chemical that the European Union has banned or restricted in plastics and other articles," the group concluded.