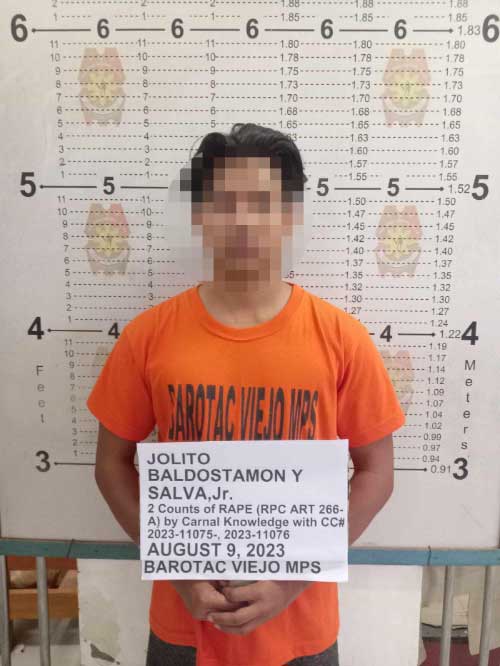 By Jennifer P. Rendon
A young man accused of rape was arrested afternoon of August 9, 2023 in Barotac Viejo, Iloilo.
Jolito Baldostamon, Jr., 23, was collared at his home at Barangay Sto. Domingo, Barotac Viejo.
Members of the Barotac Viejo Municipal Police Station, Iloilo Police Provincial Office-Special Operations Group (IPPO SOG) and 2nd Iloilo Provincial Mobile Force Company (IPMFC) served to Baldostamon an arrest warrant for two counts of rape (Article 266-A of the Revised Penal Code) by carnal knowledge docketed as Criminal Case Numbers 2023-11075 and 2023-11076.
Judge Jose Mauricio Gomez of the Regional Trial Court Branch 71 in Barotac Viejo, Iloilo issued the arrest warrant on July 6, 2023.
Major Ciriaco Esquilarga, Barotac Viejo police chief, said Baldostamon is the third most wanted person in Barotac Viejo and ninth in Iloilo province.
Baldostamon admitted to the police that something indeed happened between him and the 15-year-old complainant but claimed they are lovers.
The girl's family pursued the case against Baldostamon.