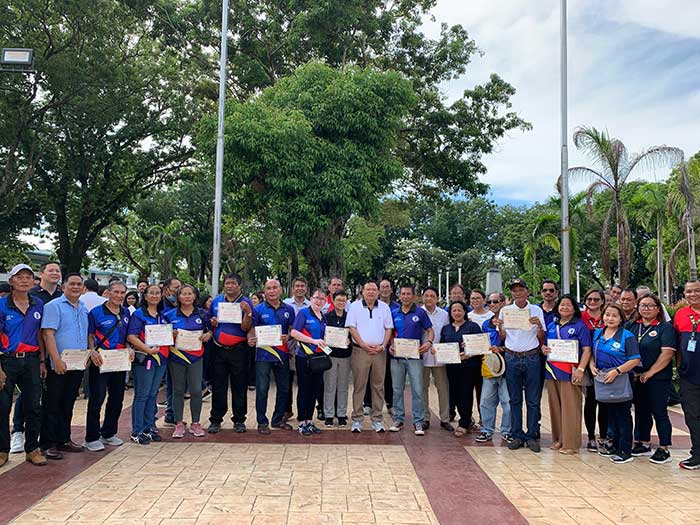 By Rjay Zuriaga Castor
The City of Iloilo has made significant progress in achieving the goal of zero open defecation (ZOD) in its barangays, with 50 percent of the 180 barangays now attaining the status.
This, is after the City Health Office reported that an additional 22 barangays from the Jaro I and Jaro II districts were declared by the Department of Health to have access to safe toilets and have abandoned the practice of open defecation.
During a flag raising ceremony on Monday, the city government awarded ZOD certificates to the following barangays: Balabao, Balantang, Buntatala, Camalig, Cubay, Lanit, M.V. Hechanova, Tacas, Tagbak, Arguelles, Cuartero, Dungon A, Fajardo, Javellana, Libertad Sta. Isabel, Lopez Jaena, Ma. Cristina, M.H. Del Pilar, Montinola, Our Lady of Fatima, San Jose, and San Vicente.
Iloilo City Mayor Jerry Treñas said the city government is committed to intensifying its campaign in abandoning the practice of defecating in fields or bodies of water to curb the high prevalence of diseases caused by lack of toilets, particularly acute gastroenteritis (AGE).
"Ginatulod ta gid na, gintinguhaan ta gid nga mas madamo pa gid nga mga barangay and magasulkod diri para nga mapadula ta gid ang [AGE] diri sa aton," Treñas said.
According to the United Nations Children's Fund, open defecation or exposed fecal matter can potentially contaminate food, water, and the environment, and can spread serious diseases, such as gastroenteritis and cholera.
Data from the CHO accounted for 508 cases of AGE and zero cases of cholera in the city as of September 10, 2023.
Trenas said that the city government is eyeing to provide communal toilets or public toilets to barangays that have high-density populations and do not have enough spaces for sanitary toilets.
The CHO during the flag ceremony reported that Iloilo City will be competing at the national level for ZOD status among highly urbanized cities.
"Iloilo City is the number one when it comes to zero open defecation compared to Bacolod City. Bacolod City is 15 percent. Ang aton yah, naka 50% kita. Ag hambal sang the Department of Health nga ang Iloilo magdaog sa national," said the CHO personnel during the awarding ceremony.