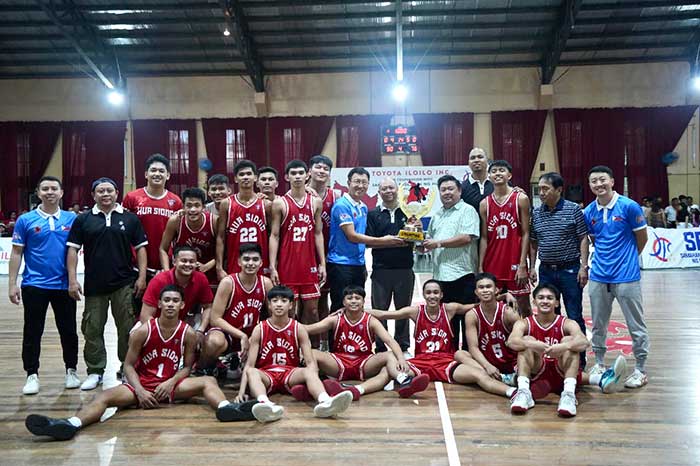 By Leobert Julian A. de la Peña
The Hua Siong College of Iloilo Red Phoenix basketball program continued to dominate after clinching the first Chairman's Cup Philippines championship trophy last September 17, 2023.
After a perfect preliminary record, the Red Phoenix faced the University of San Agustin during the grand finals held at the Ledesco, Iloilo campus of Hua Siong.
Hua Siong gave their all during the final game and outdueled San Agustin, 90-76, and added another championship trophy.
It was one of the most competitive games Hua Siong played in the tournament. San Agustin was fighting toe-to-toe and even took a slight advantage midway through the second half.
Boosted by their shooting from the three-point range and their efficient post-plays, the brave hoopers from San Agustin took the fight to Hua Siong and kept themselves within striking distance.
However, the Red Phoenix flipped the switch in the third quarter and used their signature full-court pressure defense to tally some steals which resulted in easy deuces.
From a 48-all deadlock, Hua Siong mounted a momentum-changing rally, outscoring San Agustin midway through the third frame to take a commanding 63-49 lead.
San Agustin was able to strike back and trim their deficit but the Red Phoenix just had answers in every scoring run they made.
Hua Siong extended their lead to as much as 18 points in the fourth quarter but San Agustin was able to cut the lead to just 10, 86-76.
Just when San Agustin thought they could make a last push, the Red Phoenix pulled off another demoralizing offensive run to formally fend off the boys in gold.
Jid Locsin, Hua Siong's star point guard, was awarded the Finals Most Valuable Player (MVP) after his terrific two-way effort.