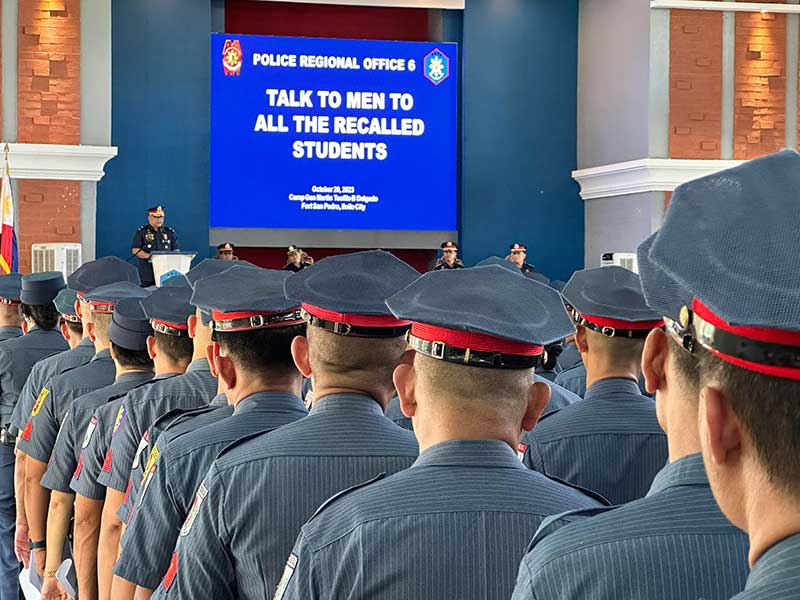 By Jennifer P. Rendon
Hundreds of policemen who are on schooling and training have been recalled to render election duties.
Brigadier General Sidney Villaflor, Western Visayas police chief, said that the 682 policemen were from ten different trainings/schoolings.
Majority or 578 of whom are police non-commissioned officers (PNCOs) while 104 are police commissioned officers (PCOs).
Based on the memorandum, they would return to their training by Dec. 1.
Villaflor said the exact areas where they would be temporarily assigned will be known soon.
"I will see to it that they would be judiciously deployed to different polling places," he said.
The recalled personnel were made to attend Villaflor's "talk to men" on Friday, Oct. 20 at the Police Regional Office (PRO) 6 multi-purpose hall at Camp Delgado, Iloilo City.
They were reminded on the dos and don'ts during the conduct of the Barangay and SK Elections 2023.
"The upcoming election is more than just a routine event. It is a cornerstone of our democratic process. It is a moment where the voice of the people is heard, and it is our responsibility to create an environment where that voice can be expressed without fear or intimidation," Villaflor said.
He also reminded them of the four important key points in the performance of their duty: Adherence to Security Personnel Guidelines, Prioritizing Personal Safety, Familiarity with Relevant Laws and Procedures, Embrace the 5Cs (Coordination, Communication, Collaboration, Commitment, and Christ).
As of Friday, the PRO-6 is yet to disclose the total number of policemen that would render actual election duties.
But he said that the Regional Joint Security Coordinating Center (RJSCC) 6 has already identified the places for deployment.
"The number is still fluid for now. There could be changes, as election day nears," he said.
Villaflor said that the deployment status will boil downs to the evaluation of intelligence personnel.
He assured, though, that they have prepared for a dynamic deployment of security personnel.