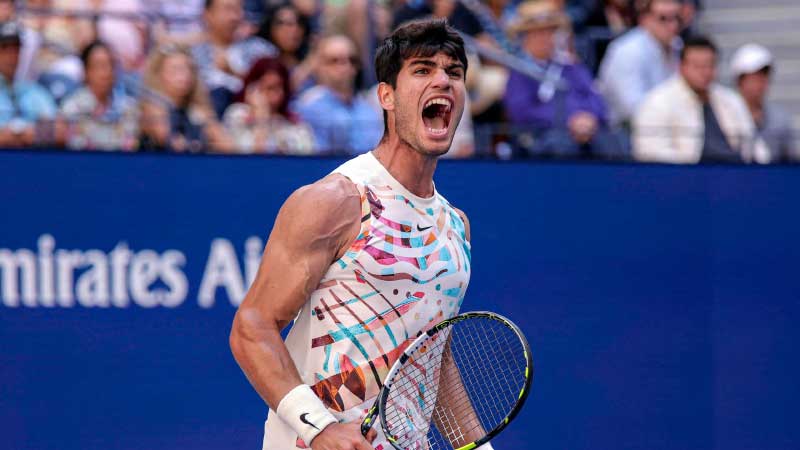 By Leobert Julian A. de la Peña
World no. 1 male tennis player Carlos Alcaraz gathered himself late in the match and escaped a late rally from challenger Dan Evans to pull off a crucial four-set win- 6.2, 6.3, 4.6, 6.3- in the ongoing US Open last September 3, 2023, held at the Arthur Ashe Stadium.
Heading into the third-round matchup without a single set dropped since setting foot in New York last August 30, Alcaraz was presented with a different challenge after Evans was able to snatch the third set and kept himself alive in the game.
With the score deadlocked at 30-all and Alcaraz trying to hold his service possession, Evans rifled a deceptive looping one-handed backhand that cruised past the down-the-line area for a momentum-clinching break point.
Evans continued his never-say-die moment and took care of the third set. However, just when the British star thought he could sustain his firepower in the fourth, Alcaraz went to work and quickly moved on from that past set loss to put himself back in the match.
Alcaraz heated up in a jiffy like a microwave and punished Evans with his signature on-point baseline attacks to take a commanding 4-2 lead generated from a perfect service hold and a break point.
Despite Evans staying patient with his consistent rally exchange, Alcaraz let his power feel after scoring three straight forehand bombs.
Alcaraz then sealed the match with an effortless forehand winner in front of the net to officially book a ticket to the fourth round of the Grand Slam tournament.
In another action-packed match, Alcaraz racked up his total points won to 132 and capped off the third-round clash with 56 receiving points won.
Despite committing four double faults, the young Spanish superstar made it up with four service aces off a 73% winning percentage in his first serves.
With the huge victory, Alcaraz will look to continue his momentum in the fourth round against another young star, Matteo Arnaldi of Italy.