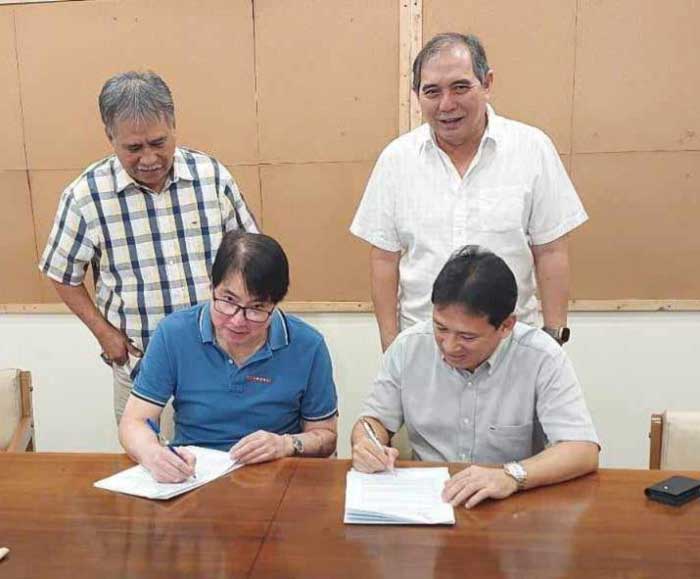 By Dolly Yasa
BACOLOD City – The Cadiz City government in Negros Occidental is set to host the very first floating solar project facilities in the Visayas and Mindanao.
The project will be located on a 90-hectare fishpond in Barangay Tinampaan.
Cadiz City mayor Salvador Escalante said during the weekend that the target capacity of the facilities is 100-megawatt (MW).
Project proponent Zonal Renewables Corporation (ZRC) signed a deal with A.M. Hijos, Inc. (AMHI) of the Montelibanos who own the property where the project will be located.
AMHI President Ramon Montelibano, along with Leandro "Andy" Montelibano, said the project will be their family's greatest contribution to the government's quest for decarbonization.
This, as both stressed such a floating solar project has the ability to sequester 1,250 tonnes of carbon dioxide (CO2) per year, or an equivalent of 357,500 trees planted every year.
"Hence, this will be our legacy project and noteworthy contribution to the national government's push towards a carbon-neutral Philippines," they said.
ZRC President Jabez Alvarez said the pact signing "comes at a perfect time."
"Because the outlook for new RE generation projects in Negros Occidental is quite encouraging. That's because of the soon-to-be-completed additional transmission capabilities by the National Grid Corporation of the Philippines (NGCP), and one of them is the Cebu-Negros-Panay Grid Interconnection (CNPGI) project," Alvarez said.
Escalante further expressed optimism with this new development.
The upcoming floating solar project, he said, will further cement Cadiz's present tag as a "Renewable Energy Capital" of Negros Occidental.
At present, Cadiz is host to a 132-MW solar farm also located in Barangay Tinampaan.
Commissioned in 2015, Home Vena Energy's Helios Solar Power Plant (HSPP) occupies a land area of 176 hectares. HSPP, therefore, is the biggest in Southeast Asia and the seventh largest in the world.
Moreover, Escalante said ZRC's entry to Cadiz through AMHI is a clear manifestation that "we are demonstrating a capacity to provide an ease-in-doing business across all sectors."
The mayor further said "It also boosts our city's newest investment-slash-tourism campaign tagline – "Cadiz City: Land of Splendid Opportunities".
Meanwhile, the City Council of Cadiz recently passed a resolution endorsing the floating solar project.