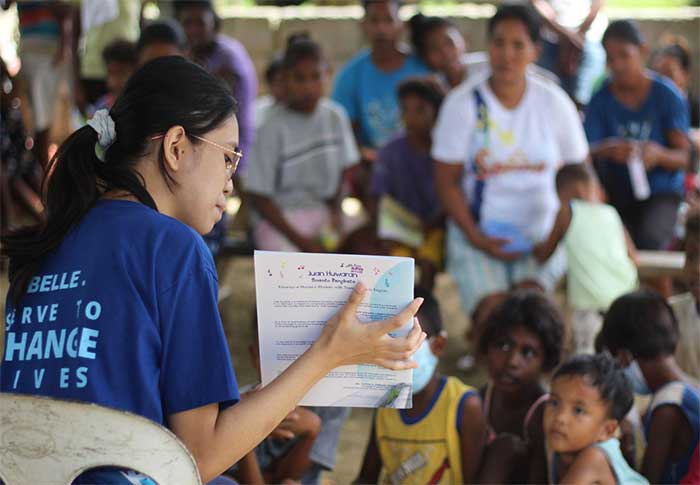 By Marie Andrea Pefianco
To promote a reading culture and make Filipino literature accessible to remote and indigenous communities in Antique, budding Antiqueño storytellers visited communities to conduct storytelling activities through The Book Nook project.
The Book Nook is an initiative of the National Book Development Board (NBDB) in partnership with the Local Government Unit and the Rotary Club of Antique.
San Jose, Antique was chosen to be one of the 52 reading spaces in the country.
According to resident storyteller and trainer Anna Cecilia Pefianco, the site serves as a resource center for children, their parents, and teachers to inspire them to read and to write their own stories.
Through this project, over a thousand books were donated to the site. While waiting for the books to arrive at the site, five volunteer storytellers underwent comprehensive storytelling sessions facilitated by Pefianco.
REECHOING KINARAY-A STORIES
In provinces like Antique, there is a lack of access to community libraries even in schools. What makes The Book Nook unique is that it brings a variety of stories written by Filipino authors to the communities.
"It is not just a library but it has activities like storytelling and other workshops that will encourage children and adults to learn and be interested in reading," said Pefianco.
The team of six storytellers conducted 10 storytelling activities to nearby and remote barangays in Antique.
During one of their visits to an indigenous peoples' community in Tobias Fornier, Antique they had to hike and cross a river to do the outreach activity.
"Going to the communities to tell stories can be tiring but it is also fulfilling when one sees the joy of the children as they listen to stories," Pefianco added.
18-year-old volunteer storyteller Joebelle Marie Pe agrees that storytelling is not an easy task since there are necessary preparations that are essential to deliver a good show.
However, she is grateful that she met new people and saw a glimpse of their realities.
For teacher and volunteer storyteller Rodel S. Banday, this experience made him realize the impact of bringing stories to life through storytelling. Even though he has worked behind the scenes in developing children's storybooks, he would often question if these stories actually reach the target readers.
"Verbally sharing these stories gave me a feeling of assurance that the stories we created were able to entertain and educate the kids," said Banday.
He added that his voluntary work was genuinely out of his love for storytelling. It gave him a rewarding feeling and it imposed a challenge for him to continue and reach even more listeners.
THE RIPPLE EFFECT
According to Pefianco, reading is an activity that should start from the home since it is a good way to motivate children in their learning process.
"The pandemic has limited the learning of children through modules. Reading a book to a child every day is one way of opening his/her mind to new learnings," said Pefianco.
Now that the pandemic has been going on for more than two years, children have been more exposed to gadgets making them more distant to physical copies of books compared to when they were in face-to-face classes.
One of the children's parents, Christine Gay Reyes affirmed that aside from the fun and life lessons the children get from the storytelling activity, it is also a time for them to take a break from their eyes being glued on their phones.
"Ang ila mga ginapamatian ma-share man nila sa iban nga wala nag-storytelling activity. Pagkatapos ka istorya, sila man mismo nag-istorya sang storytelling daw bisan papaano may nagsulod gid sa utok nila instead sa mga cellphone," said Reyes.
Additionally, Banday expressed the joy he gets when he meets the children after the activity and when they recognize him as a storyteller. He said that the best feeling was when they started retelling some parts of his story.
Because of The Book Nook's initiative, a school principal from a mountain barangay in Sibalom, Antique was also inspired to bring Kinaray-a stories to the community.
Principal of Catungan 3rd and 4th Elementary School and Tabongtabong Elementary School Alma Bella Ireneo Bautista with the help of one of the teachers, Jasmin Melocotones, gathered the children to conduct the activity.
During the Book Nook's first online interaction with school children, teacher Dorelyn Ahmor Clamor Naldo of V. Gasparil Elementary School in Sibalom, Antique gathered about 40 children.
"This activity strengthens our school Brigada Pagbasa for the children. The eagerness and interest to their faces that they want to learn and read more made us motivated to push through our plans with the cooperation of the parents," said Naldo.
She added that the parents wish to provide a learning space in their homes where their children could study and read books without distractions and give time to their children even though they are busy with farm work. Additionally, they aim to build a nipa hut called Balay Turun-an where the teachers will provide reading materials so the students could read.
According to Pefianco, The Book Nook project inspires people to initiate the same activities in their communities.
A caption of a Facebook post of The Book Nook San Jose Antique writes, "This is the kind of spirit that we would like to bring to our Book Nook Project."
In the future, Rotary Club of Antique president Carolyn May Deslate, The Book Nook plans on continuing with its community storytelling sessions. They also wish to create a mini-library on wheels and to improve the Book Nook site for a safer shelter for the books sent by the NBDB.
The Book Nook Site in San Jose, Antique launched on December 22, 2021. It is located in the Municipal Library and is open to the public.
Marie Andrea Pefianco is a Communication and Media Studies student of UP Visayas.