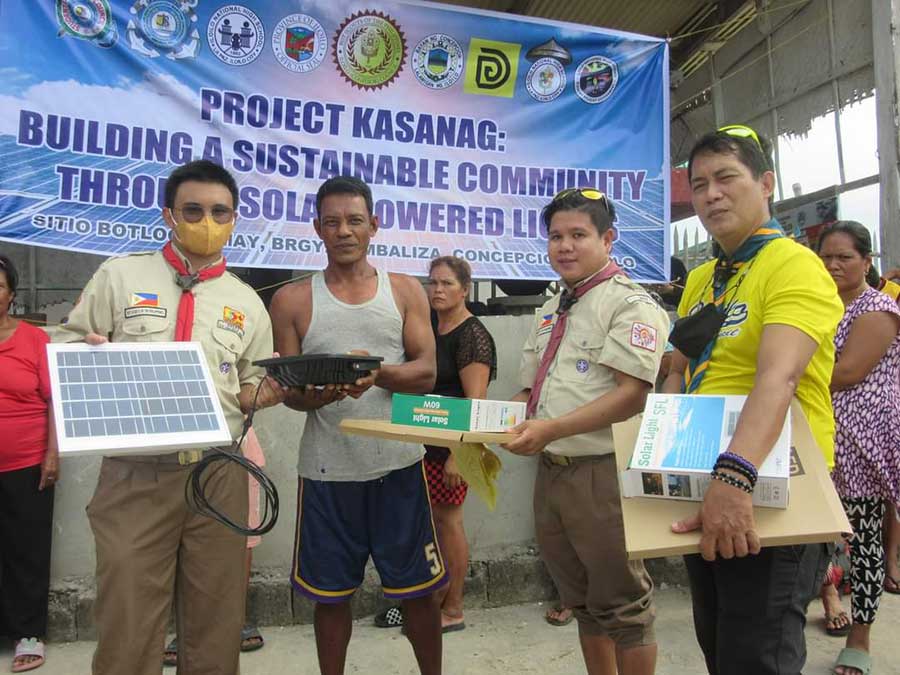 By John Noel E. Herrera
Imagine living in a home with little to no light when the sun sets – some will probably say that it is dark, gloomy, and even unsafe.
That is exactly the situation of residents living in Sitio Botlog Gamay, Brgy. Tambaliza in Concepcion, Iloilo before the Boy Scout of the Philippines Iloilo Chapter chose the community as the beneficiary of its Project Kasanag: Building a Sustainable Community through Solar Powered Lights.
Through the project, 61 households in the area without access to electricity were lighted up with 100 Solar Powered Lights during their project implementation on Aug 19-20, 2022.
According to Eagle Scout Israel Hans Golez of BSP-Iloilo, they were able to distribute one to two solar lights to each household, as well as installed 20 street lights, and were able to light up three churches in the island.
He also added that through the project, people living in the community can now work and study not just in the morning, but even at night since they already have the lights.
"Through Project Kasanag, in partnership also with the Iloilo Provincial Government and the Daily Guardian, we can now see the smiles of the residents of the Sitio Botlog Gamay, especially the children. This also allowed them to study at night, work efficiently, see the beauty of their surroundings, and of course bond with their families," a statement on his Facebook account read.
They also conducted a demonstration of the product to educate the residents on how to properly use and maintain the solar lights "for a more efficient, stable, and longer use of the products."
The Local Government Unit of Concepcion also provided the organization the manpower and the transportation going to the island, and listened to some concerns of the residents like in healthcare.
Aside from giving solar lights to the community, BSP-Iloilo also planned to make the area "the first ever solar powered community in Iloilo through setting up a solar station to electrify and illuminate the lives of its residents."
BEAM OF HOPE
From the struggles of having to endure the darkness of the nights, to now having the lights that guide them in evening, BSP-Iloilo said that the residents of the community were all smiles during that day as "we saw the residents jumping because of joy and hope, and seeing their genuine smiles and sincere acts of kindness in accommodating us made us feel how they value the importance of our project."
"As we unbox the solar panels and lights, I heard them cheering and repeatedly uttering the words 'Salamat sa inyo, magkasuga naman gid kami' (thanks to all of you, we now have lights), and after we lighted up the island, the whole community were very loud as they clap with pride while tears are shedding on their faces. They have been longing for this time to come and atlas the beauty of their island can be seen at night," Golez said.
One student living on the island also said that the solar lights are a big help, especially in their studies as they needed to answer their modules.
"Madamo gid nga salamat sa ila, kay tungod sa solar lights hindi na kami mabudlayan mag-tuon, mas na-inspire kami mag-tuod, magpadayon sa amon mga handom, kag kung magpuli kami nga gab-i na, safe man para sa amon," the student added.
(I thank them a lot, because of the solar lights, it is already not difficult for us to study, we became more inspired to study, continue pursuing our dreams and we are safe when we go home late at night.)
Another recipient was also teary-eyed in the video shown by the BSP-Iloilo as she expressed her gratitude to them and other partner organizations because after so many years, they can now experience how it is like living with lights in their homes at night.
Purok President Jose Rayo also expressed how the lights gave them hope as it will really help them in their work and he also promised that they will take good care of the solar lights.
CAMPAIGN FOR SDGs 7, 11
The BSP-Iloilo also shared that while the project created positive impacts to the community, "this is just one of the campaigns to promote the Sustainable Development Goal 7 and 11 (Affordable and Clean Energy and Sustainable Cities and Communities).
"There are always issues about our energy, like how we could sustain it because of the effects also in our environment, so it is high time for us to slowly divert or switch to more sustainable renewable at the same time more helpful strategies and more practical ways in conserving and consuming energy like using solar panels and lights because I believe that one day we will attain the sustainable development goals if we will work together," Golez said
Solar lights are now proving to be a vital tool for providing energy access to poor and remote areas in the country and even considered by many organizations and policy makers as an important tool to addressing both energy poverty and sustainability.
Golez also added that they are also looking forward to expanding the project "to shed a light and for others to follow our footprints, doing the same thing on those communities that need help and addressing the SDGs 7 and 11."
"In life, if we will inspire one person at a time, one community at a time, then there could be a ripple of change," he said.