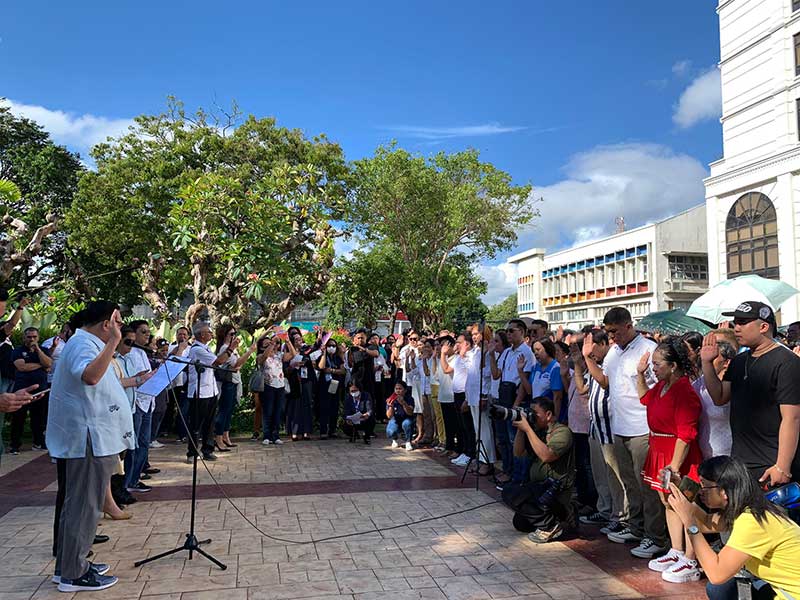 By Rjay Zuriaga Castor
Newly-elected barangay officials of the 180 barangays in Iloilo City are reminded to be loyal to their duty as they took their oath in a mass oath-taking ceremony on Monday, November 6.
Iloilo City Mayor Jerry Treñas, who administered the mass oath-taking rites during the flag-raising ceremony, urged the elected barangay officials to serve their constituents regardless of political affiliation during the elections.
"Kadamo sang nagpadalagan kag syado gid ka init ang barangay election. Kay natapos na ang barangay election ta, it is about time that we forget about the political groupings that we had in our barangays," he said.
He emphasized that the existence of partisan politics among barangay officials in office can influence their decisions and actions, thus leading to conflict of interest, divisiveness, and potentially delaying or stalling the projects and initiatives that would benefit the community.
"Let us all be magnanimous in our victory. Maghirupay na kita. Kalimtan ta na ang mainit nga pamolitika," he stressed.
He further emphasized that the city has numerous challenges and issues that need solutions, and the most effective way to address these problems is through mutual support and collaboration.
Treñas assured the barangay officials of the full support of the city government for their programs and projects in their 2-year tenure.
He further reminded the officials to coordinate with the Department of Interior and Local Government (DILG), city accountant, and outgoing barangay officials for the turnover of public properties and assets.
Under DILG Memorandum Circular No. 2023-166, newly elected barangay officials will have a three-week transition period for the turnover of inventory of village properties, financial records, documents, and money accountabilities.
"Coordinate ka sa outgoing para nga may ara kamo nga turnover […] Kami diri sa City Hall together with the DILG and the city accountant will make sure nga may proper coordination," Treñas said.
SK officials, meanwhile, will still need to undergo mandatory training required by the same memorandum circular before they can officially assume and perform their mandated duties and functions starting November 30.
Atty. Dennis Ausan, Commission on Elections (Comelec) 6 director, previously urged all candidates of the BSKE to submit their Statements of Election Contributions and Expenditures (SOCE) before the deadline on November 29.
The Comelec-6 director emphasized that proclaimed officials cannot assume office if they fail to file their respective SOCE.
Section 14 of the Republic Act 7166, or the Synchronized National and Local Elections and Electoral Reforms Act, states that no elected officials may take office without filing their respective SOCE.