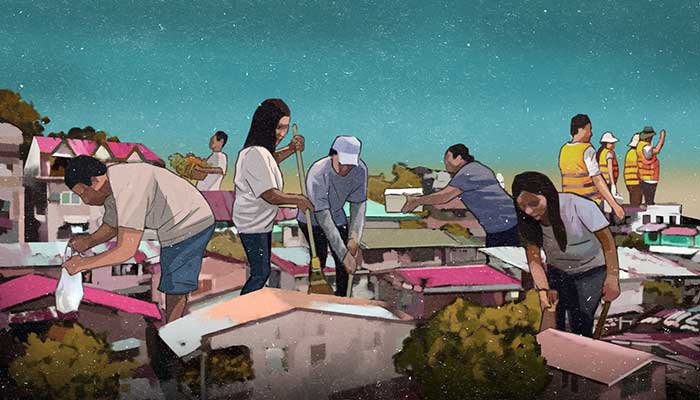 By Cherry Salazar
Barangays, being at the forefront of communities, are in a unique position to initiate and implement programs.
"As the most grassroots and face-to-face local government unit, barangays can set the roots of experiments for more progressive citizenship and leadership," said Maria Ela Atienza, political science professor at the University of the Philippines.
Barangays, she added, can also be a "training ground" for emerging new leaders and for citizens' participation in governance.
The Philippine Center for Investigative Journalism (PCIJ) spoke with academics and advocates and compiled some impactful programs that were implemented at the barangay level.
Community-based monitoring system (CBMS)
The community-based monitoring system (CBMS) is a technology-based way of acquiring, processing, and verifying data for policy making, program implementation, and impact monitoring at the local level. It also empowers communities to participate in the process.
The CBMS was an initiative pilot-tested in two barangays in Pandi, Bulacan: Barangay Masuso in September 1995 and Barangay Real de Cacarong in February 1996.
According to a paper presented in 1996 by Micro Impacts of Macroeconomic Adjustment Policies (MIMAP), the developer of CBMS, Barangay Masuso was at the time growing livestock and rice production. This development attracted migrants from other provinces.
Meanwhile, Barangay Real de Cacarong was "isolated" and relied on agriculture as a major source of livelihood, the same paper said.
Through the CBMS, barangays gathered information on the "minimum basic needs indicators," which help make profiles of communities and identify problems. This resulted in a focused targeting and prioritization of projects.
Over two decades since the system was developed, the CBMS was made standard practice through the passage of Republic Act 11315, or the "Community-based Monitoring System Act."
Food security during pandemic lockdowns
At the height of the Covid-19 pandemic, which forced residents to stay home and disrupted the supply chain, some barangays set up food security programs.
Barangays in Olongapo City, Zambales, opened makeshift wet markets and rolling stores, or talipapa, which sold rice, meat and fish, and vegetables. The "barangay talipapa" addressed residents' complaints of having to walk long distances due to suspended public transportation and overcrowding in markets that raised the risk of infection.
Barangay Buhatan, Sorsogon City in Sorsogon, meanwhile, set up a Bukas-Palad Kiosk, a "charity store" where people can get items through a barter system.
The kiosk was also open to those who have nothing to exchange or share, according to the Bureau of Local Government Development (BLGD) of the Department of the Interior and Local Government.
"Basic food items can be accessed by the residents in the kiosk, thus, limiting the need to go out of the barangay. The availability of basic foods and commodities is ensured so that the residents, mainly the poor families and households need not to go out of the barangay, and to also avoid and limit the spread of the coronavirus disease," a BLGD report read.
In Barangay Prosperidad, San Francisco in Agusan del Sur, cooked vegetables were distributed to residents instead of canned goods and instant noodles.
"Through the provision of food packs to residents, the barangay intends not just to help her constituents but also to provide healthy and nutritious food as it could help strengthen the immune system of constituents to help avoid the virus," a BLGD report read.
In Valenzuela City's Disiplina Village-Bignay, a resettlement village and housing project, urban farming created a sustainable food source for families.
Even before the pandemic, a women-led group from the community supplied fruits and vegetables for the city's school feeding program, sociology professor Emma Porio of the Ateneo de Manila University told PCIJ in an interview.
"The program ensured the availability of fruits, vegetables, fish, and poultry, while building the capacity of the women in vegetable production and marketing," said Porio.
During the pandemic, the women's group also organized a regular community pantry to provide fruits and vegetables to other communities within the city, she added.
Porio is the project leader and principal investigator in the Coastal Cities at Risk in the Philippines project. She also sat in the national selection committee of the Galing Pook Awards, which reviews and recognizes innovative programs in local governments.
Disaster preparedness and response
The Philippines is hit by an average of 20 typhoons every year, which become more destructive due to the climate crisis.
In 2009, the huge damage wrought by Typhoons "Ondoy" and "Pepeng" led to the swift passage of Disaster Risk Reduction and Management (DRRM) Act, or Republic Act 10121. But even before the creation of a national agency focused on DRRM, resource-rich Barangay San Antonio in Pasig City already had emergency rescue teams and equipment in place since 2000.
In 2008, the barangay established its Emergency Response/Rescue Program, which integrated fire and medical teams under the supervision of the barangay disaster coordinating council. The initiative was recognized by the Galing Pook Awards.
In flood-prone Marikina City, Barangay Tumana, one of its most vulnerable and populous barangays, developed an early warning system to help reduce losses due to flooding.
The barangay has a water level monitor installed in the Marikina River. This is used to measure the swelling of the river when it rains. When the DRRM coordinator of the barangay receives an alert from the city's command center, warning information is communicated to residents through a loud siren that can be heard within a 1.5-kilometer radius.
The alarm communicates escalating levels of warnings to residents: first, to be alert for possible further warnings; second, to start preparing for a possible evacuation, and third, to evacuate to designated centers.
Researchers from the Kwame Nkrumah University of Science and Technology in Ghana assessed the system in 2020. It pointed out that while its operation is not backed by an ordinance, a majority of the residents were "fully aware of what (the system) means and what they are to do in case the warning is raised."
According to the paper published in the Journal of Science and Technology (Ghana), local authorities "looked beyond only creating awareness to ensuring full understanding of risk and the system."
"The understanding was achieved by making information accessible and accepted by everyone in the community, through ensuring full participation and partnership," it added.
Barangay Tumana's system is also seen to be relevant to Ghana and other countries intending to reduce flood risks, it said.
Drug war
Barangay officials found themselves in the frontlines of former President Rodrigo Duterte's war on drugs.
The brutal campaign was enforced by the police, but barangays played a key role in its implementation. Their proximity to and knowledge of residents in their community as well as their influence as local leaders were often capitalized on by law enforcers.
In an interview with PCIJ, researcher Joel Ariate Jr. of UP Third World Studies Center (TWSC)  said because of the kinship-based dynamic in barangays, migrants (or dayo) were often included in drug watchlists.
"Sino'ng babanggitin namin dun sa listahan? Sinong isa-submit namin sa listahan? E kamag-anak mo halos 'yung mga nandoon, so doon nagiging biktima 'yung mga dayo. Walang kamuwang-muwang, sila 'yung sina-submit ng barangay as mga drug personality," Ariate said. "At 'yung iba sa kanila, totoong napapatay o nakukulong."
Ariate also works on TWSC's "Dahas" project, which monitors reported drug-related killings in the Philippines.
But he clarified that barangay captains and members of the Barangay Anti-Drug Abuse Council (BADAC) were rarely mentioned due to the inherent dangers of the anti-drug campaign.
In instances where barangay captains were identified to have submitted watchlists, they become victims in the "palit-ulo" scheme, said Ariate. This scheme, which literally means "head swap," is a notorious practice of detaining a suspect's close relative until the former surrenders.
According to TWSC data, 85 victims of drug-related killings between July 2016 to October 2020 were reported to be barangay officials.
In a barangay in Caloocan City, one of the four key areas in Metro Manila where drug-related killings were rampant, a barangay captain subsidized transportation expenses for residents who were on the watchlist.
"He gave them money and told them to go home to their provinces so they can avoid the killings," the village chief's nephew, Randy delos Santos, told PCIJ.
He was referring to North Caloocan's Barangay 148 captain Hernani de Jose, who has since died from an illness.
Delos Santos is the uncle of 17-year-old student Kian Lloyd, who was dragged into a dark alley and shot by policemen in August 2017. His murder triggered public outcry, scrutiny of Duterte's drug war, and the filing of charges against the suspects that led to their conviction.
Delos Santos now works with Program Paghilom, a church-based support group for widows, orphans, and families of drug war victims.
Community participation
Barangay Graceville in San Juan del Monte, Bulacan, was recognized in 2015 for its efforts to encourage community participation in local governance.
Residents identified problem areas, gave recommendations, and defined success indicators of barangay programs. These inputs became the basis for the barangay's budget and five-year barangay development plan.
Since education is a top concern, the barangay provided facilities for alternative learning classes as well as scholarships and free instructional materials for out-of-school youths. It also ran a mobile clinic and implemented a dispute resolution system.
According to the Galing Pook website, delegations from various local government units, schools, and other countries, such as South Korea and Australia, have visited Barangay Graceville to learn about its programs.
Meanwhile, in the early 2000s, Barangay Tabok in Mandaue City, Cebu, faced a water shortage and did not have potable water for over two years when one of its two deep wells bogged down.
To address the problem, residents and officials formed a non-stock, non-profit corporation to manage the waterworks system of the barangay. The Tabok Rural Waterworks System Inc. (Taruwas) adopted a socialized water-pricing scheme, where "those who consume more subsidize those who consume less."
Not only did the corporation rehabilitate the deep well but also expanded and constructed another water source. The corporation used its savings to fund several barangay projects, such as road constructions, the Tabok High School building, and a day care center.
The program was recognized as one of the Ten Outstanding Programs of Galing Pook Awards in 2003.