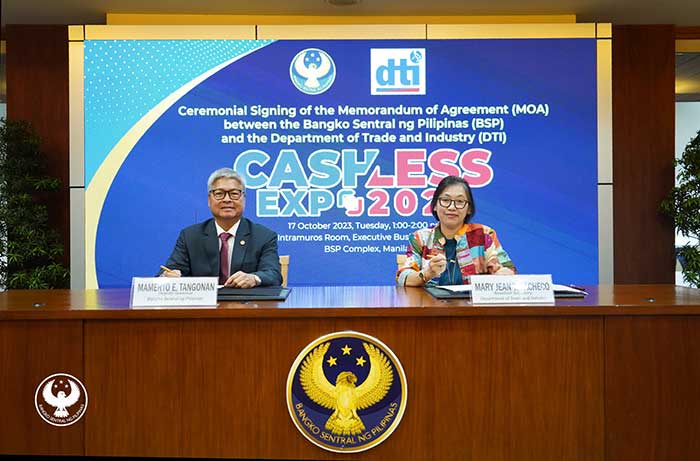 The Bangko Sentral ng Pilipinas (BSP) and the Department of Trade and Industry (DTI) formally sealed their partnership for the conduct of the country's first Cashless Expo.
BSP Deputy Governor (DG) Mamerto E. Tangonan (in photo, left) signed the Memorandum of Agreement (MOA) on the Cashless Expo with DTI Assistant Secretary Mary Jean T. Pacheco (right) during a ceremony held at the BSP head office in Manila on 17 October 2023.
DG Tangonan said: "We share with DTI our vision to have a digital Philippine commerce ecosystem. Digitalization is not merely about convenience; it is about empowering individuals, nurturing businesses, and accelerating our nation's growth as we keep up with the changing times. Through this Cashless Expo, we will be witnessing the union of commerce and technology, where transaction payments are no longer restricted by the boundaries of physical currency."
DTI Assistant Secretary Pacheco explained,  "The expo is not just about selling or buying products. We want the merchants and consumers to take advantage of and to learn more about the use of digital payments."
The Cashless Expo will be held from 17 to 19 November 2023 at the World Trade Center in Pasay City. To be participated in by micro, small, and medium enterprises across the Philippines, the expo will enable its customers and exhibitors to experience the convenience of purely cashless transactions.
The BSP will also conduct digital financial literacy sessions on the responsible use of digital payments, cyber hygiene, and security. Participating payment service providers, for their part, will assist consumers and merchants on the opening of transaction accounts that can be used in the expo.
The expo is in line with the goals of the BSP's Digital Payments Transformation Roadmap 2020-2023 (DPTR) to digitalize retail payments volume by 50 percent and financially onboard 70 percent of Filipino adults by end-2023.
DTI, which is updating its e-Commerce Roadmap for 2023 to 2025, has included the DPTR's goals under the e-Commerce Philippines 2020-2022 Roadmap.