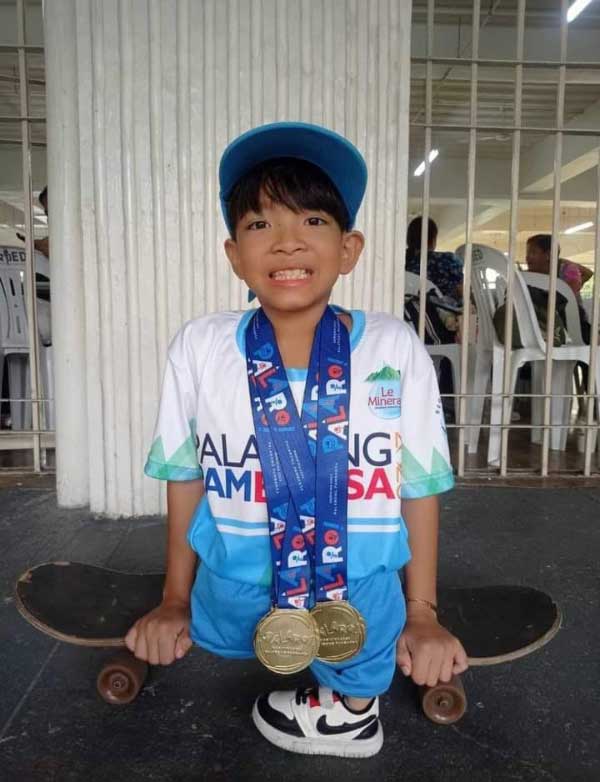 BACOLOD City – The Cadiz City hailed its legless tanker Zach Lucas Obsiama who won three gold medals in swimming (Elementary Boys) in the recently concluded Palarong Pambansa-Para Games 2023 held in Marikina City.
Obsiama, a Grade 4 pupil at the Special Education (SPED) Center-Cadiz, prevailed in three events:
* 50-meter backstroke
* 50-meter breaststroke
* 50-meter free style
This nine-year-old  boy from Barangay Zone 4, Cadiz City, is legless since birth due to "phocomelia syndrome".
Phocomelia syndrome is a rare birth defect characterized, in most instances, by severe malformation of the extremities.
Infants born with this condition will have arms and/or legs that are severely shortened or sometimes completely absent.
However, Obsiama never thinks he is "special".
He's gutty, instead.
He only took interest in swimming sometime in March this year prior to the Provincial Meet.
He then practiced at the pool of Laura Beach Resort in Cadiz for free almost everyday.
However, his teacher-slash-swimming coach, Cherill Ducay, passed away two weeks before Palaro.
Ducay, also focal person of SPED Center-Cadiz, succumbed to cardiac arrest in Cagayan de Oro City before the National School Press Conference (NSPC) started on July 17.
Mayor Salvador Escalante Jr. was ecstatic with Obsiama's feat.
Obsiama was feted during a flag ceremony of the city government at Cadiz Arena on Monday, August 7.
Escalante thanked SPED Center- Cadiz for honing Obsiama's skill in swimming.
"For me, Zach is not just special, but an extraordinary kid," Escalante said, adding that "Cadiznons, therefore, are so proud of him."
"Indeed, he is our 'peerless' sports hero," Escalante said.