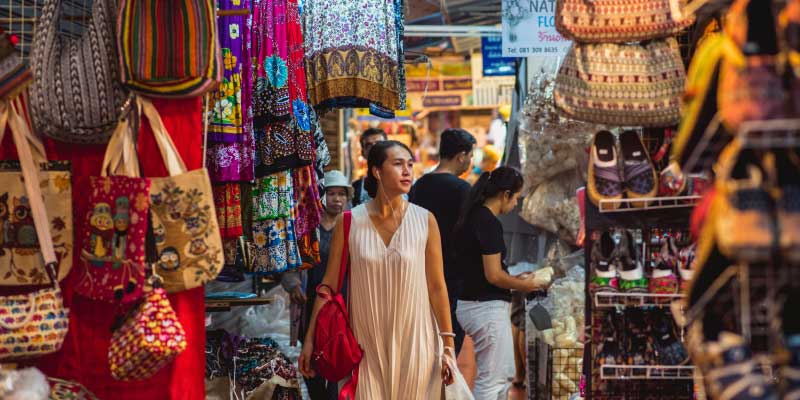 In the heart of bustling Bangkok stands the largest weekend market in the world, the Chatuchak Market. Known among Thais as Jatujak Market or JJ Market, the world-famous market of Thailand features more than 15,000 stalls offering a good variety of products—from clothes and crafts to plants and food. Aside from its remarkable assortment of merchandise, Chatuchak Market became popular globally because many of its products are sold at bargain prices. It is a famous shopping destination, especially for those on a budget.
Every weekend, more than 200,000 people, a mix of locals and tourists, flock to Chatuchak. It is where they shop trendy clothes and fashion-forward accessories. It is a place where people can go on a food trip and bond with peers over Thai street food. It is a tourist destination and a picturesque spot where the young and old alike can take social media-worthy videos and pictures.
A colorful history
Other than the modern conveniences it offers, the nearly 80-year-old Chatuchak Market exudes an old-world charm that beguiles people from around the world. The market's structures, its colorful signages, the iconic Clocktower, and stalls of plants and flowers are reminiscent of how Bangkok's first market was like when it first opened in 1942. To boost the local economy and make it more convenient for citizens to purchase their needs, the third Prime Minister of Thailand, Field Marshal Plaek Pibunsongkhram, mandated that every town in Thailand must have its own flea market. Thus, Bangkok's first market was opened in Sanam Luang.
After some months, the government moved the market to Saranrom Palace, where it stayed there for eight years. It was relocated to Sanam Chai, but was then returned to its original location, Sanam Luang. In 1982, the market was finally moved  to Chatuchak. After five  years, it was officially called the Chatuchak Market.
Integrating sustainability with old-world charm
Despite being moved from one place to another, Chatuchak Market did not lose its original identity. Until today, people in Thailand are reaping the benefits of the same flea market built almost eight decades ago. To stand the test of time, Chatuchak Market has undergone transformation a couple of times. It has renovated some structures, modernized its processes, and made use of technology to upgrade its operations. Despite keeping up with a changing world,  Chatuchak Market managed to preserve its old-world beauty, an inheritance well deserved by generations to come.
With the goal of preserving the market for future generations, Chatuchak Market practices some sustainability habits such as using compostable plastic bags and recycled cartons.
Today, Bangkok authorities are working with the State Railway of Thailand to renovate the Chatuchak market in order to handle the influx of tourists in the post-pandemic era. Part of the proposed transformation are road renovations, planting of trees near railways, development of affordable rental spaces for low-income earners, regulation of hawkers, and public parks management.
Inspiring other markets in Asia
Bangkok's world renowned market has proven that redevelopment and preservation can go hand in hand. This sets the standard for other public markets in Asia that want to keep pace with the changing times.
In Iloilo City, Philippines, the local government has been proactively pursuing public market rehabilitation to boost the city's tourism and provide better services to citizens.
The city government has entered a public-private partnership with property developer SM Prime for the redevelopment of the Iloilo Central and Terminal Markets.  Aiming to provide an elevated market experience for Ilonggos and tourists, the city government is determined to modernize the markets while retaining their original identity that reflects Iloilo City's beautiful history and culture.
As part of the rehabilitation project, SM Prime will redevelop the market structures by incorporating modern facilities for the improvement of water resource management, solid waste management, and air quality maintenance.  To transform Iloilo public markets into sustainable and resilient ones, SM Prime will likewise install energy-saving devices such as solar panels, skylights for natural lighting and ventilation, LED lights, as well as roofing and painting technologies.
References:
https://www.corp.at/archive/CORP2017_105.pdf
https://thainews.prd.go.th/en/news/detail/TCATG220709173721858