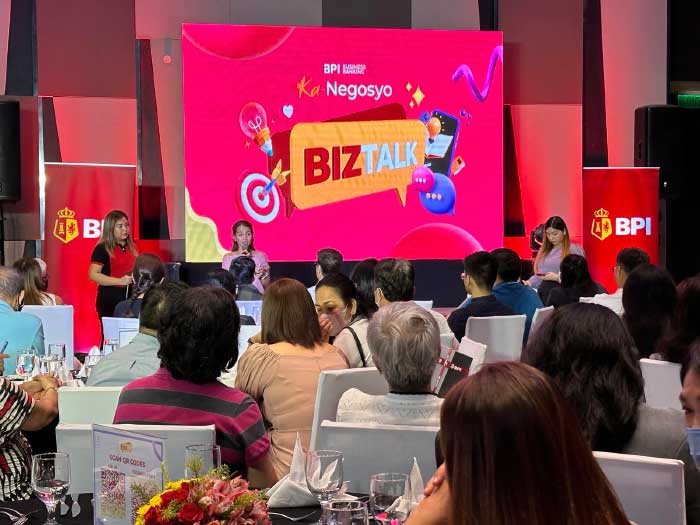 To help Filipino small and medium enterprises (SMEs) grow their businesses, the Bank of the Philippine Islands (BPI) has partnered with Taxumo, the country's leading end-to-end online tax assistance platform, to host a series of free BizTalk learning sessions about taxation across its different branches in the Philippines.
BPI started BizTalk on August 1 in Davao before heading to Alabang, Pasig, Las Pinas, Iloilo and Baguio within the month.
"Taxes are an integral component of every businesses' social contract with the government, both on a national and local level, as these fund and support an enabling environment that helps entrepreneurs thrive in the markets they operate in. While it can be intimidating and overwhelming for many of our Ka-Negosyos, learning the basics in taxation is essential for their growth," Dominique "Ococ" Ocliasa, BPI Business Banking Head, said. "Our BizTalk on taxation will help SMEs understand the taxes they need to be aware of, how to comply with them, and how to manage them with ease as part of their businesses' finance and operations," Ocliasa added.
Raffle and prizes
These BizTalk sessions are part of BPI's nationwide Ka-Negosyo Festival celebrations happening until August 31, 2023, which enable SMEs to enjoy promos making the bank's various  Ka-Negosyo loans even more madali, magaan, mabilis.
By applying for and booking either the Ka-Negosyo Credit Line (KCL) for flexible financing of recurring expenses, the Ka-Negosyo Ready Loan (KRL) for seasonal working capital requirements or purchases, the Ka-Negosyo SME Loan (KSL) for big purchases, or the Property Acquisition Loan (PAL) for the acquisition, construction, or renovation of commercial or residential property for business use, SMEs can earn raffle entries to win Php 500 or Php 5,000 worth of vouchers, or an Apple MacBook or iPad for their business.
SMEs can also visit any BPI Branch or use the recently- launched Ka-Negosyo On The Go digital platform to apply for these Ka-Negosyo Loans.
"The Ka-Negosyo Festival is the best time to explore BPI's various financing options that can help SMEs avail of the support they need to get themselves ready as we enter the last half of the year, especially the upcoming '-ber' season, which sees demand spike in many sectors," added Ocliasa.
BizTalk started as a capacity building and learning series during the pandemic, which shares the experiences and best practices of successful Filipino entrepreneurs. Watch and learn more business tips on www.youtube.com/@BPIPH. For more information about the new BPI products and programs for SMEs, join a BizTalk session, or apply for a Ka-Negosyo loan by visiting www.bpi.com.ph/sme-banking.