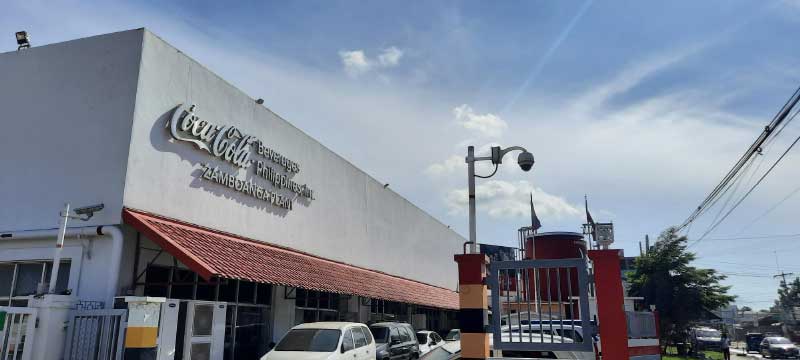 ZAMBOANGA CITY, Philippines – Since its establishment in the Philippines 111 years ago, Coca-Cola has upheld its mission of providing happy refreshing moments to Filipinos across the country and making a difference to local communities. The company has been consistently implementing sustainability efforts and undertakes programs for the communities that it operates in—a way of giving back to the Filipinos that have opened their homes to Coca-Cola.
The Coca-Cola Zamboanga Plant, which celebrates its 56th anniversary this year, is one of the leading examples of the company's operational philosophy. Located in Zamboanga City, which is site of some of the country's busiest ports, Coca-Cola's Zamboanga Plant has been in service since August 1, 1967 and has since become an integral contributor to the economic well-being of the City of Flowers.
"With manufacturing as one of the major industries in Zamboanga, we owe our long history and 56-year presence here to our associates that never cease to make and deliver our products with the highest of standards, and with utmost passion for what we do at Coca-Cola," shares Gareth McGeown, CEO and President of Coca-Cola Beverages Philippines Inc. (CCBPI). "We are proud that our operations have helped created job opportunities for generations of Filipinos, helping improve livelihoods and boost the local economy."
More than a decade after the Zamboanga Plant was established, its first manufacturing line was built in 1978. In 1994, the second line was upgraded. The Zamboanga Plant continued its growth trajectory with the establishment of its external warehouse in 2018. In 2019, another manufacturing line was installed to boost operations and serve more Coca-Cola products across Northwest Mindanao.
Coca-Cola's vision in Zamboanga
Coca-Cola has been regarded as an industry leader for its top-quality products and initiatives that drive positive change, sustainability, livelihood opportunities, and community-building.
In 2020, 14,000 solar panels were installed in CCBPI's plants. Through CCBPI's partnership with Buskowitz Energy, one of the leading solar energy companies in the Philippines, CCBPI will install another 12,000 solar panels in its Zamboanga and Santa Rosa plants. For the current phase of the installations, the 360 kWp system of CCBPI's Zamboanga Plant is set to switch on this year.
"As we continue to deliver refreshing beverages to our customers, sustainability remains a top priority for Zamboanga Plant. We are proud to do business the right way and continue to live by our mission of creating a lasting positive impact to our people, our customers, and the communities we serve within and beyond Northwest Mindanao," says Zamboanga Plant Manager Joey Espanola.
Through its operational efficiencies, Coca-Cola facilities are using less power even as they produce more beverage products for Filipinos across the country. Growth, for Coca-Cola, is intertwined with making a positive impact on the lives of the Filipinos it serves.
By placing sustainability and the people at the core of its operations, Coca-Cola gives back to local communities as it continues to create a better future for the next generation. While Coca-Cola facilities like the Zamboanga Plant continue to upgrade and innovate, the company remains committed to the highest standards of safety, quality, and sustainability for every single bottle that it produces.