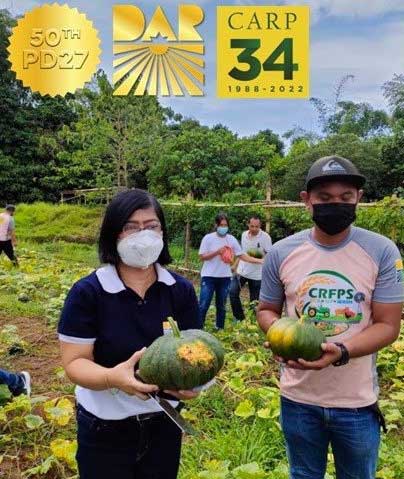 By Easter Anne Doza
Following the pilot site of "Buhay sa Gulay" site in Barangay Alangilan in Bacolod City, the Department of Agrarian Reform-North I launched the second site in Barangay Mabini, Cadiz City with goal of ensuring food security amid the COVID-19 pandemic.
The Hacienda Gamboa Barangay Mabini Agrarian Reform Beneficiaries Association (HGBMARBA), with 30 agrarian reform beneficiary-members, will manage the 5,000 square meters Buhay sa Gulay second site communal vegetable farm initially planted with bitter gourd, string beans, squash, cabbage, chili pepper, sweet potato, and mushroom.
The property was formerly owned by Eduardo Gamboa/spouses Edwin and Brenda Cornel, with a total area of 41.6674 hectares, located at Hda. Gamboa in Brgy. Mabini which the ARB organization HGBMARBA now manages.
Provincial Agrarian Reform Program Officer (PARPO) II Teresita Mabunay, in her message during the launching, said that the COVID-19 pandemic has brought a lot of challenges, but it also gave us success stories.
"This new site of communal agribusiness is truly one to be proud of," Mabunay added.
Meanwhile, Cadiz City mayor Salvador Escalante, who also graced the launching, said the project will help the economy of the city.
"There is good business in vegetable farming, and it is progressive. Congratulations to our agrarian reform beneficiaries," Escalante said.
In order to sustain the production volume of the vegetable farm, DAR has integrated the Farm Business School (FBS) to help farmers learn farm business management.
FBS aims to capacitate the participants with entrepreneurial and fundamental management skills through the learning-by-doing approach, developing critical concepts and exercises designed to help the farmers build knowledge, enhance their skills and adjust their attitudes to make their farms more profitable. (PIA)