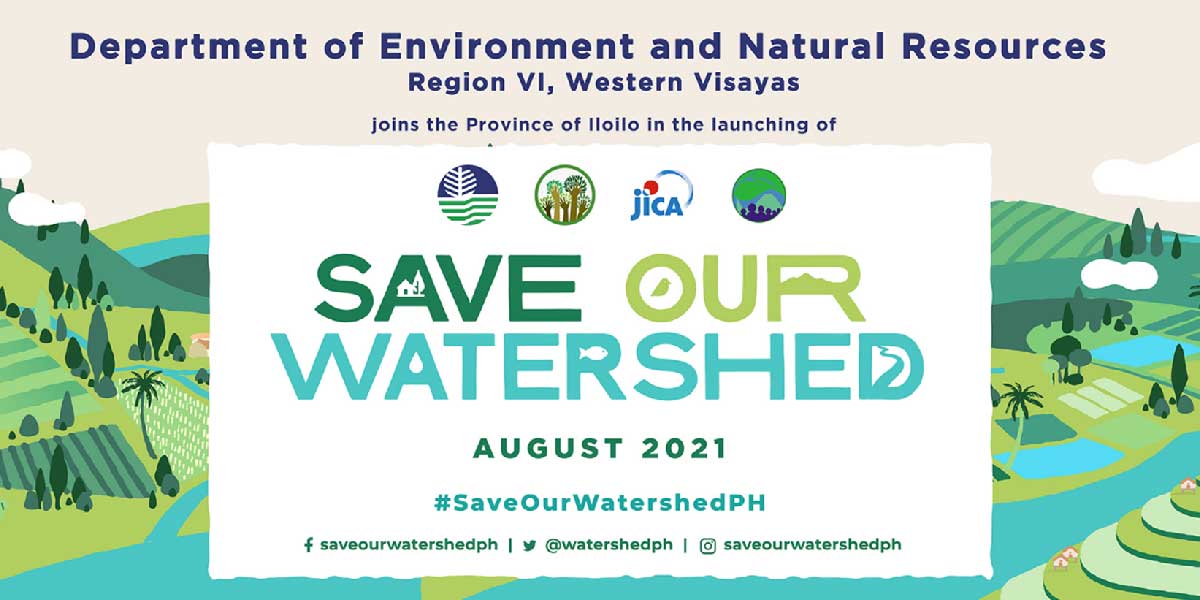 By Flory Ann Tacuban
The Provincial Environment and Natural Resources (PENRO) virtually launched the Save Our Watershed "SOW" Campaign to strengthen conservation and protection of watersheds in Iloilo on August 10, 2021, spearheaded by Department of Environment and Natural Resources (DENR)-6 Regional Executive Director Livino Duran.
This program was initiated by the Forest Management Bureau (FMB) with support from Japan International Cooperation Agency (JICA). It is also mandated by the Presidential Decree 705 also known as the Revised Forestry Code of the Philippines.
The campaign was emulated and replicated from the DENR national launching of SOW where DENR Secretary Roy Cimatu encouraged partnerships and collaborations from the national down to regional offices and to the grassroots level.
Iloilo has four major watersheds – Southern Iloilo Watershed, Tigum-Aganan Watershed, Jalaur Watershed which the biggest and is a Forestland Management Project (FMP) and the Northern Iloilo Watershed.
Iloilo Provincial Environment and Natural Resources Officer Jun Manglinong said the FMP was implemented at the Jalaur Watershed in 2012.
"It was the biggest single DENR project outside of Luzon and will end in June 2022 based on a loan agreement with Japan. This is envisioned to be emulated in other regions, especially in provincial watershed management areas," he said.
Dumangas Mayor Ronaldo Golez said that the FMP is implementing P450 million worth of infrastructure projects consisting of access roads, bridges and irrigation sites.
He added that FMP also reforested 13,027 hectares and organized a community and provided livelihood that will support people without exploiting the forest.
The National Irrigation Administration Jalaur River Multi-purpose Project, the biggest irrigation project outside of Luzon is now nearing its completion and is expected to provide irrigation to 31, 840 hectares of farmlands.
The Jalaur Watershed is also set to generate 6.6 megawatts of hydroelectric power and 86 million liters per day of bulk water supply for the province and the city of Iloilo.
STEWARDSHIP
Different government and agencies stakeholders joined the virtual launching to express their utmost support of the said campaign.
"Instead of spending the funds on relief operations brought about by typhoons and climate change, it is important for us leaders to know the critical status of the vulnerable Jalaur Watershed and give sustainable solutions as watersheds help and give freshwater, irrigate our agricultural lands, provide us renewable power," said Ajuy town Mayor Jett Rojas, who is also the Northern Iloilo Watershed chairman.
Department of Agriculture Regional Director Remelyn Recoter recognized the importance of watershed in agriculture especially that Iloilo is the prime producer rice in Western Visayas and the whole region ranks 3rd in national palay production, 42% of rice areas in Iloilo needs irrigation
"Water is the source of all life and the important element in our ecosystem. Plants, animals and humans cannot survive without it, it's important to be mindful of the power of our watersheds," said Pavia town Mayor and Ticud- Aganan Watershed Chairman Lawrence Anthony Gorriceta.
"Even we are restricted and our movements are limited due to lockdown brought by the COVID 19 pandemic, with the advancement of technology now is the wonderful time to reach, educate and spread awareness to people about our watersheds," Rojas said.
Iloilo Governor Arthur Defensor Jr., chairman of the Iloilo Watershed Management Council (IWMC), said saving the watershed is important because it would also save rivers, rice farms, and sources of water.
DENR 6 Regional Executive Director Livino B. Duran emphasized that the protection and conservation of watershed is not just the DENR's mandate but the duty and responsibility of all stakeholders and then ends his message by saying: "Sapagkat Ikaw, Ako, Tayo ang Kalikasan."