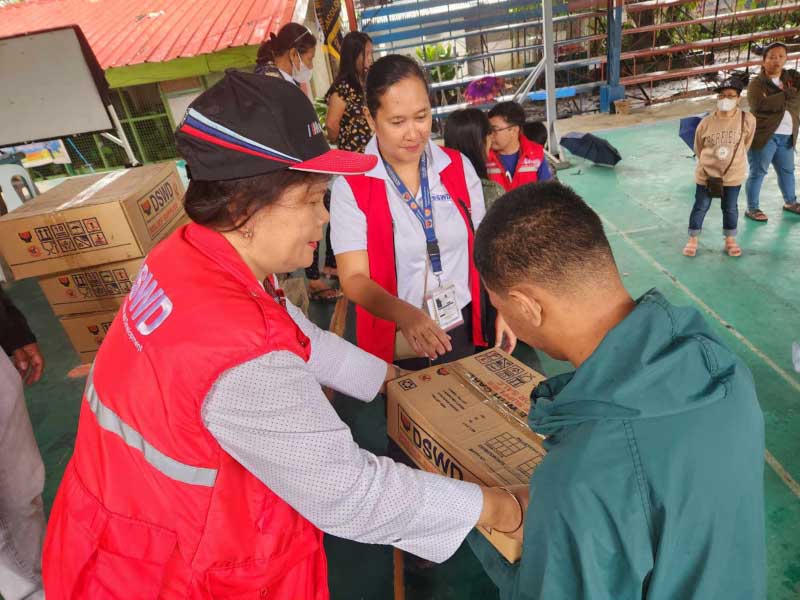 By Rjay Zuriaga Castor and Jennifer P. Rendon
The Department of Social Welfare and Development Field Office VI (DSWD-6) has released P1 million worth of aid to families affected by the heavy rains brought by the southwest monsoon enhanced by Typhoon Goring.
The food and non-food items were released to the provinces of Antique, Iloilo, and Negros Occidental.
DSWD-6 distributed goods valued at P103,412 in Valderrama, Antique. In Iloilo Province, P127,729 worth of goods were distributed in Guimbal, P253,470 to Oton, and P50,200 to Pavia. Bacolod City received aid totaling P411,341, while Himamaylan City was allocated P148,975.
Atty. Carmelo N. Nochete, DSWD-6 regional director, said the agency has strategically prepositioned essential supplies in key areas to ensure swift access to assistance of affected communities.
"The DSWD Field Office VI continues [to] respond to the needs of the affected families. Prior [to] this, we have already placed goods in strategic locations so that the goods can reach the people [in] the shortest time possible," he said.
Local government units (LGU) and nongovernmental organizations have also provided relief assistance amounting to P602,190.
Data from the agency showed that as of 12 noon on August 29, the number of affected families reached 21, 895 or 74, 255 individuals.
There are currently 5,957 families, which translates to 20,966 individuals, inside the evacuation centers.
Nochete assured the public that the regional office has a "sufficient stockpile" to cater to the needs of affected localities.
He noted that there are 13,522 family food packs worth P6.9 million, along with non-food items valued at P40.9 million that are stored in regional warehouses and strategically positioned locations.
DSWD-6 also has a P5.9-million standby fund prepared to extend assistance and aid in future calamities according to Nochete.
The regional director also affirmed that they are in close collaboration with LGUs to guarantee that affected families receive food and other appropriate interventions.
DSWD-6 said Judith Tanate, the chief of the Disaster Response Management Division, is closely coordinating with the National Resource Operations Center to ensure a steady supply of family food packs (FFPs) for Western Visayas.
The DSWD central office on Thursday afternoon dispatched 11,700 family food packs to flooded areas in Western Visayas.
The FFPs are expected to arrive at the DSWD-6 today, August 30.