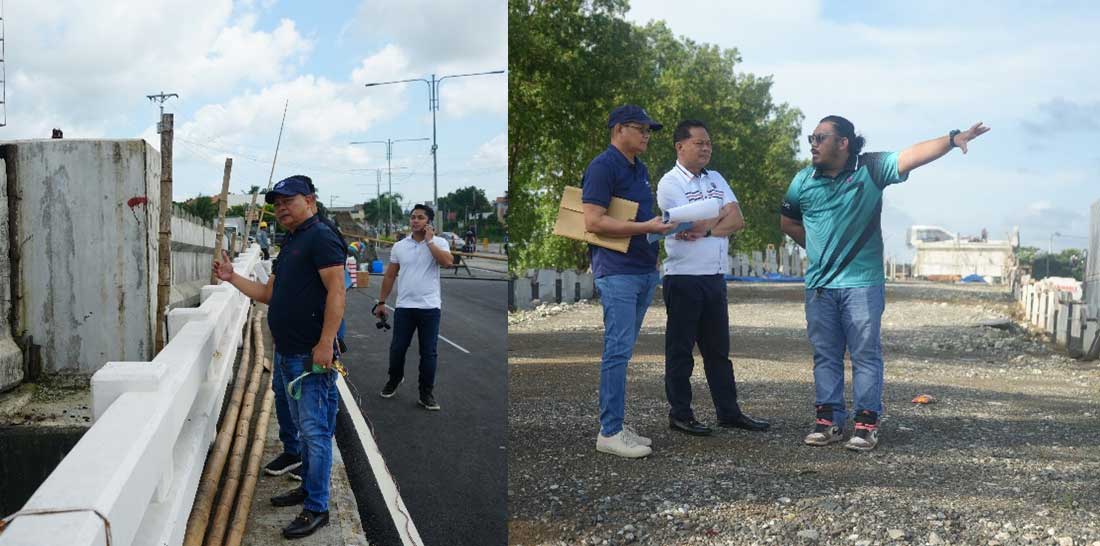 On his first day as the new chief of Department of Public Works and Highways (DPWH) in Region 6, OIC-Regional Director (RD) Sanny Boy O. Oropel, along with Assistant Regional Director Jose Al V. Fruto, inspected the status of the ongoing construction of two multi-million flyover projects in Iloilo – the Aganan flyover, implemented by the Regional Office; and the Jibao-an flyover implemented by Iloilo City District Engineering Office.
During his inspection, Oropel instructed the project engineers of these two flyovers to ensure that the implementation was in accordance with the approved designs and safety standards. He also reminded them to be very hands-on during the course of the implementation to avoid unnecessary circumstances.
"These flyover projects are an important part of urban infrastructure development. Thus, we should ensure that building these structures meets the approved standards and is safe for public use. They should be built and maintained in accordance with the approved design and safety standards," Oropel stressed.
The roughly ₱800-million Aganan Flyover is built along Sen. Benigno S. Aquino, Jr. Avenue, specifically in Barangay Aganan in Pavia town, which leads to Iloilo International Airport and towns in north-central Iloilo and neighboring provinces of Capiz and Aklan.
"This flyover is expected to shorten travel time from Iloilo City to Iloilo International Airport and other areas along Iloilo-Capiz Road (new route). This will decongest traffic along the intersection along Sen. Benigno S. Aquino, Jr Avenue and Felix Gorriceta Avenue in Pavia," RD Oropel explained.
The ₱591-million Jibao-an flyover in Brgy. Jibao-an, Mandurriao, on the other hand, runs along the Iloilo Circumferential Road (C-1), includes the construction of a 240-meter-long, 2-lane flyover comprising six 40-meter span pre-stressed concrete girders (PSCG).
"The Jibao-an flyover aims to provide access to southern part of Iloilo and neighboring province of Antique; and minimize traffic congestion in the adjacent towns of Pavia and San Miguel to Metro Iloilo, as well as the streets along Mandurriao district," RD Oropel said.
To date, the project is nearing completion and is expected to be finished before the end of the year, with the remaining works to include abutments and approaches.
Traffic congestion is an increasing problem in highly urbanized and urbanized cities and provinces in the country. Hence, building flyover projects is one of the best ways to mitigate this problem. Flyover project is an elevated roadway built above existing roads, which allows for smoother and faster traffic flow.
By having roads raised above the existing roads, traffic is able to move more efficiently and quickly, benefiting areas that are prone to traffic jams. This will also allow more lanes for vehicles and better distribution of traffic. It also allows for more efficient merging, especially along intersections.
Flyover project is also beneficial to businesses. By reducing traffic congestion, businesses are able to get to their customers more quickly and efficiently. This in turn leads to increased sales and improved customer service. (DPWH-6)