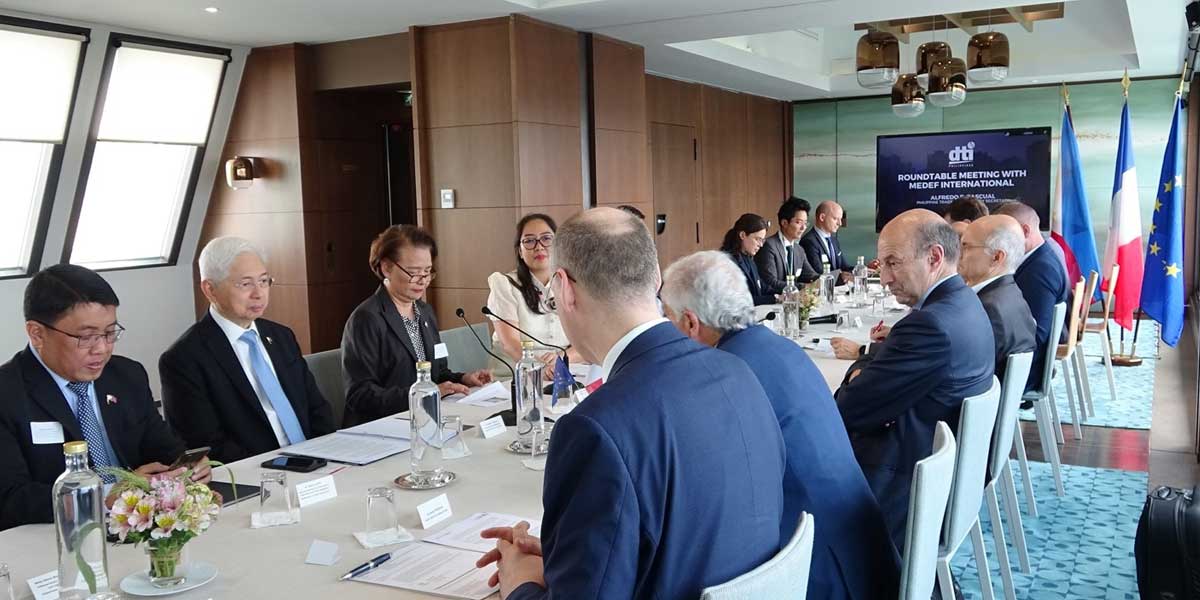 PARIS, France – During the roundtable meeting with MEDEF International, a non-profit private-funded organization composed of representatives from French businesses on 20 June 2023, Department of Trade and Industry (DTI) Secretary Fred Pascual presented the Philippines as an ideal investment destination with the aim of fostering potential partnerships and collaborations with French companies.
In his message, Secretary Pascual acknowledged that MEDEF International is instrumental in strengthening trade and investment relations between the Philippines and France.
"Recently, we witnessed the visit organized by MEDEF International for its members in the Philippines, where many of your companies participated. These developments indicate not only the interest and confidence of the French companies in the Philippines but also the strong relationship we enjoy at the business level", Secretary Pascual said.
Further, he emphasized that the Philippines is open for business and that the recent game-changing economic reforms such as the Corporate Recovery and Tax Incentives for Enterprises (CREATE), amended Public Service Act (PSA), amended Foreign Investments Act (FIA), and the amended Retail Trade Liberalization Act are testaments to the country's goal of attracting global players who can modernize our domestic industry and service sectors while diversifying and expanding exports.
"With the reforms I highlighted, the Philippines has seen significant investments in various industries. Our Board of Investments (BOI) recorded a 200 percent surge in foreign investments in 2021, totaling EUR 11 billion across 235 projects. From 2020 to 2022, the Philippines received a total Net Foreign Direct Investment (FDI) Flow of USD 28 billion, with Europe accounting for a significant portion," he shared.
Likewise, he mentioned that the government has initiated to roll out the Philippine Business Hub (PBH), a platform that aims to simplify business transactions through digital and online processes.
"This initiative streamlines the registration of businesses, permit renewals, and other activities, making it easier and faster to conduct business in the Philippines," he added.
Most importantly, Secretary Pascual sought the support of French businesses in pursuit of one of the most important agenda of the Philippines with Europe, the renewal of the European Union Generalised Scheme of Preferences Plus (EU-GSP+) preferences and the resumption of the negotiation for the Philippines-European Union Free Trade Agreement (PH-EU FTA).
About thirteen (13) companies from various sectors such as finance, infrastructure, manufacturing, services, and transportation attended the roundtable meeting and expressed positive outlook toward the opportunities available in the Philippines for French businesses as presented by the delegation.