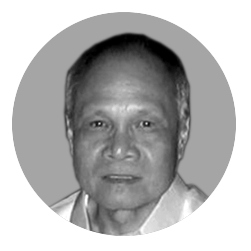 By Engr. Edgar Mana-ay
The new U.S. president is barely 3 months in office and yet many blunders have already been committed by his administration of which he is the commander-in-chief. In the almost three months of Pres. Biden tenure, he had shown a penchant for a total reversal of Trump's major policies in the Middle East. Most of these reversals are tough and very dangerous re-adjustments that undermine peace and stability not only in the Middle East but to the whole world as well.
Foremost of these is his desire to resurrect former Obama's 2015 nuclear deal agreement with Iran which Trump has cancelled. Then known as the Joint Comprehensive Plan of Action (JCPOA) deal agreement, it gave Iran sanctions relief and access to $150 billion of its frozen cash (delivered upon order of Obama to Iran by plane) and yet Iran cheated on all counts by accelerating its nuclear program to produce a bomb. Biden also started to renew Obama's failed Middle East policy of distancing from traditional US allies among the Gulf Arab monarchies and Israel while working for a rapprochement with Iran, the devil of the Middle East, as part of the two state "solution" to the Israeli-Palestinian conflict. It's more of "all about being NOT-Trump", to the detriment of peace and stability in the Middle East.
In a re-assessment of US ties with Saudi Arabia, his administration lost no time in halting the previous administration's proposed sale of US precision-guided missiles worth $290 million to Saudi Arabia. It ended US support for offensive operations by the Saudi-led military coalition fighting the Houthi (being armed by Iran) in Yemen, not following the dictum that "the enemy of my friend (Saudi) is also my enemy (Houthis and Iran)". On February 5, in a bizarre unilateral concession to Iran, the Biden administration ended Trump's "foreign terrorist organization" designation of the Iranian-supported Houthi rebels in Yemen. Just a few days later, Biden's State Department felt compelled to issue a statement urging the Houthis to "refrain from destabilizing actions" as it emerged that the Houthi insurgents carried out terroristic attacks on Saudi civilian targets in the southern provinces of Saudi Arabia.
Biden also enfeebled and weakened US relations with the United Arab Emirates (UAE) by pausing or placing on HOLD the huge $23 billion deal made in the final days of the Trump administration to supply the Emirates 50 F-35 stealth fighters. These risks undermining one of the UAE's key motivation in the Abraham Accord; the signing of normalization agreement with Israel in return for US supplies of advanced armaments. Given the UAE brokering role in the Sudan-Israeli deal, as well as the prospective Mauritania-Israel normalization Agreement, Biden also risks undermining the UAE's active role in promoting rapprochement between Israel and its neighbors in the Middle East and Africa.
The Abraham Accord, which was signed on September 20, 2020 at the White House by Israel, the UAE, Bahrain and the US, set in motion a normalization process bypassing the thorny Palestinian issue that was unimaginable even by seasoned observers of the region less than a year ago. Sudan and Morocco went into a similar agreement with Israel within months. These normalization agreements were NOT accompanied by widespread street demonstrations in the cities of the Arab world – Amman, Beirut, Tunis, Algiers, or Rabat, meaning the ordinary Arab now desires peace with anybody including Israel. The resolution of the thorny Israel-Palestinian issue, therefore, became irrelevant in a strategic re-alignment of the Arab Gulf States with Israel (with the exception of maverick Qatar) against Iran. Yet Biden wants to rock the boat by siding with common enemy Iran and forsaking long years of close relation and friendship with the Arab Gulf States. This certainly does not auger well in achieving peace around the world.
In the first week of March, an Israeli owned cargo ship flying a Bahamas flag carrying automobiles from Saudi Arabia to Singapore was hit by an anti-tank missile from a nearby boat not far from the Iranian coastline near the Gulf of Oman. The ship was hit in the FRONT which will not cause its sinking. They were just testing the resolve of the Americans in keeping the shipping lanes in the Persian Gulf safe for all commercial vessels. Sailing across the globe for commercial purposes is highly valued by the Americans and that's why they have an aircraft carrier group patrolling the South China Sea as a deterrent against the bully and greedy China. But in the Iran attack, Biden again blinked first, has not issued a strong warning nor has conducted a retaliatory attack on Iranian assets at sea or on land. Is this a case of pampering evil Iran but not bully China?
In just three months of tenure as President of the United States, many Americans who voted for him are now doubting as to whether Pres. Joe Biden is 'physically or mentally fit for the job. Biden, 78 years old, has frequently stumbled and gaffed, including when reading a teleprompter during the campaign and in early days as president. It is also an alarming sign after reports of Pres. Biden failing to remember the name of Defense Secretary Llyod Austin, calling him "the guy that runs the outfit over there," according to the New York Post. In one of his latest speeches, despite a teleprompter, he called vice president Harris as President Harris. The Rasmussen Reports latest poll fielded question for likely voters: How confident are you that Joe Biden is physically and mentally up to the job of being President Of The United States (POTUS). 56% of likely voters lacked confidence in Pres. Biden's fitness in office. Biden had its first press conference after 65 days in office. In contrast Presidents Hoover has 19, Truman-11, George Bush-9, Clinton-7, Kennedy-8 and Trump-6. It is believed by many that Biden is suffering from dementia and that's why he wants to avoid a press conference as much as he can.
The present Mexico border immigrant crisis is due to Pres. Biden rhetoric both before and after he took office, as well as his first-day policies after he was sworn in. The message was pretty clear that it is going to be easier and more welcoming for people to come to the U.S. even if they do so illegally. That message went out loud and clear that as of end-March, the US border was overwhelmed by 100,000 illegal immigrants majority of which are children guided by "coyotes" or drug cartels. I will discuss thoroughly the border crisis on my next issue.
Well, the last US presidential election showed that the Americans got a president that they deserved.