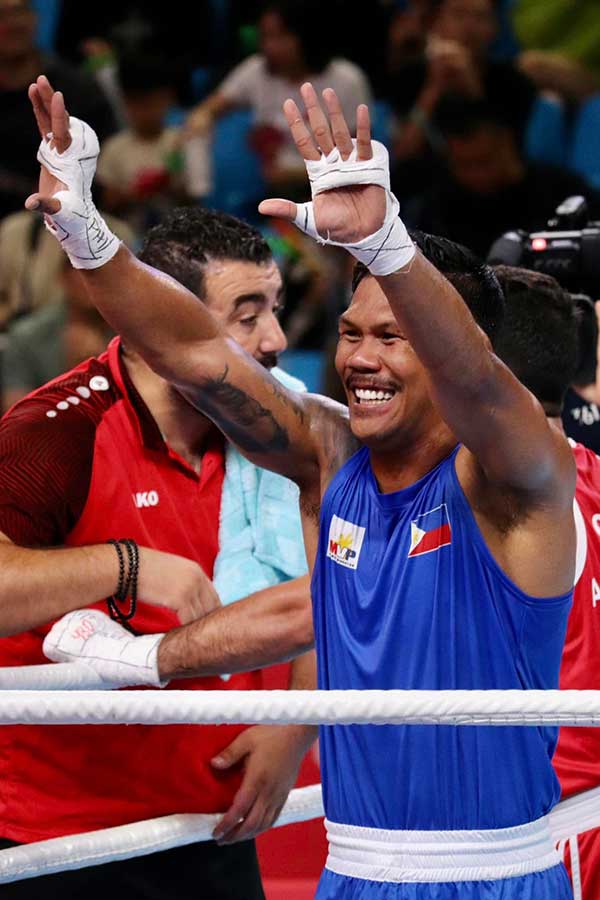 By Leobert Julian A. de la Peña
Filipino boxing superstar Eumir Marcial is off to the 2024 Paris Olympics after pulling off an impressive knockout win in the semifinal round of the men's 80-kg division in the ongoing Asian Games last October 4, 2023, held in Hangzhou, China.
Fresh off a come-from-behind quarterfinal KO win against Thailand's Weerapon Jongjoho, Marcial showed that his one-punch power will again make the difference after knocking out Ahmad Ghousoon of Syria to advance to the grand finals of the Asian Games men's boxing.
With only 1:56 remaining in the back-and-forth second round, Marcial perfectly timed a vicious right hook that sent the Syrian down to the canvas.
As the match referee started to count and reached three, he noticed that Ghousoon was completely wobbling and had to waive the white flag, calling off the match while rewarding Marcial as the winner.
It was an action-packed showdown between the two semifinalists as the Syrian kicked off the opening round with his signature stalking pressure.
Known to be a brawler and a volume puncher, Ghousoon ramped up the intensity of the match after throwing combinations after combinations.
However, Marcial blocked most of the Syrian's offense and turned it up in the last 1:30 after connecting on several power punches.
Marcial grabbed a slim 3-2 lead after the first round and was seeking to have a clearer advantage when the second frame began.
Disaster struck in the first 30 seconds of the round after the Filipino star was given a warning for a low blow but made it up later on after flooring the Syrian with just a single punch.
With the victory, Marcial already assured the PHL delegation of at least a silver medal and joined EJ Obiena, Caloy Yulo, and Aleah Finnegan as the only Filipino athletes who earned a qualification in the Paris Olympics.