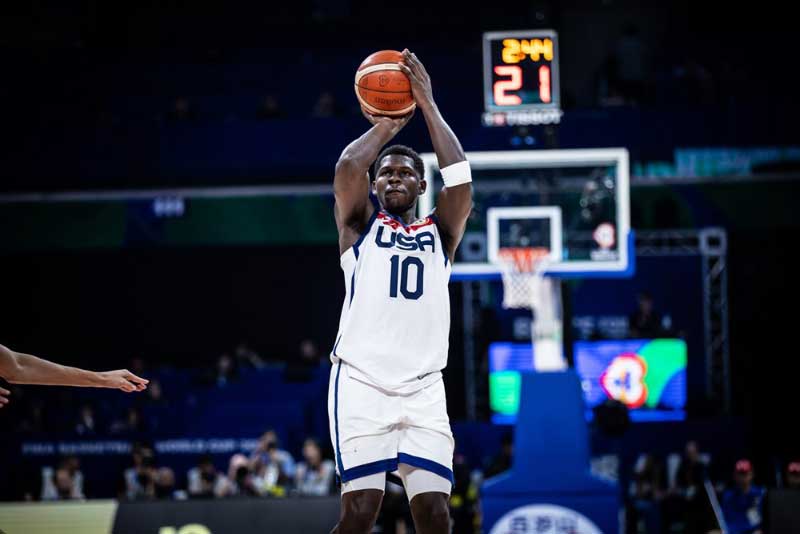 By Leobert Julian A. de la Peña
Team USA continued its high-definition firepower display in the ongoing FIBA World Cup after handing Jordan a 48-point massacre, 110-62, to formalize its second-round qualification last August 30, 2023.
After two walk-in-the-park victories against New Zealand and Greece, USA proved they still had enough offensive load to demolish Jordan and finish the first round as Group C's no. 1 team.
Minnesota Timberwolves young superstar Anthony Edwards bounced back after a sub-par shooting performance during their game against New Zealand.
The offensive scoring machine led team USA with 22 big points built from an 8/16 shooting from the field alongside eight rebounds and four assists.
Edwards did damage early in the first quarter after team USA's hounding backcourt pressure caused several turnovers for Jordan which led to wide-open fast-break dunks.
His energy and relentless effort on both ends of the floor helped the NBA-laden national team finish the first 10 minutes of action with a 31-12 advantage.
However, Jordan's naturalized player Rondae Hollis-Jefferson, wasn't ready to give up and showed a fight in the second quarter after single-handedly helping his team trim their deficit to just 10 points.
Jefferson's heroics will then be short-lived as USA spoiled his furious scoring run with their efficient three-point shooting.
Despite the strong start that Jordan had, the Americans used a waxing-hot final push to enter the second half with a commanding 29-point lead.
Jordan tried to go big at the start of the third by putting two centers at the same time but their intention to dominate the shaded lane went to waste after USA's Jarren Jackson Jr. hosted a blocking party down the block.
Jordan then conceded late in the third frame after the lead grew to 35 points and could only watch team USA's flawless execution in the break.
Bobby Portis Jr. backstopped Edwards in the scoring department after chipping in 13 markers and six rebounds while the crowd-favorite Austin Reaves added eight points, two rebounds, and an assist.
Team USA will be kicking off its FIBA World Cup second-round campaign today at 4:40 PM against Nikola Vucevic and the talented Montenegro team.