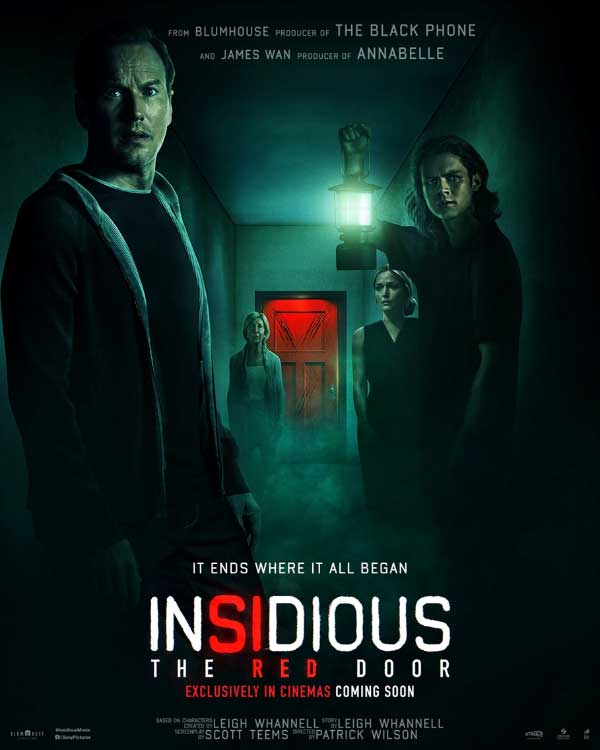 The further you travel, the more terrifying the journey becomes. The original cast returns for Insidious: The Red Door, the final chapter of the blockbuster horror franchise, exclusively in cinemas July 5.
Watch the trailer here: https://youtu.be/3NOce4Ky6PQ
In Insidious: The Red Door, the horror franchise's original cast returns for the final chapter of the Lambert family's terrifying saga. To put their demons to rest once and for all, Josh (Patrick Wilson) and a college-aged Dalton (Ty Simpkins) must go deeper into The Further than ever before, facing their family's dark past and a host of new and more horrifying terrors that lurk behind the red door.
The original cast from Insidious is back with Patrick Wilson (also making his directorial debut), Ty Simpkins, Rose Byrne and Andrew Astor. Also starring Sinclair Daniel and Hiam Abbass. Produced by Jason Blum, Oren Peli, James Wan and Leigh Whannell. The screenplay is written by Scott Teems from a story by Leigh Whannell, based on characters created by Leigh Whannell.
Opening in Philippine cinemas July 5, Insidious: The Red Door is distributed by Columbia Pictures, local office of Sony Pictures Releasing International.  Connect with the hashtag #InsidiousMovie (Photo & Video: Columbia Pictures)