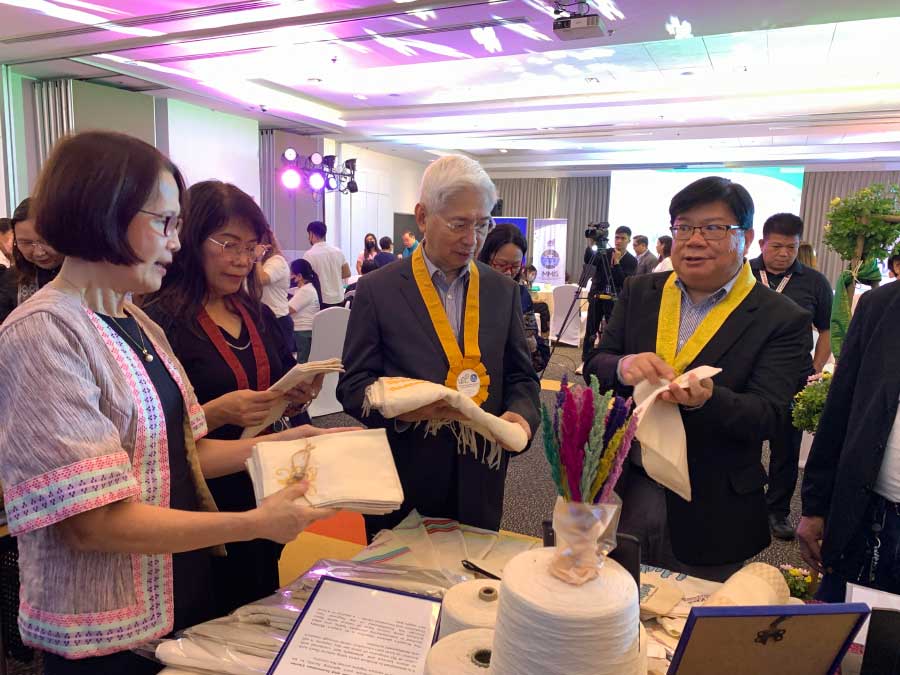 By Rjay Zuriaga Castor
Stakeholders from the government, academe, and industry in Western Visayas will now have a platform to collaborate in addressing existing gaps in innovation and entrepreneurship and upscale the weaving industry of the region to the global market.
The Department of Trade and Industry Region VI (DTI-6) on June 8 launched the Regional Inclusive Innovation Center (RIIC), an initiative designed to enhance the competitiveness of micro, small and medium enterprises (MSME), leading to increased employment opportunities, a thriving entrepreneurial landscape, and sustainable economic prosperity across the region.
The Western Visayas' RIIC, branded as "Weave Philippines," will focus on upscaling the weaving or wearables and homestyle cluster. The industry cluster focus was unanimously chosen following a series of meetings among stakeholders since January 2021.
"The weaving industry holds immense potential for our region and we are determined to maximize its growth and international competitiveness," said Ermelinda P. Pollentes, DTI-6 officer-in-charge director.
Weave Philippines will converge all stakeholders in Western Visayas to increase the competitiveness, resilience, and readiness of MSMEs towards the global market.
Pollentes likewise highlighted the public-private-academe partnership forged for Weave Philippines.
The collaborative efforts led to the development of "cutting-edge textile digital applications" "hILO" and "HiblaTek."
Pollentes said the two innovative applications are set to revolutionize weaving design, create and market weaving products.
hILO is a digital color application that can ensure customers' preferences on color matches the finished textile and can resolve color outcome agreements to create patterns, color and texture combination of materials.
Developed by the Natural Fibers Technology Resource Center of Aklan State University, HiblaTek is a natural fiber thread counter mobile application that automatically creates a 1-square-inch image of the fabric and identifies the total number of warp and weft.
Pollentes added that the RIIC is the agency's effort to place the region at the forefront of the Information Technology and Business Process Management (IT-BPM) arena.
Trade Secretary Alfredo Pascual said the Western Visayas RIIC is an innovative approach and a model that other regions can adapt.
"What I find interesting about [the Western Visayas] RIIC is the fact that it is spread out to the different provinces in the region. That's another, I would say, innovative approach to reaching out to our MSMEs, again another model to follow," Pascual said.
He noted that it is the first RIIC in the country that encompasses all of the provinces in the region.
Pascual also highlighted that centers like Weave Philippines foster a collaborative environment where creativity flourishes and entrepreneurs come together to meet market needs effectively.
"Centers like Weave Philippines bring together a network of creative, innovative, and entrepreneurial Filipinos driven by the desire to do things better and respond to market needs with their products and market needs," he said.