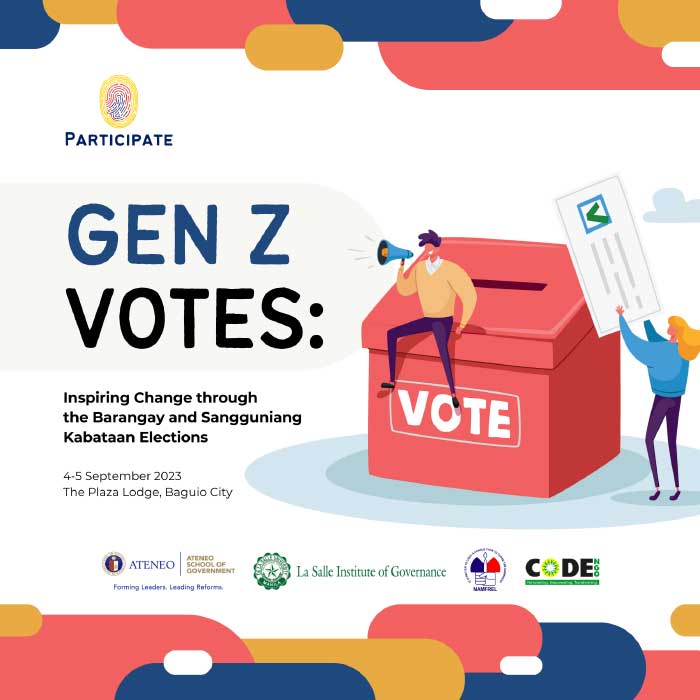 "If you want true, genuine change in this country, you should be that change."
This call was imparted to the more than 80 local youth participants of Gen Z Votes: Inspiring Change through the Barangay and Sangguniang Kabataan Elections  (BSKE) held earlier today and until tomorrow at The Plaza Lodge, Baguio City.
Organized by the Ateneo School of Government, through the non-partisan, pro-democracy coalition PARTICIPATE, this activity aimed to help encourage greater participation in the upcoming BSKE. Moreover, the forum provided a better understanding of the history and processes involved in the BSKE and further discussed the ill-effects of political patronage at the grassroots level.
"Today, we are here not just to inform but to inspire and rally our fellow citizens, especially our youth, to actively engage in the electoral process," Dr. Julio Teehankee said. "Voting isn't merely a right; it's a responsibility that empowers us to shape the decisions that impact our lives and even the generations to come."
Dr. Teehankee also emphasized that the consortium has been engaged in working to enhance citizen oversight of electoral processes through education and community involvement.
"We firmly believe that a robust democracy thrives when citizens actively participate," he said. The PARTICIPATE Chief of Party also invited everyone to embark on "this journey together toward a brighter, more engaged, and empowered future."
"If you want to consolidate democracy, it's your generation that will do it. This is your time," Dr. Teehankee said.
PARTICIPATE is a non-partisan, pro-democracy coalition dedicated to engage and empower the political participation of the Filipino people. It aims to strengthen citizen oversight of electoral processes, increase the availability and accessibility of information to promote informed voting, and support constituency-building for electoral reforms.