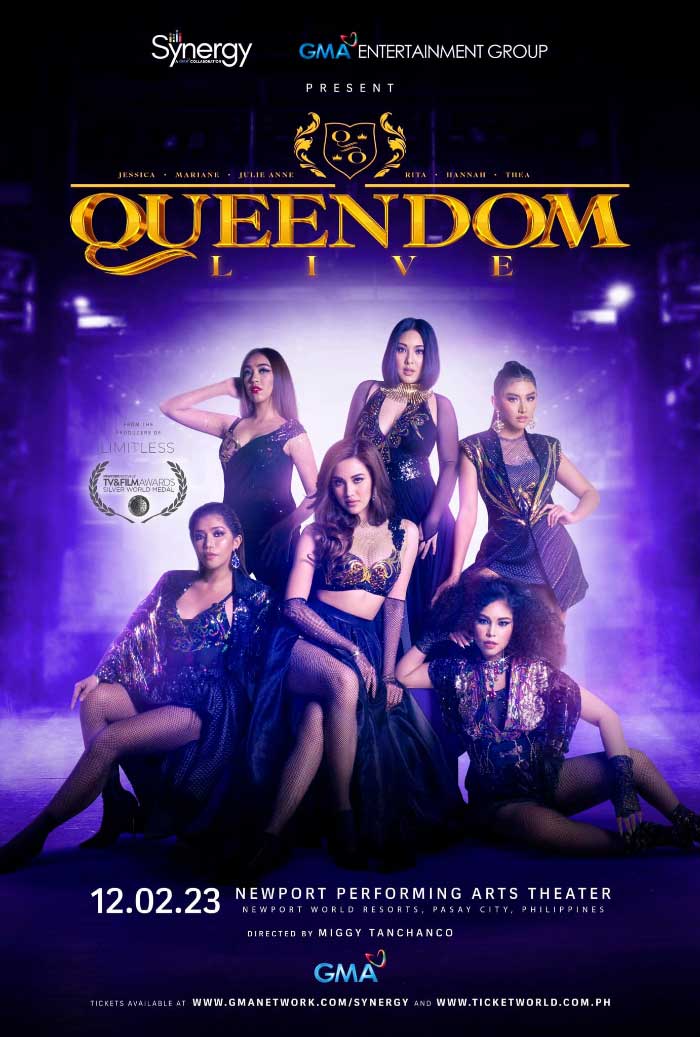 A royal and majestic night awaits fans and concert enthusiasts as GMA Synergy, in partnership with GMA Entertainment Group, brings together the highly-acclaimed vocal queens of 'All-Out Sundays (AOS)' – Rita Daniela, Jessica Villarubin, Thea Astley, Mariane Osabel, Hannah Precillas, and Asia's Limitless Star Julie Anne San Jose – in an epic concert dubbed "Queendom: Live," this December 2 at the Newport Performing Arts Theater.
The ticket selling to this much-awaited event begins this August 14 exclusively at Ticket2Me via www.gmanetwork.com/synergy and Ticket World via www.ticketworld.com.ph. Tickets are priced at P5,000 (Queen); P4,000 (Princess); and P1,000 (Duchess). Queen ticket holders can exclusively avail of the add-on VIP pass for an additional P1,500.
From making waves on their weekly performances on GMA's musical variety show, 'All-Out Sundays,' the quintessential queens are all set to captivate the live audience together for the very first time on one concert stage. "Queendom: Live" is set to showcase each diva's individual style and presence while also allowing collaborative performances that will truly wow and entertain the audience.
"Queendom: Live" promises to showcase the exemplary vocal prowess of Rita,  Jessica, Thea, Mariane, Hannah, and Julie Anne as they perform ovation-worthy solos, power duets, trio renditions, and ensemble acts.
The night of December 2 will be set ablaze with a string of popular songs that celebrate womanhood, individuality, and empowerment. Fans should also definitely not miss out each queen's breathtaking signature birit pieces performed in full diva rendition.
More surprises are lined up for the night as powerful duets, grand vocal collaborations, and showdowns are set to happen on one stage. There will also be special guests who will surely excite and captivate the hearts of concertgoers.
"Queendom: Live" is made possible through GMA Synergy, the team behind the New York Festivals TV & Film Awards 2022 Silver Medallist "Limitless: A Musical Trilogy," Julie Anne San Jose-Rayver Cruz headliner concert "JulieVerse," and the Philippines' first-ever virtual reality concert and 2021 New York Festivals finalist "Alden's Reality: The Virtual Reality Concert."
Don't miss your chance to witness the queens in action. Save the date and book your tickets via www.gmanetwork.com/synergy or www.ticketworld.com.ph.